How to Build a Pickleball Court Anywhere?

Whether you're interested in setting up a simple court at home, repurposing an underused sports facility, or working to help to bring your community a multi-court complex, this guide is intended to help you through each step of the process. We'll start with the basics of court construction so that if you're new to the game you can get yourself started as quickly and inexpensively as possible.
How to Build a Pickleball Court on a Tennis Court
Ready to upgrade your playing surface? We'll walk you through the process of transforming some underutilized spaces almost every town has. If your community already has a strong pickleball community you may be ready to start working with your local Parks & Recreation Department to find a dedicated space for multiple courts, perhaps with some lighting for even more usability.
Other Considerations
Once you have figured out your financing, it is time to get into the details. Here is a list of other factors that will affect your courts that you might not have thought of:
Noise - Noise continues to be a topic where the game of pickleball has received pushback from some communities. Are your neighbors, homeowners association or community at large okay with a court or courts going in? While manufacturers have quickly answered the call to make their paddles and balls less audible, this is still an important issue to address before you spend the time and money to construct a court.
Orientation - Where does the predominant light come from on your site? Is there shade or wind? What time of day will you typically be playing? All of these factors should be considered when you're determining the orientation of your courts. USA Pickleball recommends a north-south orientation.
Court Color - Regardless of the surface you choose for your court, you will have your options of color schemes. To play around with different color options click here: Court Color Tool
DIY vs. Professional Contractors - Putting in a basic court with an existing pad is a relatively straight forward endeavor that almost anyone can do. With the right tools, you could even put in your own permanent nets and paint a nice court. But if you're looking at resurfacing or building a new court, it's worth the extra cost to have a professional do it right. They'll not only offer a warranty on their work in most cases, but they'll also help ensure that your new court is up to code for your community.
Court Specifications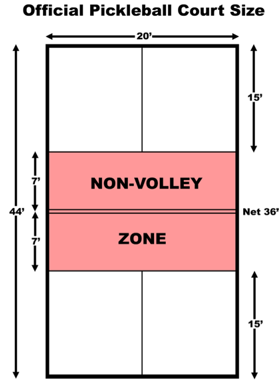 Pickleball began as a backyard creation in 1965. Over a few days of tinkering, the game's creators worked out equipment kinks and rules. They dropped the badminton net to 36", built some basic paddles out of plywood, and used a plastic wiffleball. If you have a paved, flat driveway or an old asphalt basketball court, then you're ready to put some lines down and get playing.
An official pickleball court is 20 feet wide by 44 feet long. You'll want to leave room on the sides and ends for running off court after playing a ball, so the recommended playing area is 34 by 64 feet. If converting tennis courts, four pickleball courts can fit in the same area at dimensions of 30 feet by 60 feet (see diagram below). If you're setting up your court indoors, it's recommended that you have at least 18-20 feet of height to the light fixtures.
Regulation tournament-sized nets are 22 feet wide, and should be positioned so that they're 36' high at the sides and 34' in the center of the court. If you're setting up a court in a smaller area that does not accommodate a full sized 22 foot net, there are some smaller (less wide) portable nets available that allow you to drill and play even though you may not have a full sized court.
Here are a few of the different types of nets available:
1. Selkirk Labs 001 Pro Net with Carbon Fiber Frame
For those who want the very best
Semi-permanent with omni-directional wheels
Limited quantities available
2.C&D Pickleball Nets Championship Net
Official net system of the APP tour
Plays exactly like a permanent net
Hand made in the USA
3. Dominator Rolling Portable Pickleball Net
5-star reviews
Locking wheels
Fully rust-proof aluminum frame
4. SwiftNet 2.1 Portable Pickleball Net System
Over 200 5-star reviews
The strongest and lightest portable net system available
Eco-friendly, made from aerospace-grace recycled carbon fiber
SALE $369.99
5. Champion Portable Pickleball Net System
High quality, great value, sets up in minutes
SALE $119.99

Installing a Court

Step 1: After selecting the area that you want to put the court in, tape the end of your string to the ground.

Step 2: Measure out 20-feet in as straight of a line as possible. Pull the string taught and tape the end to the ground.
Step 3: At a right angle to your second corner, measure out 44 feet and tape that end to the ground, (a large carpenter's square can come in handy here).
Step 4: Repeat Step 2 at a right angle to your last corner and then repeat step 3 at a right angle to that corner. (In measuring your final 44 foot section you may realize that you're off by a few inches, in which case you'll need to adjust the positioning of the previous corners to fix your angles).
Step 5: Once you have four square corners and the distances accurate, use your court tape or line spray and go over the top of your new rectangular line. Now that you have the basic outline in place, setting up the rest of the lines will be easy.
Step 6: Measure 22 feet from the end line and set a net post up. From the opposite end corner do the same and set up your net.
Step 7: From each corner measure 15 feet towards the net and make a mark. Tie a line between the marks and paint or tape over it; this is the kitchen line.
Step 8: Measure in 10 feet on your kitchen line and make a mark. Do the same on each end line. Tie a line between the marks and paint or tape over it.
Step 9: Start playing pickleball!

Products for lining your court
There are many ways to line your court, whether you are just putting down chalk for a weekend of play or want to use heavy duty tape that will last all summer long.

Court Accessories
If you are lucky enough to have your own home court, it is time to establish your home court advantage! The best way to do that is to keep your court in tip top shape and spend plenty of time practicing with the following accessories and training aids: