Details
Portable, wheeled machine with digital display and 6 preset drills, 3 remote options and included oscillation, 2-line oscillation, and electronic elevation. 110-ball capacity and fires at speeds up to 65 mph.
Pickleball Tutor Plus Ultra
The Pickleball Tutor Plus Ultra by Sports Tutor is the next upgrade to the already feature-rich Tutor Plus pickleball machine. If you want a practice and drilling option that can provide a wide array of features to test your skills, there will be plenty to keep you engaged with the Ultra. The major differences are the addition of digital settings with 6 preset drills and three different remote options, as well as the inclusion of random oscillation, 2-line oscillation and electronic elevation (previously optional features in the standard model).
The Pickleball Tutor Plus Ultra has the capacity to hold 110 pickleballs and can fire them out at up to 65 mph. Transport is quick and easy thanks to the mounted 3" wheels, and power options include either battery-powered or A/C electric. The digital display makes it easy to tell where the settings are at a glance, while the variety of remote control options allow you to make adjustments without walking back to the machine. Pick from a wireless 2-function remote ($200) for turning the ball feed and oscillation on and off, an FM wireless multi-function remote ($300), or a smartphone-based multi-function remote ($300). Make your remote control selection at the time of original purchase as equipment may need to be installed prior to shipment. Please note you can only choose one remote option per machine.
The Pickleball Tutor Plus Ultra is a comprehensive ball machine for clubs, community groups, instructors, and serious players wanting myriad ways to keep their skills sharp.
Additional Accessories available:
External Battery Pack: ($195.00):
Attaches to the machine through the charging jack and will provide an additional 4-6 hours of run time. Battery pack weighs approximately 12 pounds.
Can only be used with the battery-powered model.

External AC Power Supply: ($125.00):
For Battery-Powered models, External AC Power supply allows you to plug your battery-powered Tutor Machine into a wall outlet.
Weatherproof Cover: ($50.00)
: Vinyl machine cover.
The Pickleball Tutor Machine is covered by the manufacturer for 3 years, and the battery is covered for 1 year.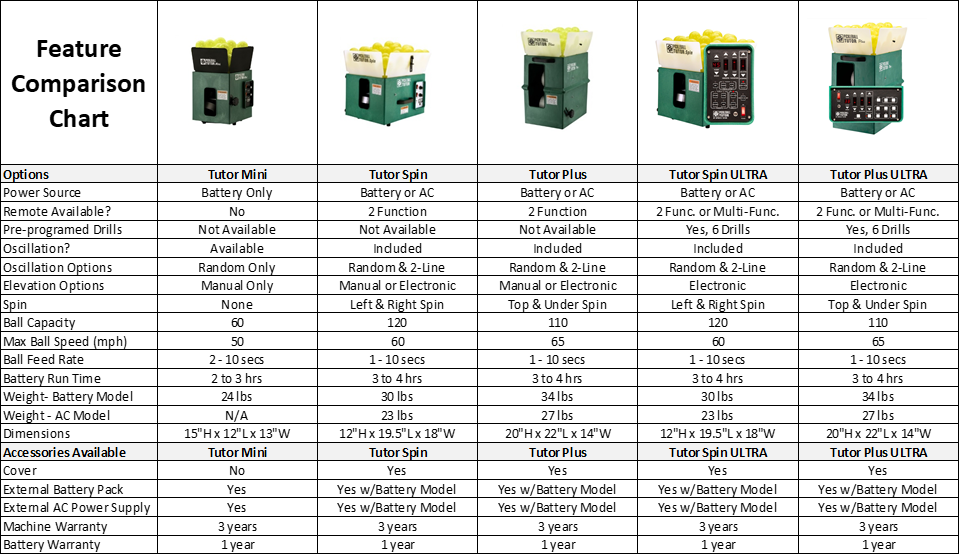 Links To:
Returns:
Returns will only be accepted with proper return authorization. Please contact our customer service department at
888-854-0163
to confirm eligibility and return instructions. A 10% restocking fee will be deducted from refund amount. Customer is responsible for return shipping charges. All returns must be shipped in original manufacturer box and packaging. We recommend adding tracking and insurance when shipping returns. Returns will not be accepted for merchandise that is misused, neglected or altered. Please allow 30 days for processing refunds.
Orders ship via UPS, signature required. Tutor shipments to Alaska & Hawaii are not eligible for Free Shipping. Please refer to our
shipping page
for more information.
This product is exempt from RR-series promotions.
Specifications
Battery-powered model weighs 34 lbs.
AC powered model weighs 27 lbs.
Shipping dimensions: 26" x 16" x 26"
Speeds up to 65 mph
3 year manufacturer warranty on machine
1 year manufacturer warranty on battery
Made in the USA

The USA Pickleball specifications permit a range in ball diameter (2.854" - 2.992"). If the Pickleball Tutor Plus Ultra is used with a mix of both the smaller and larger diameter pickleballs, players may have a varied experience with trajectory. If the machine is set to feed the ball low over the net with the larger diameter ball, the smaller ball may have a lower trajectory, even hitting the top of the net. The distance between the internal feeder wheels of the machine determine how much pressure is put on the ball and the resulting speed at which the ball is fed. Therefore, a smaller diameter ball will come out of the machine slightly slower than a larger diameter ball.
Reviews
(8)
Pickleball machine

I like the machine except for a couple of things that weren't as expected. Advertised as holding 110 pickleballs but only holds about 85 before they start falling out after starting the machine. The bottom wheel that launches the balls started wearing out the first time I used the machine.

Pickleball Tutor Plus Ultra

We bought the Tutor Plus Ultra for our new indoor facility. While I think it will be very well received by our members, I find it somewhat difficult to dial in. Like anything, I think as we learn how to dial it in we will like it more and more, but it has been a bit finicky in the early going.

This machine is just what it said it was. Improving all of our games who use it. Easy to use and change settings. I wish I had purchased the remote control.

Too bad there is not a higher rating.

Awesome

I love that it has a lot of pre set features. It's easy to figure out, move around and so far works great.

Machine

Wish I had gotten remote option. Otherwise great product

machine works well

Takes time to set the elevation/speed correctly. Directions are not the greatest. I would buy it again as once the machine is set properly the workout is terrific.

Pickleball Product Review

So far it has been amazing and happy with the purchase. The FM remote is expensive but well worth the investment. I believe it will definitely improve my game, and my wife is happy with it too.

Tutor Plus Ultra Pickleball Machine

Good workout! Excellent training tool to build muscle memory.