Details
This member of the Tutor machine family features topspin and backspin capability, 110-ball capacity and ball speeds up to 65 mph. Oscillation feature is included on all models.
Pickleball Tutor Plus
The Pickleball Tutor Plus is an exciting new version of the standard Tutor that adds minimal weight but lots of functionality. The Tutor Plus comes with topspin/backspin capability so you can practice against an even greater variety of shots. Random oscillation is included on all machines. You can add the 2-Line Oscillation Option to increase the types of drills and is perfect to practice side-to-side repetitions or set up group drills for players on both sides of the court. A wireless remote and electronic elevation are also available for an additional charge.
(See below for all options and accessories with pricing details).
The Pickleball Tutor Plus weighs 27 lbs (AC/electric model) or 34 lbs (battery model) and has a max speed of 65 mph, the fastest on the market! It has an attached handle and now with larger 3" wheels that make it simple to transport and move around the courts. The feed interval can be leisurely or set to a speedy one-second rate that allows you to get in your exercise during rapid volleys and keep up an energetic momentum during group practices. Choose between A/C or battery-powered models with no extra charge depending on how you plan to use your machine. You can feel good about your investment knowing that the Tutor Plus comes with an industry leading 3-year warranty.
The Pickleball Tutor Plus is a fully loaded practice machine that provides immense value to players and will help you strengthen a variety of skills.
Click HERE to download Pickleball Tutor Plus Owner's Manual

Click Here for Pickleball Tutor Plus Controls Addendum

Note:
All Tutor Plus models come with oscillation. Wireless Remote, Electronic Elevation and 2-Line Feature are add-on options available at additional charge.
Wireless 2-Function Remote ($200.00):
Controls ball feed on/off and machine oscillation on/off. The Wireless 2-Function Remote works with oscillating machines only and must be ordered at the time the machine is ordered for configuration by the manufacturer.
2-Line Oscillation ($200.00):
This feature alternates shots between two preset locations on your court. Players can practice forehand and backhand shots in addition to rapid drills or get additional use out of the Tutor by allowing two players to practice at the same time. This option must be ordered at the time machine is ordered for configuration by the manufacturer.
Electronic Elevation Feature ($100.00):
A simple electronic switch on the control panel will allow you to control ball trajectory instead of using the standard manual knob which requires loosening and re-tightening. This option must be ordered at the time machine is ordered for configuration by the manufacturer.
Additional Accessories available:
External Battery Pack: ($195.00):
Attaches to the machine through the charging jack and will provide an additional 4-6 hours of run time. Battery pack weighs approximately 12 pounds.
Can only be used with the battery-powered model.

External AC Power Supply: ($125.00):
For Battery-Powered models, External AC Power supply allows you to plug your battery-powered Tutor Machine into a wall outlet.
Weatherproof Cover: ($50.00)
: Vinyl machine cover.
The Pickleball Tutor Machine is covered by the manufacturer for 3 years, and the battery is covered for 1 year.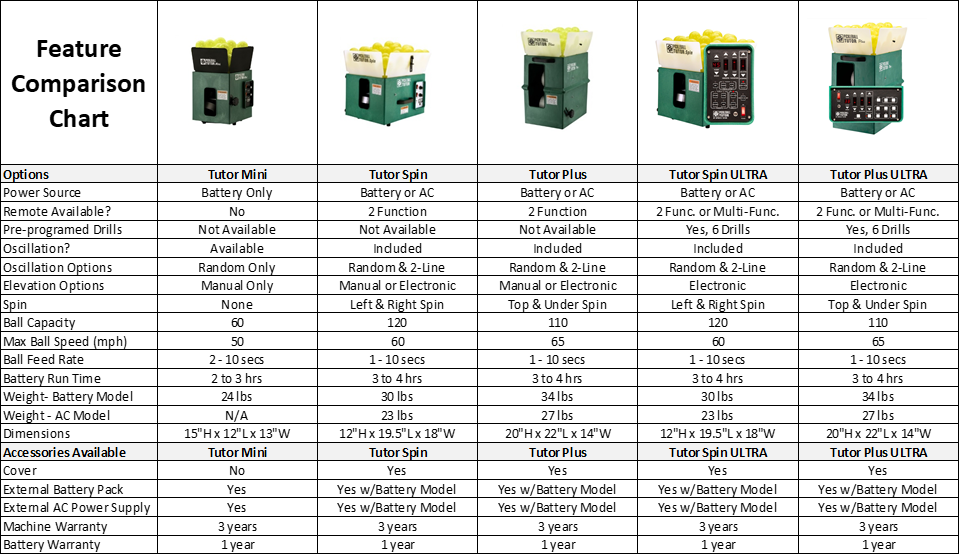 Links To:
Returns:
Returns will only be accepted with proper return authorization. Please contact our customer service department at
888-854-0163
to confirm eligibility and return instructions. A 10% restocking fee will be deducted from refund amount. Customer is responsible for return shipping charges. All returns must be shipped in original manufacturer box and packaging. We recommend adding tracking and insurance when shipping returns. Returns will not be accepted for merchandise that is misused, neglected or altered. Please allow 30 days for processing refunds.
Orders ship via UPS, signature required. Tutor shipments to Alaska & Hawaii are not eligible for Free Shipping. Please refer to our
shipping page
for more information.
This product is exempt from RR-series promotions.
Pickleball Tutor Plus Pickleball Machine - Staff Impression
Our team was honored to introduce & demonstrate the new Tutor Plus on center court at the 2019 US Open Pickleball Championships in Naples, Florida. The machine is fantastic. We couldn't be more excited about the upgrades this machine brings. Faster ball speeds, faster feed rate, ability to impart underspin or top spin, plus the industry's best warranty and support on Pickleball machines!
Specifications
Battery-powered model weighs 34 lbs.
AC powered model weighs 27 lbs.
Shipping dimensions: 26" x 16" x 26"
Speeds up to 65 mph
3 year manufacturer warranty on machine
1 year manufacturer warranty on battery
Made in the USA

The USAPA pickleball specifications permit a range in ball diameter (2.854" - 2.992"). If the Pickleball Tutor is used with a mix of both the smaller and larger diameter pickleballs, players may have a varied experience with trajectory. If the machine is set to feed the ball low over the net with the larger diameter ball, the smaller ball may have a lower trajectory, even hitting the top of the net. The distance between the wheels of the machine determine how much pressure is put on the ball and the resulting speed the ball is fed. Therefore, a smaller diameter ball will come out of the machine slightly slower than the larger diameter ball.
Reviews
()
Pickleball Tutor Plus

Excellent piece of equipment. Works exactly as advertised. Easy to move to set up on court or driveway. Simple to adjust control settings on machine.. Remote control is great advantage to be able to stop and start or use the oscillation feature. Using the Tutor is like drilling with a pro.

Simple machine to operate

Can be manually adjusted for individual needs

Pb tutor plus

Machine struggles and breaks a lot of balls

Pickleball Tutor Plus

This machine is great! I purchased the remote, external battery, oscillating function and electronic elevation and all make it that much better. I purchased a table to place the machine on to make dinking easier to program in. Only suggestion might be to have a extending arm to pull it rather than the handle. Other than that, love the tutor plus1

Outstanding practice tool

Very happy with the Tutor Plus. Wide range of settings for ball speed and placement. An hour of practice is very effective. Works well for one or two players.