Details
A highly advanced training partner from Lobster Sports, this model comes standard with 2-line oscillation. Holds up to 135 balls. Choose from 4 models.
Lobster 'Pickle Two' Ball Machine
The Lobster 'Pickle Two' Ball Machine is the newly realized version of the original Lobster, improved by adding a 2-line oscillation and electronic elevation. The 2-line feature can be used for singles or doubles. The elevation features makes adjustments to the launch angle quick and simple. The battery has also been upgraded in the standard model so that you can practice for longer periods of time, with 4-6 hours of play per charge.
The Lobster 'Pickle Two' Ball Machine holds up to 135 indoor or outdoor pickleballs (when stationary) and can fire them out at speeds of up to 60 mph. It can use both top and backspin so you can work on returning varied shots and improve your skills. The machine has a convenient folding handle with 8" wheels and an inverting hopper to move the 42 lb. machine stress-free. The external battery option lets you take the battery inside for a recharge while leaving the machine at its usual location. When set up in position for your shot, the machine will indeed hold 135 pickleballs. However, if you try to move the Lobster when the hopper is full, balls will spill out.
The Lobster 'Pickle Two' Ball Machine offers an excellent range of options and accessories so that you can customize your practice experience just the way you like it and continually challenge your abilities.
The Lobster 'Pickle Two' Ball Machine comes in two power options:
Internal Battery - the standard model
External Battery - allows you to take the battery inside for a recharge while leaving the machine at its usual location.
Download Lobster Pickle Two Pickleball Machine Owner's Manual here.
The following optional accessories are compatible with this machine (not included with machine purchase):
Lobster Elite Remote Control
(Can be installed by customer after machine purchase)
Lobster Elite 10 Remote Control
(Must be installed at factory at time of machine purchase or return machine for later install)
Lobster Elite 10 Remote Control for Apple
(Must be installed at factory at time of machine purchase or return machine for later install)
Lobster Storage Cover
Lobster 3-AMP Premium Charger
Lobster Elite Power Pak
Lobster External Battery Pack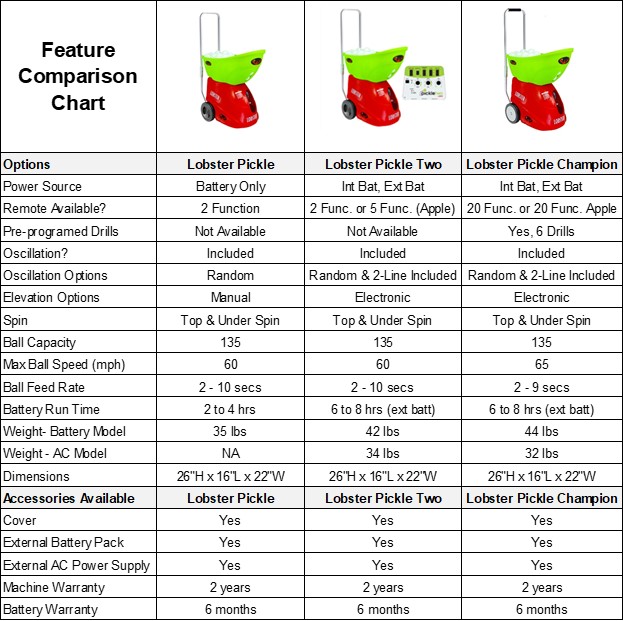 Links To:
Shipping Information:
The Lobster Pickle Two Machine drop ships from the manufacturer within 3 days of your order date. You will receive separate tracking numbers if you have other items on your order. Shipments of this product to Alaska & Hawaii are not eligible for free shipping. Please see our
shipping page
for more details.
Returns:
Returns will only be accepted with proper return authorization. Please contact our customer service department at
888-854-0163
to confirm eligibility and return instructions. A 5% restocking fee will be deducted from refund amount. Customer is responsible for return shipping charges. All returns must be shipped in original manufacturer box and packaging. We recommend adding tracking and insurance when shipping returns. Returns will not be accepted for merchandise that is misused, neglected or altered. Please allow 30 days for processing refunds.
This product is exempt from RR coupon promotions.
Warranty Information:

Lobster Sports warrants that each Lobster Sports ball machine purchased will be free from defects in material and workmanship for 2 years from the date of purchase
except for
the battery and server wheels which are warranted for 6 months.
Returns will only be accepted with proper authorization, which includes the product serial number, the original invoice number and date.
Specifications
Internal Battery model (EL0P2) - Weight: 42 lbs
External Battery model (EL0P2.EB) - Weight 30 lbs (battery is carried separately in canvas bag (12 lbs)
Ball Capacity: up to 135
Can be used with indoor or outdoor pickleballs
Made in the USA
Shipping box dimensions: 30" x 19" x 24"
Machine dimensions: 26" x 16" x 22"
Reviews
()
Lobster Pickle Two Machine

A former Tennis Player (25 Years/4.0)...After 2 Full Knee Replacements, A complete tear of the left Hamstring that required surgery and 3 Anchors to reattach and finally 74 years old...Hello Pickleball...I had the same version (2017 Model) for Tennis after my return from Knee replacements...Excellent quality and performance...The Pickle Two is the same quality, performance, features...The 10 function Remote, the large external battery and upgraded Charger is a must have...My battery on the 2017 Tennis Ball Lobster is still performing perfectly...Store both Machine and Battery in your house...Maintain as directed by Lobster...ENJOY!!! i

Pickleball Product Review

Just what I wanted

I have wanted a ball machine for awhile and kept comparing the machines out there and after using a friends lobster, I decided it was the one I wanted. I have only used it a couple times so far, but it is exactly what I wanted, and does everything I need it to. I am excited to drill on my own and use it in classes as well.

Love my machine!

I'm keeping five stars even though new balls gunked up the wheels within the week of owning. Apparently expect this with new balls. I'm currently looking into a way to "prepare" new balls so this doesn't happen. I realize you have to periodically clean the wheels with used balls. The machine itself does as expected, and I purchased the remote that does more. It's nice to have elevation at your fingertips. At 61, this machine is pretty light to put in and out of my car. The external battery is separate. I leave the machine in my car (during cool weather only), and charge the batter in the garage. The only thing you may find inconvenient is that when you move the machine on the court, you have to pick up the battery and move it too. I don't find it a nuisance though. Keep it at the base line or move it to the nvz and angle it for crosscourt dinks.

Received with quality control defects.

First machine had 3 defects. The second machine that was sent appears to work as designed. Remote was left out and is being shipped separately. Customer Tech support is the best you will find in any industry. Addressed the issue and quickly resolved.