Details
Left and right side spin capacities with the addition of a digital display, six preset drills, a variety of remote options, and electronic elevation. 120-ball capacity and speeds up to 60 mph.
Pickleball Tutor Spin Ultra
The Pickleball Tutor Spin Ultra by Sports Tutor maintains the left and right side spin present in the standard Tutor Spin model, but adds a series of industry-changing new features. This version includes a digital setting display with 6 preset drills that will make it easy to dive right into intense practice sessions. It also has three remote options for quick adjustments and additional benefits without having to walk back over to your machine. Random oscillation, 2-line oscillation, and electronic elevation are all included in the Tutor Spin Ultra model.
The Pickleball Tutor Spin Ultra can hold up to 120 pickleballs in its generous yet compact design, and arrives with attached 3" wheels and heavy-duty handle so you can maneuver it where you need it without strain. The three remotes options include a 2-function remote for on/off controls of ball feed and oscillation ($200), an FM multi-function wireless remote ($300), and a smartphone-based multi-function remote ($300). Make your remote control selection at the time of original purchase as equipment may need to be installed prior to shipment, and only one remote option will work per machine. Finally, the new digital readout panel is highly visible so you can check your settings from a distance and change up drills for maximum efficacy.
The Pickleball Tutor Spin Ultra will give you a wide variety of ways to keep your game sharp and practice new ways to be prepared on the courts.
The Pickleball Tutor Spin Ultra is a comprehensive machine for clubs, community groups and serious players wanting many ways to keep their skills sharp.
Additional Accessories available:
External Battery Pack: ($195.00):
Attaches to the machine through the charging jack and will provide an additional 4-6 hours of run time. Battery pack weighs approximately 12 pounds.
Can only be used with the battery-powered model.

External AC Power Supply: ($125.00):
For Battery-Powered models, External AC Power supply allows you to plug your battery-powered Tutor Machine into a wall outlet.
Weatherproof Cover: ($50.00)
: Vinyl machine cover.
The Pickleball Tutor Machine is covered by the manufacturer for 3 years, and the battery is covered for 1 year.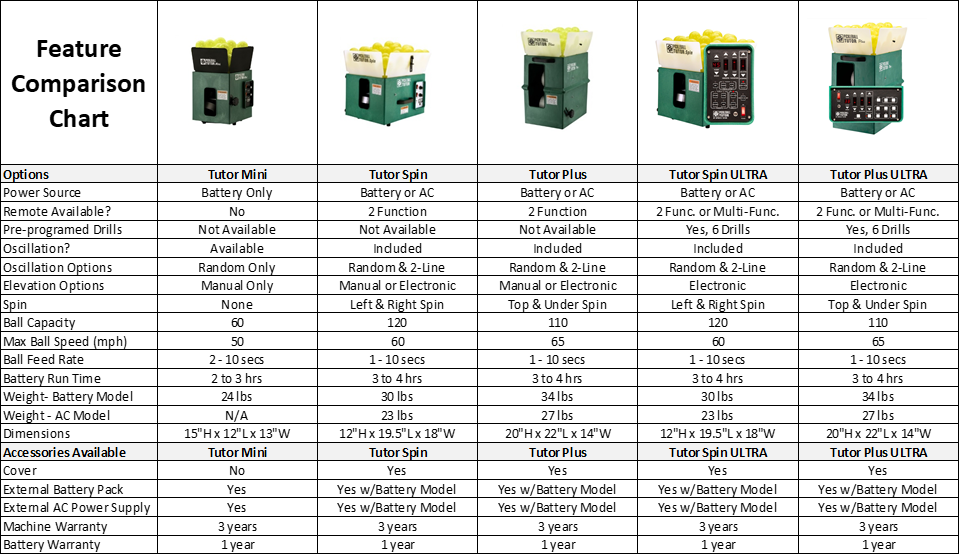 Links To:
Returns:
Returns will only be accepted with proper return authorization. Please contact our customer service department at
888-854-0163
to confirm eligibility and return instructions. A 10% restocking fee will be deducted from refund amount. Customer is responsible for return shipping charges. All returns must be shipped in original manufacturer box and packaging. We recommend adding tracking and insurance when shipping returns. Returns will not be accepted for merchandise that is misused, neglected or altered. Please allow 30 days for processing refunds.
Orders ship via UPS, signature required. Tutor shipments to Alaska & Hawaii are not eligible for Free Shipping. Please refer to our
shipping page
for more information.
This product is exempt from RR-series promotions.
Specifications
Battery-powered model weighs 30 lbs.
AC (Plug-In) powered model weighs 23 lbs.
Shipping dimensions: 12" x 18" x 20"
Speeds up to 60 mph
3 year manufacturer warranty on machine
1 year manufacturer warranty on battery
Made in the USA

The USA Pickleball specifications permit a range in ball diameter (2.854" - 2.992"). If the Pickleball Tutor Spin Ultra is used with a mix of both the smaller and larger diameter pickleballs, players may have a varied experience with trajectory. If the machine is set to feed the ball low over the net with the larger diameter ball, the smaller ball may have a lower trajectory, even hitting the top of the net. The distance between the internal feeder wheels of the machine determine how much pressure is put on the ball and the resulting speed at which the ball is fed. Therefore, a smaller diameter ball will come out of the machine slightly slower than a larger diameter ball.
Reviews
()
Best idea ever

With the remote, I'm allow to really stop and start it play to focus on grip, position and contact.

Pickleball Product Review

Love the ball machine!