Details
Portable pickleball machine features side spin capability, 125-ball capacity and speeds up to 60 mph. Choose from battery or AC powered options.
Pickleball Tutor Spin
Now includes side spin!
The Pickleball Tutor Spin may be small, but it sure is mighty! The machine that revolutionized training for pickleball keeps getting better. The Tutor Spin offers both right spin and left spin. Now you have the ability to practice your returns against the most challenging serves. The Tutor Spin is one of the smallest machines on the market - only 12 x 18 inches wide and 20 inches deep, making it almost half the size of other machines. It also weighs only 30 pounds – easy to transport thanks to the tow bar and caster wheels. This machine can hold up to a whopping 125 pickleballs. Shots are customizable: choose from a high lob, a short dink or a quick, direct fire at speeds up to 60 miles per hour.
The Pickleball Tutor Ball Machine is available in battery-powered or AC models. When the battery is fully charged, it can last up to 2-3 hours. Players can program the machine to fire at intervals between 1 and 10 seconds depending on how quick you want your game to be.
The Pickleball Tutor Machine is available in oscillating (battery or AC power). The oscillating model will randomly fire side-to-side shots, or you can select the 2-line version to set separate shot locations. The machine can be used with either indoor or outdoor pickleballs.
CLICK HERE to download the Pickleball Tutor Owner's Manual
(for machines purchased prior to Spring 2018)
CLICK HERE to download the Pickleball Tutor Owner's Manual
(for machines purchased after Spring 2018)
CLICK HERE TO download Pickleball Tutor Drill Manual
Wireless 2-Function Remote ($200.00):
Controls ball feed on/off and machine oscillation on/off. The Wireless 2-Function Remote works with oscillating machines only and must be ordered at the time the machine is ordered for configuration by the manufacturer.
2-Line Oscillation ($200.00):
This feature alternates shots between two preset locations on your court. Players can practice forehand and backhand shots in addition to rapid drills or get additional use out of the Tutor by allowing two players to practice at the same time. This option must be ordered at the time machine is ordered for configuration by the manufacturer.
Electronic Elevation Feature ($100.00):
A simple electronic switch on the control panel will allow you to control ball trajectory instead of using the standard manual knob which requires loosening and re-tightening. This option must be ordered at the time machine is ordered for configuration by the manufacturer.
Additional Accessories available:
External Battery Pack: ($195.00):
Attaches to the machine through the charging jack and will provide an additional 4-6 hours of run time. Battery pack weighs approximately 12 pounds.
Can only be used with the battery-powered model.

External AC Power Supply: ($125.00):
For Battery-Powered models, External AC Power supply allows you to plug your battery-powered Tutor Machine into a wall outlet.
Weatherproof Cover: ($50.00)
: Vinyl machine cover.
The Pickleball Tutor Machine is covered by the manufacturer for 3 years, and the battery is covered for 1 year.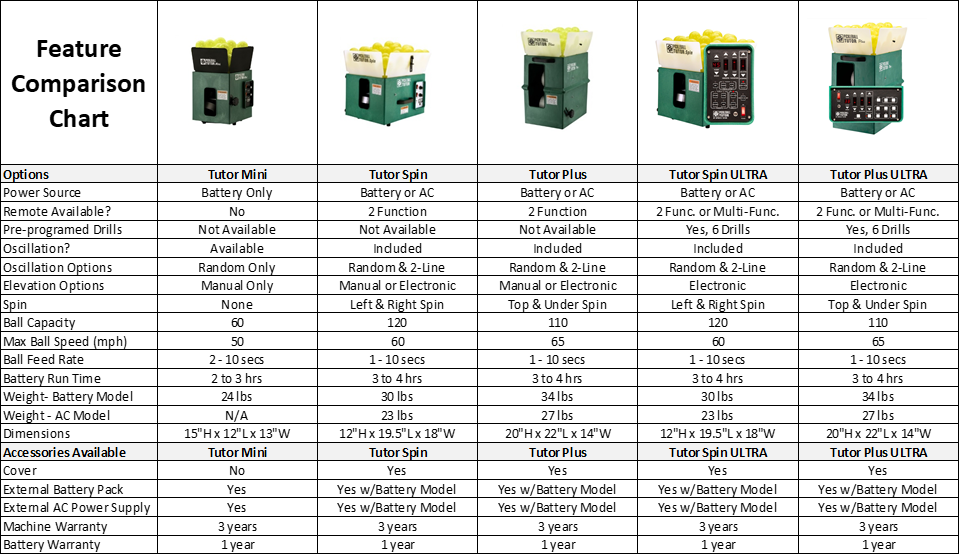 Links To:
Returns:
Returns will only be accepted with proper return authorization. Please contact our customer service department at
888-854-0163
to confirm eligibility and return instructions. A 10% restocking fee will be deducted from refund amount. Customer is responsible for return shipping charges. All returns must be shipped in original manufacturer box and packaging. We recommend adding tracking and insurance when shipping returns. Returns will not be accepted for merchandise that is misused, neglected or altered. Please allow 30 days for processing refunds.
Orders ship via UPS, signature required. Tutor shipments to Alaska & Hawaii are not eligible for Free Shipping. Please refer to our
shipping page
for more information.
This product is exempt from RR-series promotions.
Specifications
Battery-powered model weighs 30 lbs.
AC powered model weighs 23 lbs.
Measures 12" x 18" x 20"
Speeds up to 60 mph
3 year manufacturer warranty on machine
1 year manufacturer warranty on battery
Made in the USA

The USAPA pickleball specifications permit a range in ball diameter (2.854" - 2.992"). If the Pickleball Tutor is used with a mix of both the smaller and larger diameter pickleballs, players may have a varied experience with trajectory. If the machine is set to feed the ball low over the net with the larger diameter ball, the smaller ball may have a lower trajectory, even hitting the top of the net. The distance between the wheels of the machine determine how much pressure is put on the ball and the resulting speed the ball is fed. Therefore, a smaller diameter ball will come out of the machine slightly slower than the larger diameter ball.
Reviews
()
Pickleball tutor

We bought the tutor machine for our club so far everyone loves it we have over 60 members

Pickleball Product Review

The pickleball tutor spin is the most fantastic machine I ever purchased. RON in the service dept. is exceptionally knowledgeable and so very generous with his time and knowledge.

Tutor Spin

I have a love/ hate relationship with this machine. It takes a lot of time to set up and setting the elevation is really finicky

Pickleball Product Review

Compact and Easily Transportable

I have been using the Lobster for about a year and decided to purchase the Tutor Spin due to its smaller size and weight. The Tutor's handle allows me to easily carry the machine from house, to car and to the courts. The consistency of the two machines is about the same, meaning, neither machine delivers consistent balls. After setting elevation and ball speed, only some out of 100 balls will actually be within the intended target range. It is common for one ball to be where I want it, waist heigh, and the next to fly over my head, or far wide. Consistency is a problem with both machines. With the Tutor, once the hopper is full of balls, it's harder to reposition than the Lobster, which is on wheels. It's more important to set up the Tutor accurately before filling it with balls, whereas the Lobster can be repositioned easily. All in all, I prefer the Tutor because of its greater portability.