Details
Offers more weight and a longer handle. Great for 2-handed backhands. Choose from five colors, small or large grip options.

Middle-Heavyweight/Small or Large Grip
Bantam Sabre Pro Pickleball Paddle by Paddletek
The Sabre Pro Pickleball Paddle has an extra long 6-1/4" handle that increases reach and minimizes unused surface area. This creates a high-performing sweet spot while increasing speed. The paddle was designed in partnership with the US OPEN Triple Crown winner Scott Moore for optimal performance. Paddletek's Smart Response Technology makes the Sabre Pro feel reactive, provides more forgiveness and improves accuracy.

The Sabre Pro Pickleball Paddle is 16-1/2" long in total, with the sweet spot lying further from players' hands for additional strength at the point of contact. The Paddletek "p" logo is mirrored around the center of the face, creating a whirling pattern. In the background is a black to grey gradient with an overlay of white dots near the middle and contrasting lettering.

The Sabre Pro Pickleball Paddle has a streamlined design that will perform powerfully and effectively in the hands of precise players. Some people spell it "Saber", but however you spell it, the paddle is a fantastic weapon on the court!

Actual grip sizes may vary up to 1/8".
Test Reviews of the Paddletek Sabre Pro Paddle:
"I enjoyed playing with this paddle after a few outings. It took some adjustment to get used to the longer handle and smaller face. Once I did, however, I felt I could get more power and spin on the ball and was making shots I normally miss. This is a heavier paddle for me but it did not seem to bother my arm."
Chris C. (3.0 Player)
"After playing with the Sabre Pro by Paddletek, my initial skepticism turned to appreciation. I thought the paddle's narrow face wouldn't work well with my off-center hits. Also, as a person who grips the paddle high on the neck, I felt the Sabre Pro's long handle wouldn't benefit me. However, during warm ups with light dinks, I was impressed by its feel. It didn't have the harsh bang of other paddles, and its softer face gave me a feeling of control with hit placement and pace. During play I completely forgot about its narrow head and actually felt like it had a large sweet spot - particularly for shots made closer to the top or bottom of the face. I like the grip's tackiness and ribbing which helped during Florida's high humidity summer months. I even wanted to lower my grip to be more centered so I could experience the handle's full benefit. My sense is that players with a two-handed backhand or lower grip would appreciate the grip's length more than someone like me who only uses its top half. In summary, I like the Sabre Pro and give it high marks for control, feel and grip."
Bob R. (3.5 Player)
"The Paddletek Sabre Pro Paddle allows for greater top spin and forehand control and enhances my ability to slice with the long handle."
Cheryl L. (3.5 Player)
"I enjoyed playing with the Paddletek Sabre Pro Paddle. I like the longer handle length. It gives you extra extension for those shots that are slightly out of reach. The smaller face width of the paddle didn't seem to be an issue."
Rick H. (3.0 Player)
"After using this paddle for a few days, the things I noticed most were the size of the grip, diameter of the handle and the paddle's length. I play with a two-handed backhand, so I felt the length was great at providing room for my hands. It also allowed for extra reach to return balls. The diameter and thickness of the handle provided a more squared feeling in my hand. This prevented movement in my grip and allowed me to use a more relaxed hold. The Sabre Pro provided power when I needed it. I'm 5'10" guy, so its weight of 8.1 ounces was a good fit for me. The face of the Saber Pro generated enough spin on the ball without putting in much effort and its face size was adequate for my style of play. I found the sweet spot pretty much covers the entire face. The Paddletek Saber Pro provided me with the ultimate serving weapon since its length allowed for a quicker whip and improved speed."
Todd L. (3.5 Player)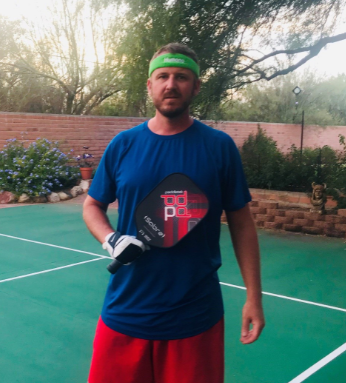 Transcript of Video #1 - Scott Moore
Hey, I'm Scott Moore from Colorado Springs, Colorado. Today I'm going to tell you about the Sabre Pro, my new signature paddle. I got to help design this paddle, and one of the things I wanted was a longer handle because I am learning, believe it or not, to hit a two-handed backhand. I've seen so many ladies, primarily, whip two-handed backhands past me over the years that I wanted to join them. If you can't beat them, join them. Now I have a paddle I can put my second hand on, and in singles I have brought it out and it is a new weapon for me because of this lengthy paddle. I also wanted a longer paddle for extra reach, especially for singles but one that was a little more squared off. This actually has a larger sweet spot than the oval-shaped elongated paddles. So I like it because I can not only play singles with it, but have enough of a sweet spot that I can also play doubles with it. It is also thicker. It is part of the Paddletek Pro Series (5/8" thick), so not only is it extremely powerful but the thickness gives it a little extra forgiveness and touch, as well. So now I have a powerful paddle that also has great feel, great reach, and on top of that because the head is a little bit heavier I can generate more head speed, meaning topspin over the ball, and that is critical when you're running and trying to hit a topspin cross court. I can hit it better with this paddle than any other paddle I've ever tried. Just absolutely love that about it.
Specifications
Sabre Pro Paddle Technical Specifications
Weight Average : 8.1 ounces
Weight Range: 7.9-8.4 oz
Grip Circumference: 4 1/8" (Small)
Grip Circumference: 4 3/8" (Large) Actual grip sizes may vary up to 1/8".
Grip Style: Thin or cushion
Grip Manufacturer: Paddletek
Grip Length: 6 1/4"
Paddle Length: 16 1/2"
Paddle Width: 7 3/8"
Paddle Face: Textured polycarbonate
Core Material: Polypropylene Honeycomb
Core Thickness: 9/16" (0.5625")
Edge Guard: 1/8" overlapping paddle face
Manufacturer: Paddletek
Made in USA
Reviews
()
Saber Paddletech

My wife loves this paddle so I bought two that are different colors. They are steady, consistently reliable paddles!

Item was returned

Paddle was OK but not for me

So far, so good

So far, I like it a lot. Just seems to suit my game, a nice blend of power and control. Despite the smaller head seems to be all sweet spot. We've only been on couple of dates, but I think I'm falling in love.

Good quality

Didn't make me a champ but sure feels good.

Great, I think…

Have only used once yet..but did purchase for the longer handle… was happy when it arrived that the handle is actually longer as stated. Bought another one elsewhere and it was not….so I'll be happy to see how it works out!