Details
The pro series from Paddletek features a thicker core for more increased touch and power. Choose from two grip sizes and five color options.

Middle-Heavyweight/Small or Large Grip
Bantam EX-L Pro Pickleball Paddle
The Bantam EX-L Pro takes the regular Bantam EX-L's control and power to a new level thanks to Paddletek's new, advanced core. This updated polymer core is thicker than before and creates additional touch and pop during play. It also has a 1/4" longer surface so players have a slightly larger face to utilize. The stylish design also shows off the quality that's gone into improving this popular competitive paddle.
The Bantam EX-L Pro weighs 8.2 - 8.8 oz and has a 7-7/8" width. The handle length is 4-1/2" long and can be ordered in either a small or large grip size. It has a composite surface with Paddletek's signature "P" decorating the center of the face. Different patterns are inlaid within the letter and the paddle's background, while the Bantam EX-L Pro name is located in the lower right.
The Bantam EX-L Pro will bring just the right amount of balance to your game so you can be a master of the soft game while still having the capacity to put away shots.
Actual grip sizes may vary up to 1/8"
Reviews of the Paddletek Bantam EX-L Pro Paddle by Johnson Ranch Pickleball Club:
"I've had the chance to use the Paddletek Bantam EX-L Pro for 15-20 games now and found it to be a top notch paddle. I would say it's one of the lighter paddles I've used, so it inspired confidence in tight situations that required quick reactions. At first I found the grip to feel a bit unusual, but that feeling passed very quickly and I felt the grip was actually more comfortable than many others I've tried.
My favorite thing about the Bantam EX-L Pro is the large sweet spot. I was able to make many shots with a consistency I had not previously enjoyed."
Kelsey (3.0 Player)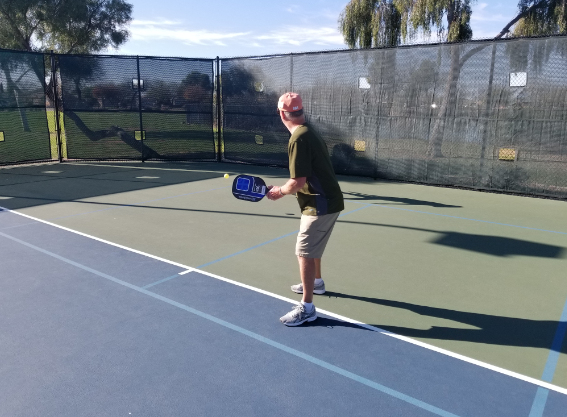 "The first thing I noticed about the Bantam EX-L Pro was its soft feel. It's great for some, but it was hard for me to get used to it. After playing a little more I seemed to adjust to the paddle, but it still didn't have the pop that I prefer. On the plus side, the sweet spot on the Paddletek Bantam EX-L Pro was more than adequate and seemed to be helpful when dropping a return over the net using its soft touch. Dinking with this paddle was great too, as the feel and control were very responsive. My serve had a lot of control and plenty of spin that I liked to use. I would say that most players would love having the Bantam EX-L Pro in their arsenal."
Dean (3.5 Player)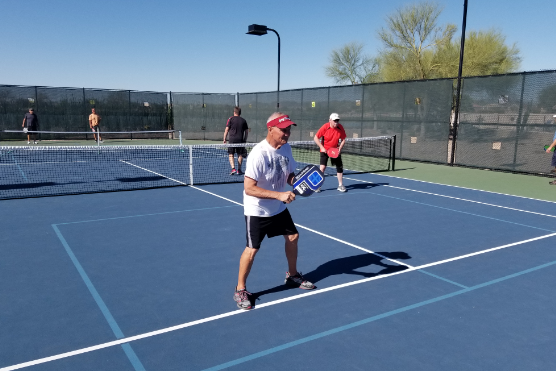 Specifications
Bantam EX-L Pro Technical Specifications
Weight Average: 8.5 ounces
Weight Range: 8.2 - 8.8 ounces
Grip Circumference: 4 1/8" (Small) or 4 3/8" (Large) Actual grip sizes may vary up to 1/8".
Grip Style: high-tack (small thin) or perforated cushion (large)
Grip Length:4 3/4 "
Paddle Length:16"
Paddle Width: 7 7/8"
Paddle Face: Polycarbonate
Core Material: Polymer honeycomb
Core Thickness: 9/16" (0.5625")
Edge Guard: 1/8" overlapping paddle face
Manufacturer: Paddletek
Made in the USA
Reviews
()
Length of Handle

The length of the handle is way too short. I'm returning for the Bantam EX-L model instead. ***PBC Response***Hey Diane, thanks for taking the time to leave a review! We know that not every paddle will be right for every player which is why we offer our 30-day no questions asked test drive allowing you to send the paddle back within 30 days of arrival for any reason at all. - Joseph, PBC Team

Bantam EX-L - Great Paddle

Paddle is all I hoped for - plenty of power but also have control and very responsive. One month in - very happy with choice.

Increased power & control.

Increase your power with this racquet as well as control. Top heavy weighted makes it easy to generate power. Only drawback is grip length is under 5" so I had to modify and lengthen grip.

Great all around paddle

Feels very comfortable and has great control. Highly recomend.

Solid paddle so I bought a 2nd

Tried several others but this is a great paddle for the price ——just wish PC had sent the balls that were supposed to be a added gift.