Details
This composite paddle from Paddletek features a thick poly core, allowing a softer game. Choose from two grips, two weights and five colors.

Light or Middleweight/Small or Large Grip
Bantam TS-5 Pro Composite Pickleball Paddle
The original TS-5 is an amazing (5-Star rated) paddle, and this new Bantam TS-5 Pro takes the performance up to a whole new level. Using Paddletek's ground breaking 916 Pro core, this paddle creates a larger, more consistent sweet spot so that you're ready to return any shot! The 916 Pro Core is thicker than the prior TS-5, a full 9/16" thick (vs 1/2" on the original). This increased core thickness spreads the ball impact energy out in a more consistent way, giving the paddle better play across the entire face.

Of course, this is a TS-5, so this Pro edition doesn't give up what made the TS-5 famous to begin with. The paddle is designed for folks who want a high performance paddle that isn't head heavy. The original TS-5 is known for exceptional touch and control, with good power, in a light-weight package, and this new TS-5 Pro maintains what was great about the original, but with a bigger, more consistent sweet spot, and increased shot making control.

Another great aspect of this Pro version, is how you can personalize the paddle specific to your liking. The TS-5 Pro can be customized in both its grip size, and its weight range. It also comes in a choice of a Smaller 4 1/8" grip size or a Larger 4 3/8" grip. The Small grip uses a high-tack flat "overgrip" style wrap, and the Large grip uses a perforated cushion wrap. You can also choose a weight range for this new Pro TS-5. The Light version averages around 7.3 ounces, with weights ranging from 7.0 to 7.5 ounces. But if you want a bit more power, while staying under 8.0 ounces, the standard weight paddle averages around 7.8 ounces, and comes in a range from 7.6 to 8.0 ounces.

These option choices accommodate a wider variety of players, so whether you want a lighter paddle for more speed or a heavier for more power, or if you want a trim grip for smaller hands or you prefer a larger, more cushioning grip for comfort, you'll enjoy the best option for your needs.

The new 2020 model of the TS-5 Pro features Torsional Vibration Control that helps improve the size of the sweet spot side to side and help you have successful shots on off-center mis-hits.

This new Bantam TS-5 Pro shares a lot in common with its original TS-5 brethren. They both come with Paddletek's limited lifetime warranty. They both are authentically made in the USA, and they most use trademark Paddletek polymer core technology. The new TS-5 Pro features a textured face fiberglass hybrid face with a UV coating to prevent breakdown and fading. The design comes with a black background which is covered with the Paddletek "P" and has a mesh-like pattern within its outline. The paddle name is displayed to the lower right.

The Bantam TS-5 Pro Paddle is a quick and customizable paddle that will provide all the flexibility you need to win point after point.

Actual grip sizes may vary up to 1/8".
Review of the TS-5 Pro Pickleball Paddle by Northwest Bakersfield Pickleball Club:
"
Upon receiving the new Paddletek Bantam TS-5 Pro, I immediately noticed the graphics on the face of the paddle. I chose the red-colored paddle and there's quite a bit involved in the design. Rather than just the "P" logo, you're getting smaller and less noticeable (to the naked eye) design within design. I like to stand out from the crowd, and it's definitely appealing to the eye.




Now, let's get down to the nitty gritty: How does it perform? I usually choose paddles with a

longer
handle, but I have used the "Helo" by Paddletek before. This is similar. It does fit my fairly large hands perfectly. My hand feels secure when hitting the ball and it has a thicker size grip. The hitting surface and sweet spot is fairly wide. I chose the mid weight 7.6 oz, but it comes across heavier.

I personally like a heavier weighted paddle when I compete because it doesn't take a lot of swing to get the ball across the net when dinking. I tested the paddle with different balls. The one I really enjoyed playing with while using the Bantam TS-5 Pro was the Dura Fast 40. I seemed to have tons of control and the "POP!" it gave me was exceptional. I would definitely recommend the Bantam TS-5 mid-weight paddle for everyday use. Whether you are playing both recreational or competitive. This paddle is sure to change how you play."
Vinny Rivera (3.5 Player and USAPA Ambassador)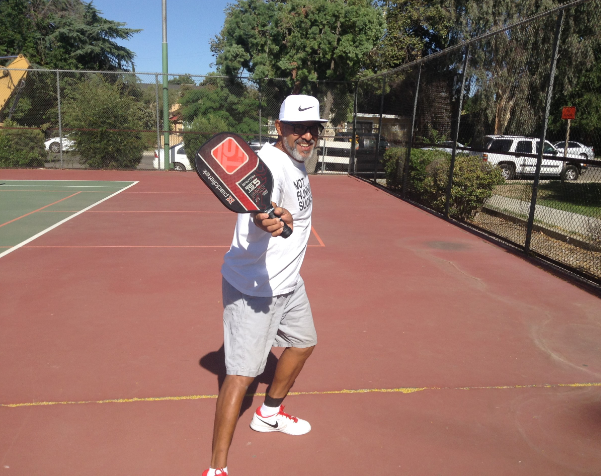 Review of the TS-5 Pro Pickleball Paddle by Hamilton Lake Pickleball Club:
I come from a background of Paddletek paddles having played both recreational and competitive pickleball in Indiana and Florida. With that in mind, I have been playing with the new Paddletek Bantam TS-5 Pro Composite Paddle and find it to be the jewel of the Paddletek line and well worth the rather high price tag.

The thing I like the most about the paddle is not just the weight, but the feel of the even distribution of the weight. It is easy to control at any game pace: dinking, rapid fire or base line returns. I have noticed a big difference in the ability to put a meaningful spin on the ball. Being an intermediate who switches hands at times, for whatever reason, it seems easier to make the switch which probably is attributable to the weight factor.

Thank you to PickleballCentral and Paddletek for the opportunity to utilize another well made product.
Karyl Amstutz (3.5 Player)
Specifications
Bantam TS-5 Pro Composite Paddle Technical Specification
Weight Range: (Light) 7.0-7.5 ounces
Weight Range: (Standard) 7.6-8.0 ounces
Grip Circumference: 4 1/8"(Small) or 4 3/8" (Large) Actual grip sizes may vary up to 1/8".
Grip Style: High-tack thin (Small) or Perforated Cushion (Large)
Grip Length: 4 3/4"
Paddle Length: 16"
Paddle Width: 7 7/8"
Paddle Face : Textured Fiberglass Epoxy Hybrid - UV coated
Core Material: Polymer honeycomb
Core Thickness: 9/16" (0.5625")
Edge Guard: 1/8" overlapping paddle face
Manufacturer: Paddletek
Made in the USA
Reviews
()
Paddle Performance

As soon as I opened the bag the paddle handle was very short. I wanted a lightweight paddle and this paddle had no control touches. It sounded hollow and played like a wood paddle. I would not recommend buying this paddle. ***PBC Response*** Thanks for taking the time to leave a review Jon! While your experience with the paddle is not consistent with others, we know that not every paddle will be right for every player. That's why we offer our 30-day no questions asked test drive allowing you to send the paddle back within 30 days of arrival for any reason at all. - Joseph, PBC Team

I have only had the paddle for a few days and 8 Live It!!

Great action !!

Great paddle for me

This is my 3rd Paddletek. It works for me, being a lighter weight and smaller grip.

Bantam TS-5 Pro Paddle

Love this paddle! I had used same type for my last paddle and couldn't find any reason to change to something different. My hardest decision was what color to pick for new paddle!

Bantam TS-5 Pro

This is my second TS-5 Pro. I love the power and control I get with this paddle. I considered trying out something different but decided not to because I love my old paddle.