Details
Spin-happy paddle with a blended carbon and fiberglass face, replaceable bumper system, and vibration dampening core that limits noise.

Middleweight/Small Grip
ProKennex Kinetic Pro Speed II Pickleball Paddle
The Kinetic Pro Speed II Paddle is part of the next generation of ProKennex paddles, using clever engineering to take their gear to the next level. The Kinetic Pro Speed II continues to feature a special 7-layer coating on the face which creates spin and makes it easier to control your shots. ProKennex has added an all-new replaceable Air-O-Guard edge guard so that you can simply change out a single piece if your paddle gets damaged rather than having to purchase entirely new equipment.
Click here to get a
replacement Air-O-Guard
(fits the Kinetic Pro Speed II in colors Green and Pink. Not compatible with the Hunter Green/Inferno Orange Kinetic Pro Speed II Paddle).
The ProKennex Kinetic Pro Speed II weighs between 7.7 - 8.0 oz which puts it in the medium weight range. It has a small 4" grip circumference, with a 4-7/8" handle length. This creates a balanced feel while the squared edges provide plenty of surface area for a variety of shots and solid defense. The core is made with impact-resistant polymer that plays with a solid yet gentle feel and produces little noise. (Note: Actual grip sizes may vary up to 1/8".)
DJ Young and Callan Dawson used these new paddles to win the 2020 World Pickleball Championship event in Punta Gorda, Florida sporting the pink color paddles.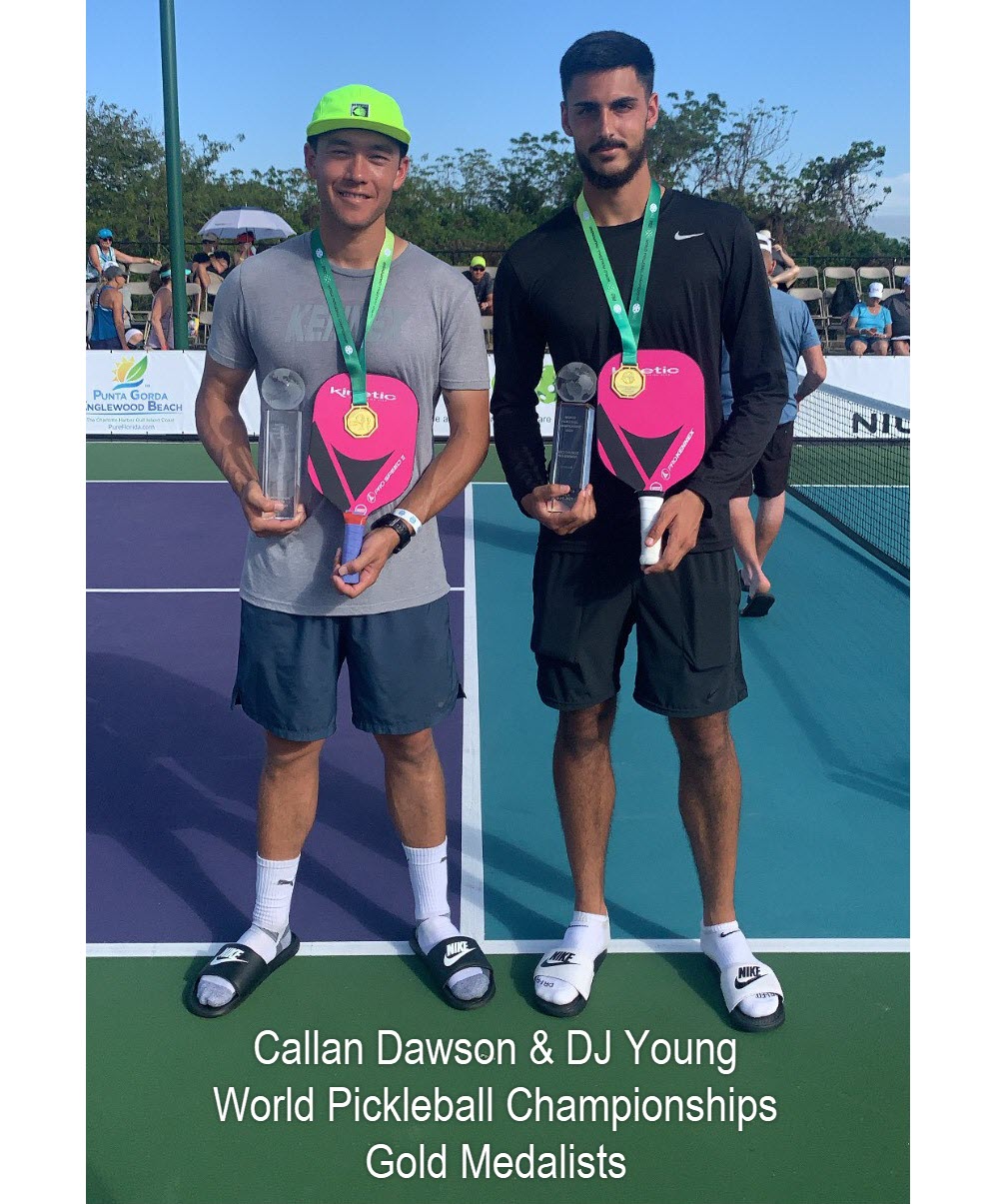 The Pro Speed II Paddle with Kinetic is a part of the "Speed" line of ProKennex Paddles. This is the upgraded second release of this line, and the technology improves on an already high quality design to provide excellent versatility, touch and placement. Released in December of 2020, this second generation added the replaceable Air-O-Guard edge protector, and released new colors. There are two shapes in the Speed II line - the "Pro" shape (rectangular) and the "Ovation" Shape (Oval).
Click here to visit the Ovation Speed II paddle page.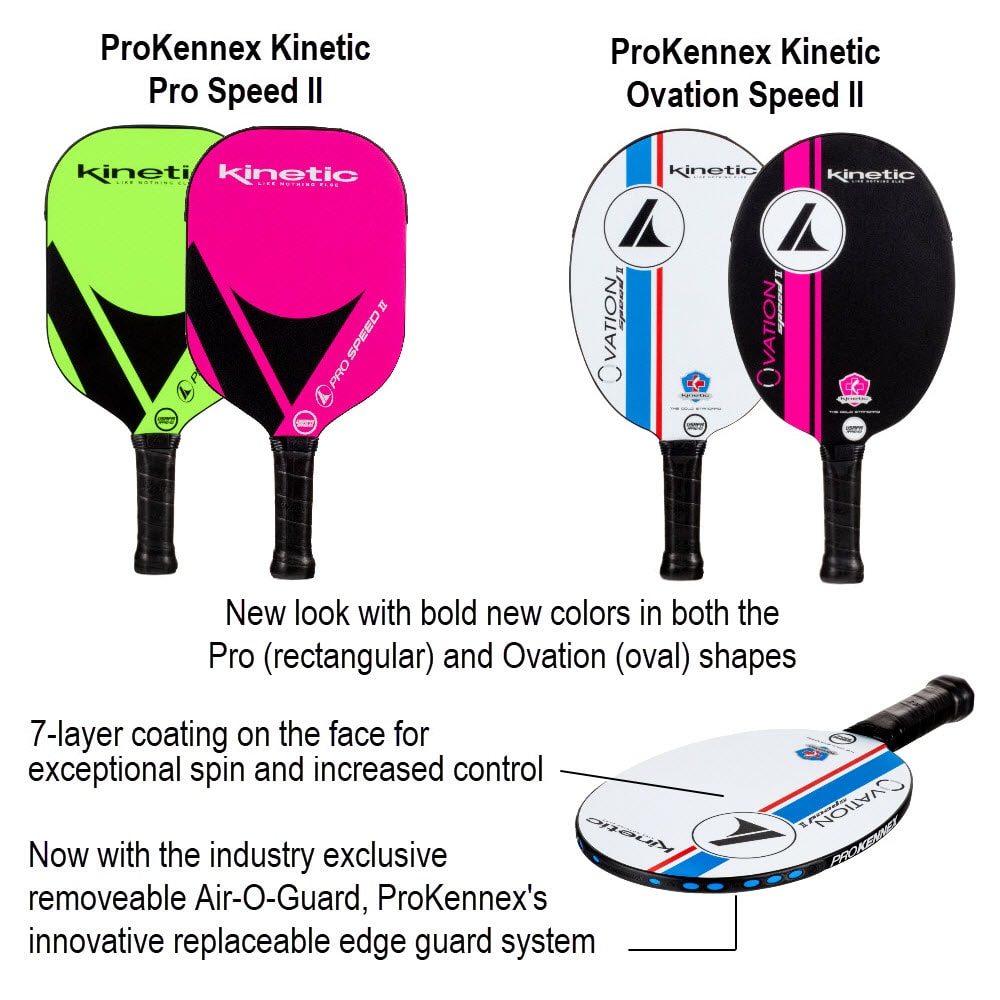 Please note:
Due to the edgeless design, this paddle may develop wear to the graphic overlay and/or small chips at the edges during play. This is normal wear and tear and is not considered a defect in the product. The Air-O-Guard bumper edge guard will mitigate much of this wear; however, the potential for it to occur remains. This wear does not diminish the performance or playability of the paddle, and in our own internal testing, after hundreds of hours of play, the paddle holds up exceptionally well without any change in play. Consider these scrapes and wear as a badge of honor, earned by hours on the court!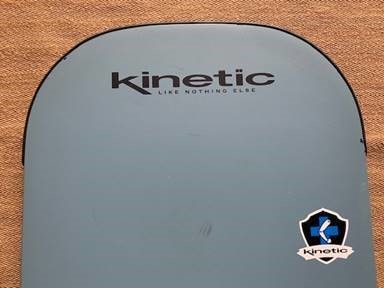 Staff Reviews of the ProKennex Pro Speed II Pickleball Paddle:
"For a paddle that plays this soft, I was absolutely shocked by the pop. The design of the paddle absorbs energy before it goes up your arm. The lack of vibration causes a very soft feel to play. Normally that softness comes with a price and I have to swing harder to get the power. Not so with the Kinetic Pro Speed 2. I hit a couple of short hop shots that often end up in the net and saw them sailing over for winners. It is obvious that a lot of thought went into the Pro Speed. To have a paddle that can help prevent arm injuries and performs at such a high level is an amazing accomplishment. Whatever style you play, this paddle is worth a try. It can adapt to a power or a touch game and plays like nothing else I have tried."
John, Sales (3.5 Player)

"As someone who has battled 'pickle elbow', I was truly excited to try out the Pro Speed with its Kinetic energy system. I received a prototype around 60 days before the formal launch, and I put around 20 hours on the paddle over a 4 week period. The paddle plays unlike anything I've ever hit with. The embedded tungsten micro-beads used in the paddle absolutely work in terms of absorbing energy. When a ball strikes the paddle face, you feel the inertial energy, but not a lot of vibration, and as such it plays 'quiet' in terms of feel in the hand. My test paddle weighed in at 8.0 ounces, and had a very comfortable 4" circumference high-tack grip. To reduce my tennis elbow issues, one of the things I was encouraged to do by my physical therapist was to reduce the grip size on my paddles so I didn't have to grip as hard, and this thin 4" grip works perfect! (I had already regripped and sanded down the grips on my other paddles to 4", so this came out of the box perfect for me.). To me, the paddle plays with a neutral to slightly head-weighted balance, allowing the 8.0 ounces to push the ball, generating a lot of power without having to really snap my wrist. It plays like a pro-level power paddle in terms of "put-away power" (think high end pro fiberglass paddle), but the soft feel of the ball on the face, and the lack of vibration gives me exceptional confidence on soft shot play like dinks, or defensive volleys. My normal fear with an edgeless paddle is that the sweet spot is sacrificed in favor of reducing edge guard mis-hits, but the Pro Speed II has an enormous sweet spot, the largest I've ever seen on a paddle without an overlapping edgeguard. I spoke with the design team at ProKennex Pickleball, and they explained how the flush fit carbon fiber frame creates all the advantages of an edge guard in terms of expanding the sweet spot, without the perimeter bulk and weight. This paddle is an absolute winner!"
Edward, Marketing (3.5 Player)

"Given its thin bumper-style edge guard and its aerodynamic shape, the paddle is deceptively strong and powerfully playing, offering more power than any paddle I've ever used. I can see how this paddle is an absolute weapon in the hands of a gifted shot maker! The ball springs off the face with lots of speed, and has good size for paddle of its shape and edge configuration. I like a paddle that has neutral balance, and good weight distribution, and this paddle feels exceptional in my hand. As a member of the Pro-shop staff, I work with lots of customers, and this paddle is exciting to work with because of its potential to reduce or prevent elbow problems. The paddle absorbs a great deal of the ball impact vibrations and requires very little swing strength in exchange for lots of power. After I adjusted to its power, my softer shots like dinks and defensive volleys played nicely."
Arne, Pro-Shop Staff (4.5 Player)

"This is a versatile, adaptive paddle. On blocking shots it feels like it is absorbing the impact of the ball, allowing you to slow the ball down and easily drop it into the kitchen. For dinking, it felt soft, sturdy, and predictable. The paddle plays "smooth". The structure of the paddle, the rigid edge, and the kinetic beads really impart energy into the ball without passing that vibration into your hand/arm. There is plenty of power from this middle weight paddle, so I didn't feel like I needed to swing super hard. Sweet spot is great, didn't notice any hot spots or real dead areas. For me, the paddle feels a bit heavy (I prefer a 7.5 ounce paddle), but you get a lot of power for that extra .5 ounce so I like the trade off. I think this is a great all-around paddle for any mid to pro level player looking for a consistent solid playing paddle. It is especially good for those who have elbow or wrist injuries and I think for people who prefer a smaller handle circumference. My final comment is more about aesthetics - the paddle looks awesome, I really like the slightly smaller grip and the grip feel is great. It is a thin grip but has a good soft cushion almost a gel feel and is fairly tacky. Also due to the sound of the embedded tungsten beads it can double as a maraca."
Jimmy, Product Manager (3.5 Player)
Specifications
Kinetic Pro Speed II Pickleball Paddle Technical Specifications:
Weight Average: 7.9 ounces
Weight Range: 7.7-8.0 ounces
Grip Circumference: 4" (Small) Actual grip sizes may vary up to 1/8"
Grip Style: High Tack Thin Grip
Grip Manufacturer: ProKennex
Grip Length: 4 7/8"
Paddle Length: 15.43"
Paddle Width: 7.6"
Paddle Face: carbon/fiberglass hybrid w/Spin-Grab
Core Material: Polypropylene honeycomb matrix with special quiet, high impact resistant Polymer
Edge Guard: Replaceable Air-O-Guard Bumper System
Designed in San Diego, CA
Manufacturer: ProKennex
Made in China
Reviews
()
paddle

I am obsessed with the kinetic paddles, and I love my Pro Speed II. I am more a finesse player, but this paddle gives me additional power and speed when needed. I would highly recommend it.

kinetic pro speed II paddle

Very light. Not good for me on mishits.

Kinetic pro speed II

First paddle was defective, but exchanged it with a new exact paddle and it's great!

Pro Kennex Paddle with Free Cover

Highly recommend

ProKennex Kinetic Pro Speed II Paddle

I bought this paddle as a birthday present for my husband. It arrived with a chipped handle. I contacted pickleball central and they sent me another paddle. On the second day my husband was playing pickleball, the paint in one side of the paddle started to come off. He is still playing with the paddle and the paint continues to come off, just in one side. The paddle works but the quality is not great.

Pro kennex paddle

I love my new paddle. I do believe I play better. Thank you.

Rate paddle

Great paddle & Pickleball Central is the best

Pro Kennex Pro Speed 2

I have turned in the paddle three times because of defects. 1. Core sounded like a rattle and had a major issue. 2. Carbon fiber started to peel after two uses. 3. Same issue with the carbon fiber and it peeled after about five uses right by the bumper guard. It plays well but is not made well.

My paddle chipped the second time I used it.

I love playing with this paddle but it chipped and shows wear after only a few times playing with it.

Love this paddle

I began to play pickleball about a 1 1/2 years ago. I initially bought an inexpensive beginner paddle which served its purpose well. However, as I desire to move to the next levels, I felt the need to upgrade my paddle. I tested a couple of other paddles but landed on this one as I like the feel of it in my hand as well as the feel of it hitting the ball. I find it manouverable and responsive. My resets seem to have improved as well as my volleys. I am working on increasing sping and although the paddle does not have much grit, it is helping me get a better top spin going. All in all, I believe this paddle is helping me get to the next level in my game.