Details
High speed paddle with a versatile carbon and fiberglass hitting surface, compact shape, and quiet core.

Middleweight/Small Grip
ProKennex Kinetic Ovation Speed II Pickleball Paddle
The Kinetic Ovation Speed II Paddle is the upgraded model of the original paddle, offering new colors and a new feature. The most innovative feature added is the new Air-O-Guard, a removeable edge guard that allows you to replace a single part rather than replacing your entire paddle if it becomes damaged. Additionally, the Ovation Speed II continues to feature a 7-layer coating on the face that creates spin and makes it easier to gain a competitive edge and control your shots.
Click here to get a
replacement Air-O-Guard
(fits the Kinetic Ovation Speed II in colors Black/Pink and White/Blue. Does not fit the Hunter Green/Inferno Orange Kinetic Ovation Speed II Paddle).
The Kinetic Ovation Speed II Paddle has a small 4" grip circumference (actual grip sizes may vary up to 1/8"), and a 4-7/8" long handle. The weight is in the medium range coming in at 7.7 - 8.0 oz for a balanced feel that offers a confidence-inspiring degree of both power and precision. The core material uses honeycomb polymer that is highly impact resistant, combined with ProKennex's Kinetic impact-dampening technology, to help prevent "pickleball elbow" while maintaining consistent touch. It also makes for a quieter sound which is less disruptive to play.
The ProKennex Ovation Speed II Paddle with Kinetic technology has a streamlined and adaptive design that will last as you improve your game.
The Ovation Speed II Paddle with Kinetic is a part of the "Speed" line of ProKennex Pickleball Paddles. This is the upgraded second generation of this paddle line, and the revisions improve upon an already high quality design to provide excellent versatility, touch, and placement. Released in December of 2020, this second generation added the innovative (and replaceable) Air-O-Guard edge protector, and offers two new colors. There are two shapes in the Speed II line - the "Ovation" Shape (oval), and the "Pro" shape (rectangular).
Click here to visit the Pro Speed II paddle page.
Actual grip sizes may vary up to 1/8".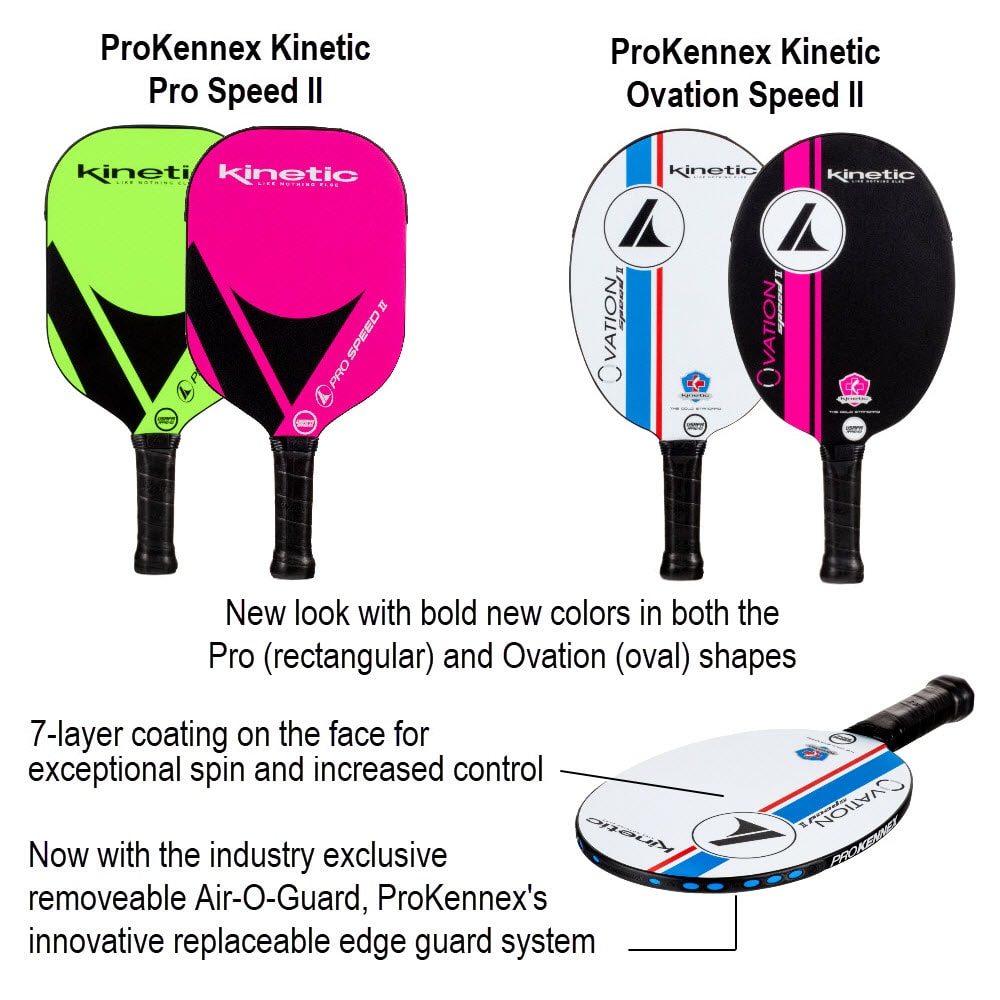 Please note:
Due to the edgeless design, this paddle may develop wear to the graphic overlay and/or small chips at the edges during play. This is normal wear and tear and is not considered a defect in the product. The Air-O-Guard bumper edge guard will mitigate much of this wear; however, the potential for it to occur remains. This wear does not diminish the performance or playability of the paddle, and in our own internal testing, after hundreds of hours of play, the paddle holds up exceptionally well without any change in play. Consider these scrapes and wear as a badge of honor, earned by hours on the court!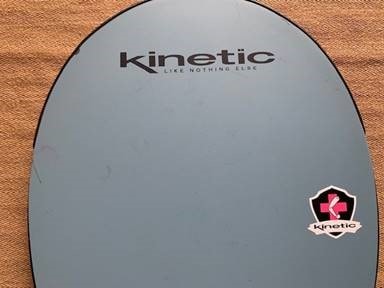 Reviews of the Kinetic Pro Flight Ovation Paddle by Pickleball Central Staff:
"Have you ever thought to yourself, 'I wonder why paddle manufacturers haven't designed a paddle that is just basically the shape of a sweet spot?' I certainly have, and that question is answered in the Kinetic Ovation Speed 2 from ProKennex. The result? A little of what I expected, and a little of what I didn't. Much like ProKennex's Pro Speed model, the Ovation is a highly maneuverable paddle thanks to its slim profile, and the unique shape does indeed seem to 'grow' the sweet spot a bit and position it right at the center of the paddle. Think of it, to a certain degree, as replicating the predictable trampoline effect of striking a tennis racket in the dead center. This second generation Ovation retains the grippy surface texture and Kinetic vibration dampening technology that ProKennex paddles have become well-known for, while adding eye-catching new colors and an unobtrusive (not to mention replaceable!) bumper-style edge guard tacked onto the outside edge of the paddle. Because I'm no pro, the top edge of my previous ProKennex paddle took some punishment from court surfaces as I attempted to dig out low balls. This new, light, slim edge guard feature will definitely save me some 'dang its.'
This is a forgiving paddle which enhances my ability to place dinks with confidence, and the 'Spin-Grab' texture turns the action on my cut serves up several notches. I'd be fibbing if I didn't say I enjoy frustrating my opponents with it! Finally, as a 6'3" tall player with larger-than-average hands and a table tennis background, I appreciate the oval shape accommodating my 'finger-up' grip style and the ease with which I can build up the thin 4" handle circumference with a couple rolls of overgrip to achieve that perfect thickness. All in all, I am loving this paddle and already know I'll be reaching for it often."
Traver, Web Guy (4.0 Player)
Specifications
Kinetic Ovation Speed II Pickleball Paddle Technical Specifications:
Weight Average: 7.9 ounces
Weight Range: 7.7-8.0 ounces
Grip Circumference: 4" (Small) Actual grip sizes may vary up to 1/8".
Grip Style: High Tack Thin Grip
Grip Manufacturer: ProKennex
Grip Length: 4 7/8"
Paddle Length: 15 3/8"
Paddle Width: 7 5/8"
Paddle Face: carbon/fiberglass hybrid w/Spin-Grab
Core Material: Polypropylene honeycomb matrix with special quiet, high impact resistant Polymer
Edge Guard: Replaceable Air-O-Guard Bumper System
Manufacturer: ProKennex
Designed in San Diego, CA
Made in China
Reviews
(154)
Pickleball paddle

Love it

Love the paddle

I love the paddle. Feels natural in my hand. I love the large sweet spot. Best fit for me. My second ProKennex paddle. Very happy with it

Paddle with a huge Sweet spot

Having gone through quite a few paddles including many more expensive, this is my go to paddle.

Paddle

I love this paddle!

Awesome Paddle

Awesome Pickleball Paddle!!! I love it and I play Pickleball alot!!! It holds up Awesome, no scratches or dents!!! I recommend this Paddle and company!!! I would definitely buy again!!!

Pickleball Product Review

New Paddle

I love this paddle and it has improved my game with its ease of controlling the ball.

Love it!

I chose this paddle because my elbow was starting to hurt like it did years ago when playing a lot of tennis. After about 10 days, the pain has subsided! Pickleball Central has the best information and service. Woul# not even think of ordering anywhere else.

Great control….love it!

Pickleball kinetic ovation speed 2 paddle

I had a terrific experience and have since told two players this is the place to get racquets