Details
Free Paddle Cover ($16.99 Value)
Reduce vibration and impact with this innovative paddle from ProKennex. Choose from blue or pink.

Light-Midweight/Small Grip
ProKennex Kinetic Ovation Flight Paddle
The Kinetic Ovation Flight Pickleball Paddle is full of amazing features that will take your game to new heights with improved speed and control. The Ovation version of the Flight paddles has a unique shape, it's Oval. This puts the sweet spot of the paddle right in the center of the oval shape, perfect for ex-tennis players who love to watch the ball strike right in the middle of face of the paddle. This Ovation oval shape also creates a slight weight bias a bit closer to the handle. On the face, ProKennex has introduced a new Diamond Frost coating which improves surface contact and texture, resulting in more spin. A Cloud Cell core on the inside creates a more widely spaced honeycomb which allows the paddle to stay light and maneuverable without sacrificing power. Testers report that the power of this paddle is amazing for its weight. To top it all off, the Air-O-Guard edge guard is entirely replaceable, so if it ever gets scuffed you can simply switch out a single part without purchasing a new paddle. An of course, no edge guard wraps up and onto the face of the paddle, eliminate edge guard mis-hits.
Click here to get a
replacement Air-O-Guard
for your Ovation Flight paddle.
The Kinetic Ovation Flight Pickleball Paddle uses ProKennex's proprietary Kinetic System with tungsten-filled chambers to prevent injury and reduce shock. This is ideal for avoiding "pickleball elbow" and enjoying longer games pain-free. The paddle weighs 7.3 – 7.6 oz with a small grip and 5" long handle. The rounded sides create a surface that is highly consistent and responsive no matter where you make contact with a pickleball.
The Kinetic Ovation Flight Pickleball Paddle is a dynamic piece of equipment that is not only comfortable to use but ideal for high level play.
Actual grip circumference may vary up to 1/8".
Please note:
Due to the edgeless design, this paddle may develop wear to the graphic overlay and/or small chips at the edges during play. The Air-O-Guard bumper edge guard will mitigate much of this wear; however, the potential for it to occur remains. Our testers have also reported a small degree of wear on the finish/texture on the faces of these paddles. This normal wear and tear is not considered a defect in the product, and does not diminish the performance or playability of the paddle. In our own internal testing, after hundreds of hours of play, the paddles hold up exceptionally well without any change in play. Consider these scrapes and wear as a badge of honor, earned by hours on the court!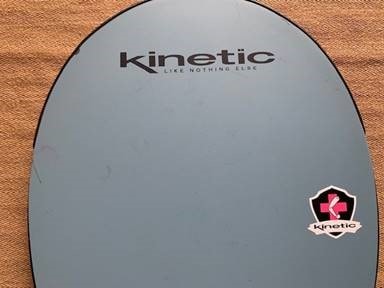 Click here for additional info and pricing
Reviews of the Kinetic Ovation Flight
Paddle by Pickleball Central Staff: "The ProKennex original Ovation in one of the go-to paddles in my bag. I use it if I ever feel a twinge in my elbow or shoulder, or when I feel like I need a little more pop in my game. I always feel I retain the control portion of my game with the added power. And with the new Ovation Flight I feel like they have magnified the positives of the paddle and added a few new tricks, as well. The ball pops off the face even a little more. And with the paddle being a little lighter, I feel even quicker with this version. My arm benefits from the tungsten beads absorbing the energy, as well. And as for the new trick, the replaceable edge guard gives me more confidence to dig out the low shots without fear of chipping the paddle. And, with the new Diamond Frost High Texture face I can spin the ball more. My top spin misses that hit the top of the net climb over like never before (and goodness knows I need the help). I am impressed with how ProKennex keeps pushing the envelope with paddle technology."

John, Sales Team (4.0 Player)

"ProKennex has established itself as a builder of super high-end paddles designed to help people play longer, and with reduced pain due to its Kinetic energy vibration control technology. The new Flight Series delivers a new option for players wanting a lighter version of these paddles, but with all the power and control they have come to expect. My test unit of the oval shaped Ovation Flight paddle weighed 7.5 ounces. It felt incredibly solid for its light weight, with a high-texture face perfect for imparting spin on balls. The paddle has several upgrades over the original first generation model including the new Air-O-Guard edge protector, lighter weight design, and a new core/face combination that generates both power and spin. The shape on the Ovation Flight puts the sweet spot right in the middle of the paddle. As an ex racquetball guy, I tend to like the ball played up the face a bit more, so I prefer the rectangular Flight Speed version (see separate review). Almost all the ex-tennis players I've spoken with prefer the oval Ovation shape, so ProKennex seems to have a model for every preference. Congratulations to Steve Dawson on working with the team at ProKennex to design another winning paddle!"

Edward, Product Team (4.0 Player)
Specifications
ProKennex Ovation Flight Pickleball Paddle Technical Specifications
Weight Average: 7.5 ounces
Weight Range: 7.3-7.6 ounces
Grip Circumference: 4" Tapered (Small) Actual grip sizes may vary up to 1/8".
Grip Style: Comfort Cushion
Grip Manufacturer: ProKennex
Handle Length: 4.9"
Paddle Length: 15.43"
Paddle Width: 7.6"
Paddle Face: Carbon with Diamond Frost surface texture
Core Material: Cloud Cell Poly Honeycomb
Edge Guard: Replaceable Air-O Guard
Arm Protection: Kinetic System Technology
Manufacturer: ProKennex
Designed in San Diego, CA
Made in China
Reviews
()
Will buy from them again!

When I called with a few questions the phone was answered quickly. They were knowledgeable and courteous, and I felt like a valued customer. My order was shipped that day and arrived a day early. Thank you!

Pickleball Product Review

Bought for a friend very pleased so far

Kinetic Ovation Flight Pickleball Paddle - Pink

I love the paddle. Absorbs shock as advertised. Excellent service by Pickleball Central. I was able to pick my paddle weight and there was a friendly handwritten note enclosed with the paddle.

Love this paddle

I've been playing with this paddle for 2 weeks now and absolutely love it. Altho it's a tad heavier than my previous paddle, the weight feels more evenly distributed, and it actually feels lighter. The spin is terrific and the surface grips the ball. I was concerned the handle might not work well with my 2-handed backhand, but no problems. The ovation flight has a very light touch so I was hitting more balls out, but I adjusted quickly. I love this paddle so much I'm going to order one for my son.

Overall experience was great

Ordering was easy, delivery was fast, paddle met or exceeded our expectations.