Details
Innovative paddle with a textured carbon fiber hitting surface, traditional shape, and a sweet spot expanding core.

Light-Midweight/Small Grip
ProKennex Kinetic Pro Flight Paddle
The Kinetic Pro Flight Pickleball Paddle brings fresh innovations to the ProKennex line with an emphasis on speed, placement, and improved durability. It uses a new Cloud Cell Core which is made to reduce the paddle's weight due to wider spacing in the honeycomb design. A proprietary Diamond Frost coating on the surface produces tons of spin while resisting wear. In addition, the original Air-O-Guard system provides a fully replaceable edge guard, allowing players to swap out a single part rather than tossing the entire paddle if it gets scuffed.
Click here to get a
replacement Air-O-Guard
(compatible with the Kinetic Pro Flight in colors Blue and Pink. Does not fit the Navy Blue/Lime Green Kinetic Pro Flight Paddle).
The ProKennex Kinetic Pro Flight Paddle comes in two shapes, and this Pro shape is rectangular with a traditional size and width. The sweet spot plays slightly up the face like squared up paddles. The Flight Series of Paddles are lighter weight than ProKennex's original releases, coming in at 7.3 – 7.6 oz. Players will enjoy increased speed and maneuverability, with less torque on their elbows. The handle length is 5" with a small grip. This paddle is ideal for reducing overuse injuries and "pickleball elbow" thanks to the manufacturer's famous Kinetic System which uses tungsten-filled chambers to disperse energy evenly throughout the face. It has well-defined, squared edges for those who appreciate as much surface area as possible.
Kinetic Pro Flight Pickleball Paddle is an innovative piece of equipment that offers excellent control with less chance of injury.
Actual grip circumference may vary up to 1/8".
Please note:
Due to the edgeless design, this paddle may develop wear to the graphic overlay and/or small chips at the edges during play. The Air-O-Guard bumper edge guard will mitigate much of this wear; however, the potential for it to occur remains. Our testers have also reported a small degree of wear on the finish/texture on the faces of these paddles. This normal wear and tear is not considered a defect in the product, and does not diminish the performance or playability of the paddle. In our own internal testing, after hundreds of hours of play, the paddles hold up exceptionally well without any change in play. Consider these scrapes and wear as a badge of honor, earned by hours on the court!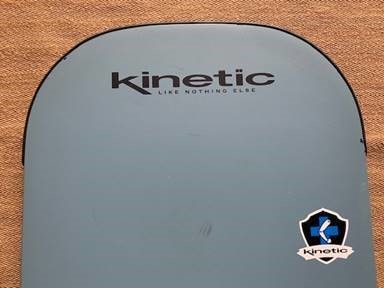 Reviews of the Kinetic Pro Flight Speed Paddle by Pickleball Central Staff:
"ProKennex continues to drive performance with technology. The ProKennex Pro Speed Flight paddle has the same energy absorption technology of the original paddle, to help prevent injuries. This technology is famous in the tennis world, and set a new standard for paddle technology when introduced for pickleball paddles. ProKennex has added new core and face technologies that take the performance of this paddle to a new level. The core is lighter and yet more powerful – an impressive feat to pull off. That means the put away shots were jumping off my paddle. To go with more pop, the paddle now has a new face texture, so enhanced spin has been added to the ProKennex Flight paddle performance. My cut shots really skipped and gave my opponents fits. The Sweet Spot remains a little higher up the paddle on the rectangular shaped Speed version, great for people wanting a more traditionally shaped paddle. The consistency shot to shot made my kitchen game feel totally in control. The changes to this paddle make it more accessible for players who like a solid light/middleweight paddle."
John, Sales Team (4.0 Player)

"As someone who has battled intense 'tennis elbow' problems, I fell in love with the first generation Prokennex Pro Speed paddle. I had three (very) minor complaints with that original model, and this new Flight version addressed all three of my desires. First, it's lighter. My test model was 7.4 oz (vs. the 8.0 ounce first generation version.) Lighter paddles put less strain on your elbow, and give you faster hand speed in kitchen volley exchanges.
Second, I wanted an edge protector for the amazing carbon fiber perimeter frame on the paddle. The Generation 1 version used 'training tape' to protect the edges, but this new Flight version uses something called the 'Air-O-Guard' which is a molded plastic bumper that does not interfere with the face. It's super cool looking, but most importantly it protects the carbon fiber frame. Picking balls close to the ground is incredibly easy with this thin core paddle that doesn't have a traditional bulky edge-guard.
Finally, the paddle generates a ton of power. I didn't like having to move up to an 8.0 ounce paddle to get the power and sweet spot consistency I like in a paddle, but wow, this Pro Speed Flight generates a ton of power for a lighter paddle. The sweet spot is generous, and I felt totally in control on all shot types (drops, dinks, blocks, drives, etc.)
This face texture on this paddle is astounding - the highest level of grit I've ever perceived on a paddle. Hitting cuts and topspin were very easy. This one is going in my bag and may end up my daily player!"
Edward, Product Team (4.0 Player)
Specifications
ProKennex Pro Flight Speed Pickleball Paddle Technical Specifications:
Weight Average: 7.5 ounces
Weight Range: 7.3-7.6 ounces
Grip Circumference: 4" Tapered (Small) Actual grip sizes may vary up to 1/8".
Grip Style: Cushion Grip
Grip Manufacturer: ProKennex
Grip Length: 5"
Paddle Length: 15.5"
Paddle Width: 7.6"
Paddle Face: Carbon with Diamond Frost surface texture
Core Material: Cloud Cell Poly Honeycomb
Edge guard: Replaceable Air-O-Guard
Arm Protection: Kinetic System Technology
Manufacturer: ProKennex
Designed in San Diego, CA
Made in China
Reviews
()
Pro kennex paddle

The paddle arrived timely and in good condition. However after only a couple of uses the grip became loose. Just after that a chip appeared at the top edge. I contacted pickleball Central by phone. They were understanding and helpful. I provided a photo of the defect. Within a few days I received a new replacement and instructions for returning the defective paddle. No complaints.

Prokennex Paddle

I had a version of this paddle previously, so knew I'd love it. The light weight is awesome, the longer handle.

ProKennex Kinetic Pro Flight Paddle

I have used the Kinetic Pro flight through the pink and blue models. This one lacks everything... No pop, no spin, just kind of died off the paddle.

ProKennex Kinetic Pro Flight Paddle

I decided to buy this paddle because I've been dealing with some really painful tennis elbow (I prefer to call it pickleball elbow). I chose it because of its lighter weight, smaller grip, and reviews. I've only had it a few weeks, but I can already tell a big difference. Five stars from this player!

Wonderful light super powerful

A great hard hitting paddle with little effort. Takes sometime to learn not to his the ball to the next city but then all good

Pro Flight

Purchased this paddle to aide in the recovery of shoulder arthritis pain. Only been using it a couple of weeks but it seems to be working. VERY different from my Selkirk Epic. Better grip, a little less control due to being very light weight and thin. Plan to go back to the Epic once fully healed. NOTE: I did have to exchange the dark blue Pro Flight as the face starting chipping immediately. Replaced it with the light blue color and hoping to not have the same issue. Overall good paddle!

Pro Kennex flight paddle

Not sure I like material shifting inside paddle. Sweet spot seems smaller than my last prokennex

Kinetic pro flight paddle

Great paddle. Light and easy to control.

Kinetic pro flight paddle

Great paddle. Light and easy to control.

Paddle

I LOVE IT!!