Details
A more compact version of the popular Pickleball Tutor features 55-ball capacity and ball speeds up to 50 mph. Choose from non-oscillating or oscillating model.
Pickleball Tutor Mini
The Pickleball Tutor Mini gives you all the versatility for drills you could want in a convenient and compact package. This ball machine is only available with battery-powered operation, however you can select whether you want an oscillating or non-oscillating machine and you can purchase an external adapter if you also want it to work with AC power. It can hold up to 55 pickleballs of any type and send them out at speeds up to 50 mph.
The Pickleball Tutor Mini weighs 24 lbs so it is very easy to move from place to place. You can manually adjust elevation to work on everything from lobs to ground strokes. There is a 3-year warranty on the machine itself with a year-long warranty on the battery. The rechargeable battery allows for approximately 3 hours of play time and can be extended with a battery pack.
The Pickleball Tutor Mini is just the right size to work on your game and various techniques solo in just about any location.
Additional Accessories available:
External Battery Pack: ($195.00):
Attaches to the machine through the charging jack and will provide an additional 4-6 hours of run time. Battery pack weighs approximately 12 pounds.
Can only be used with the battery-powered model.

External AC Power Supply: ($125.00):
For Battery-Powered models, External AC Power supply allows you to plug your battery-powered Tutor Machine into a wall outlet.
The Pickleball Tutor Machine is covered by the manufacturer for 3 years, and the battery is covered for 1 year.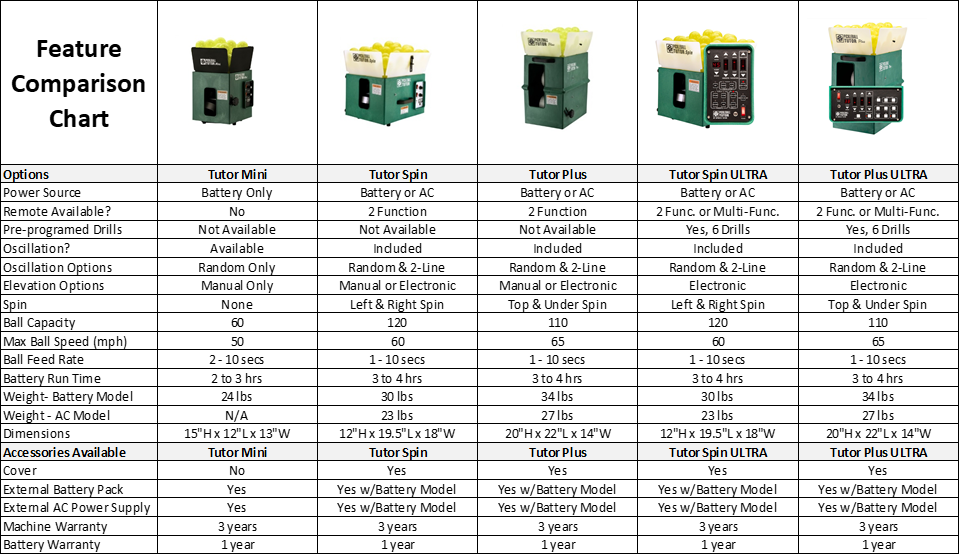 Links To:
Returns:
Returns will only be accepted with proper return authorization. Please contact our customer service department at
888-854-0163
to confirm eligibility and return instructions. A 10% restocking fee will be deducted from refund amount. Customer is responsible for return shipping charges. All returns must be shipped in original manufacturer box and packaging. We recommend adding tracking and insurance when shipping returns. Returns will not be accepted for merchandise that is misused, neglected or altered. Please allow 30 days for processing refunds.
Orders ship via UPS, signature required. Tutor shipments to Alaska & Hawaii are not eligible for Free Shipping. Please refer to our
shipping page
for more information.
This product is exempt from RR-series promotions.
Specifications
Battery-powered model weighs 24 lbs.
Shipping dimensions: 16" x 16" x 19"
Speeds up to 50 mph
3 year manufacturer warranty on machine
1 year manufacturer warranty on battery
Made in the USA

The USAPA pickleball specifications permit a range in ball diameter (2.854" - 2.992"). If the Pickleball Tutor Mini is used with a mix of both the smaller and larger diameter pickleballs, players may have a varied experience with trajectory. If the machine is set to feed the ball low over the net with the larger diameter ball, the smaller ball may have a lower trajectory, even hitting the top of the net. The distance between the wheels of the machine determine how much pressure is put on the ball and the resulting speed the ball is fed. Therefore, a smaller diameter ball will come out of the machine slightly slower than the larger diameter ball.
Reviews
()
Works very well

Looking forward to improving my game by practicing with this.

Pickleball Product Review

Love it So Far

Only played with it a couple times, but has worked great

So Far, So Good

Machine works as advertised. Lot's of fun.

Pickelball Tutor Mini.

This machine is fun for two people. It offers practice for back line, middle and kitchen areas. One person putting in the balls nonstop for 15 minutes, gives a good workout. Changing up and having the other person put in the balls, gives each person plenty of shots. Love that it comes with a warranty.