Details
Heavier, 16mm (0.63") thick poly core paddle with tri-layer face delivering control from close up, and power from deep. Elongated shape allows for improved reach and follow-through.

Mid-Heavyweight/Medium Grip
JOOLA Ben Johns Hyperion CAS 16 Graphite Pickleball Paddle
The Ben Johns Hyperion CAS 16 Graphite Pickleball Paddle leverages JOOLA's specialized Hybrid-Ply technology to offer uniquely powerful response from deep in the court, and a thick 16mm (0.63") polymer core to minimize shock and maximize control from the kitchen line. All of these top-quality features are incorporated into an elongated shape preferred by pro player Ben Johns, which combine to provide powerful reach, court coverage, and follow-through. The tri-layered face is comprised of two layers of fiberglass and one of carbon fiber to improve the sensitivity of dinks and velocity of drives.

The Ben Johns Hyperion CAS 16 Paddle weighs 8.1 – 8.5 oz., allowing players to add power to their strokes with minimal effort. It features a Carbon Abrasion Surface (CAS) that is sand-blasted to create texture that enhances spin whenever you want to change up the direction of your volleys or frustrate opponents with cut or slice serves. The 16-1/2" overall length and 5-1/2" handle length result in a shape that allows for double-handed shots and great extension on groundstrokes. Its grip circumference is 4-1/4" so players enjoy padded comfort but with the perforations and tackiness needed to maintain a firm hold.

The Ben Johns Hyperion CAS 16 Graphite Paddle from JOOLA Pickleball dampens vibrations to protect the body while maxing out power and responsiveness across your arsenal of winning shots.

Actual grip sizes may vary up to 1/8".
Reviews of the Hyperion CAS 16 Paddle by Pickleball Central Staff:
"The Ben Johns Hyperion Series offers some exciting new paddles from an exciting new brand – JOOLA. The Ben Johns Hyperion Fiberglass/Graphite Hybrid 16mm is a paddle that offers some extra pop for those players who like to attack (I see you Chuck Taylor). The shape of the Hyperion is an attacking shape (16.5" long X 7.5" wide) with a 5.5" handle length. This shape is popular across brands and provides a good combination of power with enough width to defend.
The secret sauce for the Hyperion CAS 16 is the combination of fiberglass layers topped by a carbon fiber layer. This "Hybrid-Ply" approach to face materials offers touch on the short shots, but a little extra pop when you load up a big backswing and impact down to the fiberglass on your power shots.
The 16mm version offers a little extra control via the thicker core, and it widens the sweet spot just enough. But if you really want the extra pace on your passing shots, the
Hyperion 13.5mm
may be the paddle for you."
John, Sales Team (4.0 Player)
More Test Reviews of the Hyperion CAS 16 Pickleball Paddle:
"I recently lucked into the chance to audition a new paddle. It turns out the paddles are endorsed by Ben Johns, the top player in the world. I said, 'Hey, if Ben is playing with this beauty, shouldn't the 4.5-5.0 players be the ones to take it for a spin?' I felt it was like handing a finely tuned Formula One race car to a man on the street. It turned out that feedback from all players, even guys with no hair and two fake knees, is valuable to the paddle-buying public! After a few games on the court, I felt the Hyperion was a great fit for me. It was light enough to instill confidence and pop while reaching for a backhand, and I genuinely enjoyed the interlaced grip as I punched short volleys. I also preferred its elongated shape, rather than a more boxy square, when dipping to retrieve low balls. I found it to be a terrific option for a player looking for both easy control and surprising power. And the color – my JOOLA Hyperion was gorgeous. My wife chooses horses at the racetrack by the color of the jockey's silks. She would easily choose (and never lose track of) this unit in our paddle-up rack at our local courts."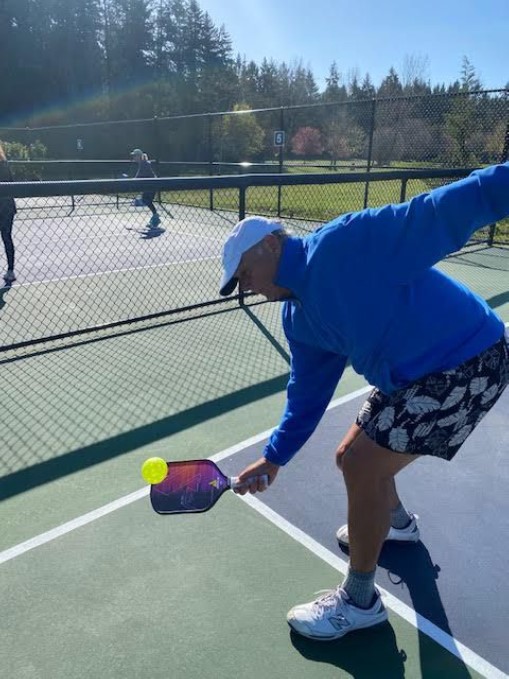 - Tom Kelly
Bainbridge Island Pickleball Club
"I played the Joola, Ben Johns, Hyperion CAS 16 paddle. I'm a 3.5 + player that enjoys competitive recreational play and a once a year tournament. My first impression focused on the handle. I liked the look of the white handle and really liked the feel of the grip. It has ridges for a more secure grip and more control. However, white may not look as cool after months of play. The weight of the paddle was consistent with what I play (8.2 oz.) and felt well distributed. This paddle has more "pop" than my current paddle and it took me a little time to adjust to it. In the end, it turns out that I really prefer a bit of extra power, even though I'm trying to play softer these days. The sweet spot seemed generous and balls hit around the perimeter of the paddle sounded and behaved as a well struck ball should. The paddle seemed pretty forgiving both while dinking and driving the ball. I think the JOOLA Ben Johns Hyperion CAS 16 is a good fit for upper level and advanced players that can appreciate the subtle differences in paddles. The Joola logo adds a classy look to this paddle, too."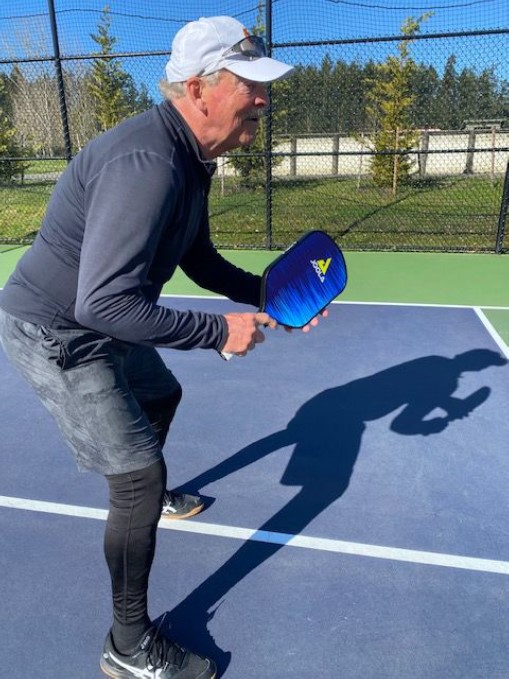 - Clay Roberts
Bainbridge Island Pickleball Club
Specifications
JOOLA Ben Johns Hyperion CAS 16 Graphite Paddle Technical Specifications
Weight Average: 8.3 ounces
Weight Range: 8.1 - 8.5 ounces
Grip Circumference: 4 1/4" (Medium) Actual grip sizes may vary up to 1/8"
Grip Style: Sure-Grip Technology
Grip Manufacturer: JOOLA
Handle Length: 5.5"
Paddle Length: 16.5"
Paddle Width: 7.5"
Paddle Face: Hybrid-Ply Multi-Layered Face with Carbon Abrasion Surface (CAS) Texture
Core Material: Response Polymer Core
Core Thickness: 16mm (0.63")
Edge Guard: 1/4" overlapping paddle face
Manufacturer: JOOLA Pickleball
Made in China
Reviews
(25)
Spin & Power & Control Oh My!

Love it from the get-go. I'm just getting into pickleball a bit seriously so this was an amazing step up from my prior setup. Great control, didn't notice a huge learning curve to get used to any overshots. Spin is a BIG change from my prior paddle, which to be fair was basically a piece of cardboard. Dinks over the net are more consistent and power off serves has increased. We'll see longevity wise how it fairs, but so far it's good quality. Handle is adequate as advertised and grip is substantial.

Nola Paddle

Great paddle! Offers both power and control without sacrificing either quality. Highly recommend this for someone looking for a change in what they're using now.

Joola Paddle/Ben Johns

Love this paddle! The grip, control and weight/size are perfect!

JOOLA Ben Johns Hyperion CAS 16 Graphite Paddle

I love this paddle. I was using my husband's paddle and liked it better than my paddletek paddle and ordered one for me. The only thing I would change is the white grip tape as it gets dirty very quickly. Please give options for other paddle grip colors. I will have to have mine regrouped with another color soon.

Nice Paddle

Nice paddle with textured surface and nice grip. It doesn't have the power I was looking for, so I returned it . Customer Service is great, seamless return & reimbursement.

Joola Ben Johns Hyperion CAS16 graphite paddle.

After having my 2nd Onix paddle break in less than a year I decided to move in another direction and totally love this Joola paddle and would recommend it to anyone serious about upping their game.

Joola Hyperion

Quality paddle; nice sweet spot

Joola Hyperion CAS16 Graphite Paddle

So far this product has lived up to my expectations.. I played with it for a little over 2 months 3-4 times a week and the face is just starting to show some microscopic wear. I would recommended this product

Excellent pedal

Good combination of Control and power. My game has improved instantly when switching to this pedal.

Excellent Upgrade

Definitely improved my game. If feels like an extension of my arm when I hit the ball. Best hit of any paddle. It's like the ball glides off the paddle with good precision. The raised and larger grip took some getting used to. But now I love it because there is more support holding it. I do NOT like the white color grip. It's already showing a lot of dirt. Easy enough to regrip though. Overall a great paddle. Highly recommend.