Details
Foam-injected edge guard and reactive polymer core blends control and responsiveness, with added length for optimal court coverage and follow-through.

Light or Middleweight/Medium Grip
JOOLA Ben Johns Hyperion CFS 16 Graphite Pickleball Paddle
The Ben Johns Hyperion CFS 16 Graphite Paddle from JOOLA gives players the opportunity to experience greatness — not only due to its materials and construction, but because you'll be using the very same paddle wielded by the most highly ranked player in men's singles, doubles, and mixed doubles pickleball history: Ben Johns. The design leverages JOOLA's unique foam-injected perimeter ("Hyperfoam Edge Wall") surrounding a 16mm (0.63") thick polymer core to improve consistency, weight distribution, and the size of the sweet spot. On the exterior of the paddle, you'll appreciate JOOLA's textured Carbon Friction Surface (CFS) which takes your gear's capacity for spin to the next level so you can shape your shots on a moment's notice.

The Ben Johns Hyperion CFS 16 Paddle measures 16-1/2" in length, which makes it easier than ever to reach across the court, dig out those pesky low balls, and follow through on every swing. The 5-1/2" long handle allows for double-handed shots which are useful when you need to put a ball away quickly or topspin roll a winner down the middle. At 0.63" the core is much thicker than average in order to dampen impacts, maximize control, and reduce the time needed to recover from off-center strikes. This paddle is available in a standard weight of 8.4 or a lighter 7.9oz Swift weight, giving you control over feel while guaranteeing plenty of swing-weight without the need for a big windup. Its grip circumference is 4-1/4" with perforations that minimize moisture and comfortable ridges which let players align their fingers by feel alone. Every detail meet's Ben's exacting specifications.

The Ben Johns Hyperion CFS 16 Graphite Paddle by JOOLA Pickleball delivers all the features needed to truly hone your skills and support advanced players in maintaining control over every inch of the court.

Actual grip sizes may vary up to 1/8".
Reviews of the Hyperion CFS 16 Ben Johns Paddle by Pickleball Central Staff:
"The Hyperion CFS is the flagship model of the Pickleball line from JOOLA, and after playing with it for about a week it's easy to see why. Coming in at 16mm thick the paddle has incredible touch around the net which I attribute to the "reactive honeycomb" core. The "Carbon Friction Surface" let me bend the ball on drops and drives effortlessly, making it a blast to be offensive from anywhere on the court. The core and surface alone would have sold me on the paddle, but the "Hyperfoam Edge Wall" sweet spot and stability enhancement is no gimmick; this paddle has the largest sweet spot of anything I've tested. It's easy to see why this is Ben Johns' weapon of choice. If you, as a competitive pickleball player, can handle the 8.2+ ounce weight, the Hyperion CFS 16 has the spin, touch, and stability to take you to the next level. Mine certainly won't be leaving my bag anytime soon."
Joseph, Marketing Powerhouse (4.5 Player)
More Test Reviews of the Hyperion CFS 16 Pickleball Paddle:
"I have been playing pickleball for almost 4 years now and rate myself a high 4.5/low 5.0 skill level player. When I was asked to review the Joola paddles I was excited about the opportunity but honestly didn't think it would be a very different experience from other pickleball paddles I have used in the past. However, I found the JOOLA Hyperion to be an excellent paddle for both indoor and outdoor play. I had excellent control moving through the transition zone and blocking up at the net. I had about the same amount of power on drives and smashes as I do my other graphite paddle. What most impressed me on power shots was the feel of the paddle; there was very little vibration when hitting or blocking which made for a very comfortable experience. The sweet spot felt huge, and even when missing I didn't experience the rattle or clunk like most paddles.

Even though I'm not a 2-handed player, I liked the balance provided by the extended handle. The grip on the CFS 16 was perfect; I wouldn't even bother to re-grip it for fit. I liked the ridged grip that came with the paddle. It felt tacky and easy to hold, and didn't get slick after a couple hours of indoor play. I was hoping this paddle was going to be a bit of a gimmick so that I could demo it and move on with my life. I'm sorry to say that it was so awesome that now I really want one!"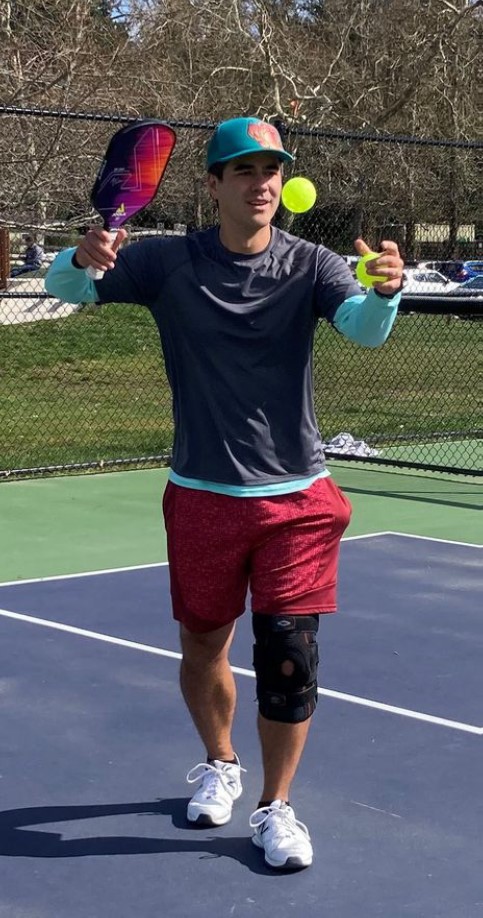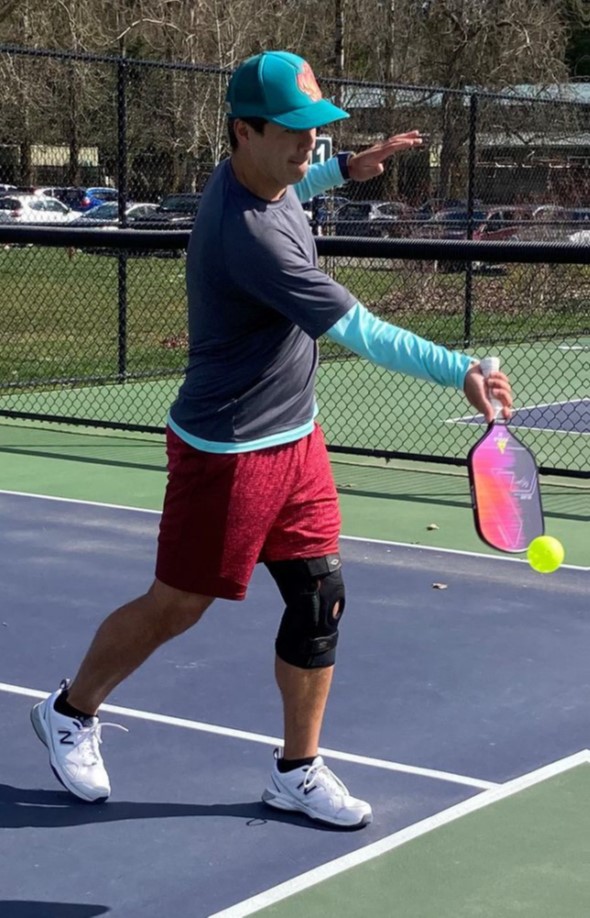 - Zachary Ohnemus
Instructor, Bainbridge Island Pickleball Club
"After playing with the new Joola Hyperion paddle for about 10 hours, I was Impressed. I liked the slightly top heavy feel, as it delivered impressive power while still retaining its touch. The carbon surface takes spin control to whole new levels! I like the hybrid size of the face and elongated handle, as it allows for two handed backhands. The best feature of this paddle is that there are no dead spots! I was hitting near the edge and it delivered like I had hit dead center. I just found my new paddle!"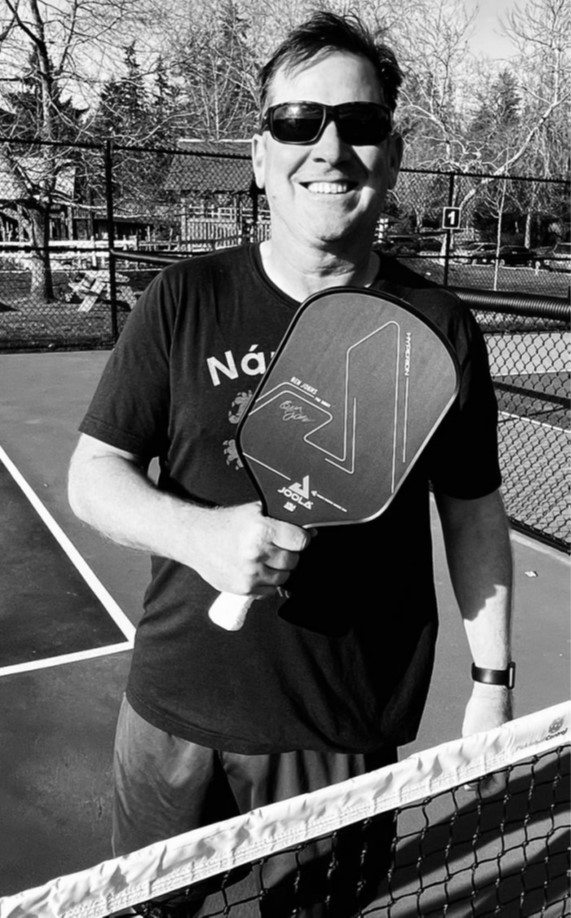 - Sean Megy
Bainbridge Island Pickleball Club
Specifications
JOOLA Ben Johns Hyperion CFS 16 Graphite Paddle Technical Specifications
Weight Average: 8.4 ounces (Standard), 7.9 ounces (Swift)
Weight Range: 8.2 - 8.6 ounces (Standard), 7.7 - 8.1 ounces (Swift)
Grip Circumference: 4 1/4" (Medium) Actual grip sizes may vary up to 1/8"
Grip Style: Sure-Grip Technology
Grip Manufacturer: JOOLA
Handle Length: 5.5"
Paddle Length: 16.5"
Paddle Width: 7.5"
Paddle Face: Carbon Friction Surface (CFS)
Core Material: Reactive Polymer Core
Core Thickness: 16mm (0.63")
Edge Guard: 1/4" overlapping paddle face
Manufacturer: JOOLA Pickleball
Made in China
Reviews
()
Great Paddle for 3.5 and above.

Lots of control and spin off the carbon surface. Good value under 190.00 in price. If you play a lot 3 + per week might last a year. I bought 2 and rotate. Needs weight on the top of the paddle for maximum power. I just hope they don't disco as the shinny new toys come out.

Nice Paddle !

I upgraded from a Selkirk Amped S2. Little less power but better touch which has helped my game. My only complaint is the grip tape which doesn't seem to do so well with sweat.

Joola Hyperions

Frame a little too small. Hit shots occasionally on frame.

Paddle

I'm beginning to get used to the paddle. The weight is good and allows for playing the softer game while still having power. The biggest complaint is that I could have ordered the exact same paddle that included the paddle cover from Amazon for the exact same price. For a paddle in this price range, I would think a cover would be included.

Joola paddle

Wanted to love this paddle but didn't. Was ok, lacking something for me. Usually a 4.0 player. Returned it.

Joola Hyperion paddle

I think it's a great paddle, but I don't understand why a dark colored grip is not used. The white grip started turning dingy after just a week of use.

Not much control for me

I am a lower level intermediate player (just under 3.0). I ordered the swift version thinking that I would be able to react faster. However, I had to sacrifice control and had too many pop-ups. Perhaps that would not happen to me if I was a more advanced player. I also did not like the white handle but that is easy to replace. I returned the paddle.

Joola Bed Johns Hyperian

Love this paddle. Excellent grip, great control, great spin surface design, great balance

Joola

I have better control dinking with this paddle vs the Gearbox that I have been using

ben johns hyperion cfs16 graphite

Feels more like my old tennis racquet. a little heavier. more control and power.