Details
Price Reduction!
Long face paired with a shorter handle create a head-heavy feel for increased power and precision.

Middleweight/Medium Grip
VANGUARD Hybrid Omni Pickleball Paddle
The VANGUARD Hybrid Omni Paddle has the longest face in the VANGUARD line so players can cover the entire court and pull off unexpected maneuvers. The elongated style is ideal for advanced players who can swing with precision but still want a large surface area and crave the increased power, reach and forward momentum this style provides. It comes with a host of improvements over the previous AMPED line including a new type of face, high traction grip and slimmer edge guard.
The VANGUARD Hybrid Omni Paddle has a 7.5 – 7.9 oz weight range in the light model and 7.8 – 8.3 oz range in the standard model. Its face is made up of two layers of Toray carbon fiber on both sides which creates exceptional consistency and sensitive touch. The X5 poly core is thick enough to absorb vibrations and prevents stress to the joints. At 4-1/4" long, the handle can be used normally but players can also put their index finger on the back of the face for increased stability. It has a medium grip circumference.
Note about the Vanguard Paddle paint finish:
Our testers have reported quick wear of the paint finish on these paddles. This is normal, and does not affect the performance of the paddle. Selkirk and Pickleball Central ask you to understand that this is not considered a defect in the product. See image below for "normal wear" example. If you feel your Vanguard paddle ever experiences abnormal or excessive wear or flaking of the paint, please contact Customer Service.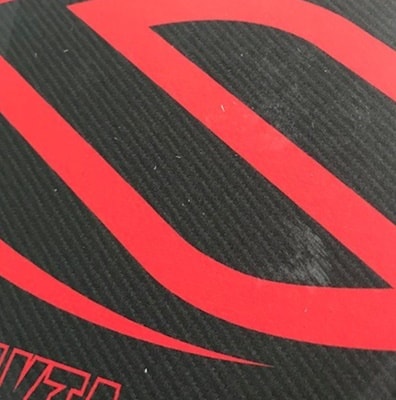 Specifications
VANGUARD Hybrid Omni Paddle Technical Specifications
Light Weight Range: 7.5-7.9 ounces
Midweight Range: 7.8-8.3 ounces
Grip Circumference: 4 1/4" (Medium) Actual grip sizes may vary up to 1/8".
Grip Style: Perforated cushion
Grip Manufacturer: Selkirk Geo Grip
Grip Length: 4 1/2"
Paddle Length: 16 1/2"
Paddle Width: 7 3/8"
Paddle Face: QuadCarbon (cross-weave carbon fiber)
Core Material: X5 Polymer honeycomb
Core Thickness: 5/8" (0.625")
Edge Guard: EdgeSentry
Manufacturer: Selkirk
Made in USA
Reviews
()
Great paddle

I went away from Selkirk for awhile but saw some excellent reviews on the vanguard. I wasn't disappointed

Outstanding

Most amazing paddle ever. Worth every cent! Perfect for experienced players.

Great Paddle

Great paddle with lots of control. Excellent paddle for players who like short handle with finger extended!

New paddle

I like the new Selkirk vanguard hybrid Omni paddle. I like that it's made in USA and guaranteed .the surface is good for spin,and the elongated shape gives me the extra reach.Still getting used to it but I know it's going to be good.

New Paddle

Really like shape and feel. Look forward to getting more c omfortable over time