Details
Unique shape, large sweet spot, gentle touch and double reinforced carbon fiber surface. Choose from two weights.

Middleweight/Medium Grip
VANGUARD Hybrid Maxima Pickleball Paddle
The VANGUARD Hybrid Maxima Pickleball Paddle helps players cover the court with controlled power and placement. The Maxima design has an extra long face and handle so that you can easily reach for every shot and modify your play style depending on the circumstances. The VANGUARD model uses a strong, consistent surface for this paddle and an improved edge guard and grip.
The VANGUARD Hybrid Maxima Pickleball Paddle face has two layers on each side with bi-directional carbon fiber that creates a consistent feel. Compared to the Amped Edition Maxima, the Vanguard is wider, and a larger sweet spot. Our calculations show that the usable surface area of the face has increased by over 8%, and the reliable sweet spot area on the new paddle is much improved. The edge guard doesn't extend far into the usable surface area so you can make the most of the paddle's larger sweet spot. With the hardy X5 poly core, you won't feel jostled on impact with pickleballs. This paddle comes in two weight ranges with the light version weighing 7.6 – 7.9 oz and the midweight at 7.8 – 8.3 oz.
The VANGUARD Hybrid Maxima Pickleball Paddle has a sleek and dynamic design that will let you maneuver as needed during games.
Actual grip sizes may vary up to 1/8"
Note about the Vanguard Paddle paint finish:
Our testers have reported quick wear of the paint finish on these paddles. This is normal, and does not affect the performance of the paddle. Selkirk and Pickleball Central ask you to understand that this is not considered a defect in the product. See image below for "normal wear" example. If you feel your Vanguard paddle ever experiences abnormal or excessive wear or flaking of the paint, please contact Customer Service.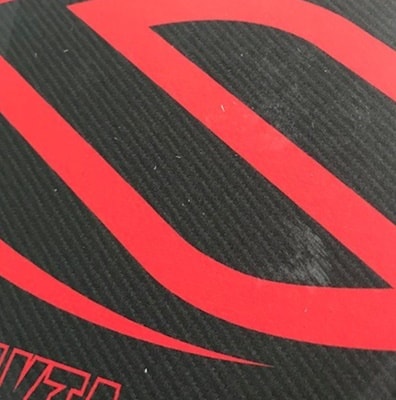 Reviews of the Selkirk Maxima VANGUARD Pickleball Paddle by Pickleball Central Staff:

"After hitting with the Vanguard Hybrid Maxima I am once again amazed at the difference that the graphite surface makes with the playability of the paddle. However, with the Maxima, it is more than just a change of surface material. Morgan Evans and Selkirk redesigned the Maxima. It is shorter and wider than the AMPED version and has given the paddle so much more forgiveness. The sweet spot is larger and moves further down the face of the paddle. The combination of long handle, wider face and the Vanguard treatment make this a great paddle for attacking from anywhere on the court. The whip from the length of the paddle gave me just a little more power. However, when it came time to play the short game, I was far more consistent with this version of the Maxima. It shows how combining core, face material and shape can really alter how a paddle plays. These alterations make this paddle look Marvelous."
John, Sales Staff (4.0 Player)


"The Maxima Vanguard Edition is an entirely new shape that pays homage to the original Amped Series Maxima, but it performs entirely differently. From a distance, it looks similar, but when you get up close, you really get a sense of how Selkirk worked with Team Selkirk Coach Morgan Evans to evolve the paddle. They made it a much more versatile paddle. Like the original, the handle is long enough for a two handed backhand, and the rounded top makes the paddle more aerodynamic, allowing for a faster swing speed.

During play testing, four things struck me about this paddle. First, the Vanguard Maxima it is slightly wider and slightly shorter than the original Amped version. This translates into a wider, more consistent sweet spot. I felt very comfortable hitting thirds and cross court dinks. Balls hit during quick volley scenarios where you don't always get a chance to hit the ball perfectly in the center of the face came off the paddle clean with predictable results.

The second thing about this paddle is its balance. By maintain the pronounced rounded top, Selkirk's latest Maxima has a more handle biased balance. The paddle felt lighter than its actual weight because the mass wasn't extended as far away from my hand. This made me comfortable in quick hand battle situations.

Thirdly, the shape of the Maxima paddle at the throat (above the handle) is wider and a tighter radius. This creates dramatically improved defensive volley space for fast hands kitchen exchanges, and seems to really widen ou the sweet spot.

Finally, the reach allowed some power on drives where you get the time to setup properly and watch the ball all the way into the paddle face. By playing the ball further up the face, I could generate some real pop.

Selkirk has always done a great job innovating shapes on paddles, and the Vanguard Hybrid Maxima is a perfect example of this effort. "
Edward, Marketing Team (4.0 Player)



A quick Q&A With Morgan Evans about his newly redesigned Maxima Vanguard Hybrid Paddle:

(Editorial Note: For those of you unfamiliar with Coach Morgan, he's an exceptional player, one of the best coaches around, and very quick of wit. We hope you enjoy his approach to our Q&A Session.)

Q - Going into the redesign, what goals did you set for Selkirk in the new model?

I wanted the new paddle to be the best of both worlds. I wanted it to keep the aerodynamic nature of the original Maxima, but afford players a larger sweet spot to be more consistent in defensive situations. I wanted my cake and to eat it too, and as always Selkirk didn't just deliver, they opened a up a bakery.

Q - How many iterations and versions did you test to come up with this final version?

I personally tested at least 5 different shapes. However, many more were produced but not deemed to be worthy of consideration. Each iteration were certainly a great reflection of the ultimate goal and prototypes often came with 2 or 3 different variations of cutting edge face technology. Over a year of testing came and went before we found the 'one'.

Q - What kinds of shots do you think this new shape helps you execute?

I love the maneuverability of the paddle, which is a broad term but in particular, quick changes of direction of the ball. It just cuts through the air so well that I feel like the shot selection is completely my choice right up to the last moment. Misdirection, disguise and general sneakiness are suddenly no longer a task, they're executed with ease and a grin.

Q - Is there anything you want players to know about your signature edition?

Some say that the core was forged out of thousand year old beer barrels, buried deep in the heart land of Australia. Others say Idaho. Okay .... okay, I just liked those color combinations and reminded me of the stunning logo for the 'award winning'* CoachME Pickleball.

(Second Editorial Note: Coach Morgan is a funny chap. He comes from a family very active in Pickleball and Tennis. The award referenced above is an Evans family tradition award given to the family member with the best online pickleball instruction service .)
Specifications
VANGUARD Hybrid Maxima Paddle Technical Specifications
Light Weight Range: 7.6-7.9 ounces
Midweight Range: 7.8-8.3 ounces
Grip Circumference: 4 1/4" (Medium) Actual grip sizes may vary up to 1/8".
Grip Style: Perforated cushion
Grip Manufacturer: Selkirk Geo Grip
Grip Length: 5 5/8"
Paddle Length: 16 1/2"
Paddle Width: 7 3/8"
Paddle Face: QuadCarbon (cross-weave carbon fiber)
Core Material: X5 Polymer honeycomb
Core Thickness: 5/8" (0.625")
Edge Guard: EdgeSentry
Manufacturer: Selkirk
Made in USA
Reviews
()
Better than the original

I recently purchased the Selkirk Vanguard Maxima. Having owned a previous model of the same paddle I noticed a significant change in the new model. The new Maxima has a much larger surface area and sweet spot. This makes volleys and resets more reliable without sacrificing maneuverability or power. All in all I highly recommend this paddle. Additionally, the paddle surface on the Maxima is very comparable to that of the Invicta.

great paddle

power and feel

Best paddle!

Immediately the paddle and I bonded well!!! I was able to do some amazing shots in the first game of using it!!! My last Selkirk paddle took a month for me to use it well and never as well as the Hybrid Maxima!!! I am a 3.0 player.

Pickleball Product Review

Great touch with this paddle. Slightly heavier than I'm used to.

Maxima hybrid

As always service was top notch. I had surgery and have not played with paddle. Some concern about how narrow it is and what I read about the paint problem. Won't be able to judge for several weeks after 30 day trial. Bummer.