Details
3K carbon fiber face and an angled handle based in bio-mechanics. Offers a feeling of exceptional connection, improved ball exit velocity, and more efficient paddle reload speed after your strike.
Mid-Heavyweight/Medium Grip
ProXR Signature Graphite Pickleball Paddle
The ProXR Signature Paddle has a premium graphite face that delivers a soft touch and excellent feedback, paired with the innovative XR-23 angled handle. With the XR-23 handle, the patent-pending design encourages an instructor-approved continental grip, and is scientifically-tested to improve ball exit velocity upon strike as well as paddle reload speed after the shot. You will also feel more confident in adding spin to your shots and experience better connectivity with your paddle.
The ProXR Signature Graphite Paddle is approved by USA Pickleball for use in sanctioned tournaments, and is offered in three weights:
Midweight - 8.2 oz. average weight
Heavyweight - 8.8 oz. average weight
Super Heavyweight - 9.6 oz. average weight
The extra heft put more mass, and consequently more power, behind your shots without causing stress in your swinging arm. The handle length is 5-1/2" and is a comfortable 4-1/4" in circumference. Under the face, the paddle leverages a HEXA polymer core at a thinner-than-average 10.5mm (0.413") thickness, which will hit harder from the baseline than other polymer core paddles, while retaining a consistent and intuitive sweet spot.
The Signature Graphite Pickleball Paddle from ProXR is based on bio-mechanical science to provide the best of the best in performance and comfort, making every movement feel more natural and efficient.
Actual grip sizes may vary up to 1/8".
Reviews of the ProXR Signature Paddle:
"The most unique feature of this paddle is the shape of the end of the handle, which the company refers to as their "patent-pending XR-23 handle design." Rather than ending "flat," the end of the paddle is cut diagonally at 23 degrees and increases in diameter. This "angled bump" fits very comfortably into the base of the hand below the palm, and gives the player additional tactile feedback. I found that this paddle design also facilitates a looser grip, allowing for more fine control of paddle position and "touch" on softer shots.
The paddle head has a polypropylene core and a carbon fiber face. The core provided a very large sweet spot, with consistent ball control even with off-center ball contact. For me, this was most evident during soft exchanges at the kitchen line. The carbon fiber face has a texture that feels like extra-fine sandpaper. This texture facilitated putting spin on the ball, which for my game was most evident with topspin serves/drives and backhand slice dinks.
With the unique handle design, the player will always be using the same paddle face orientation, as the handle only fits one way into the palm of the hand. I don't know if this fixed orientation of the paddle face might influence shot consistency (potentially improved?) and/or paddle wear (possibly decreased?). But if you are even remotely curious about this latest advance in pickleball paddle design, I would definitely encourage you to give it a try."
Terry Latson, Pickleball Churchill
"Upon picking up the Pro XR Signature Paddle, the first thing you notice is the flair at the bottom of the handle. This flair fits nicely against the heel of your hand and stabilizes the paddle as you play. It also ensures that your grip is consistent and easy to position every time. I really liked the spin I could generate with the Signature Paddle. I felt like I maintained both the power and control I get with my current paddle but definitely increased the spin I could achieve. The paddle was highly maneuverable and performed well at the net.
The paddle had great feel when hitting dinks. I felt that the unique grip design helped to ensure the paddle was perfectly positioned for the shot. My favorite shot using the paddle was a top spin drive. I felt like I could hold the ball on the face of the paddle for an extra fraction of a second proving additional top spin to a drive. I think this paddle is a great fit for the intermediate to advanced player. I fully expect to begin seeing these paddles on the courts soon!"
Mike Austin, Pickleball Churchill
"The ProXR handle has a flare at the bottom that took a while to get used to, but after a few rallies it began to feel comfortable and I think it may help to stabilize my grip. The surface of the paddle is a little rough and although I do not spin much, the paddle added a little spin to my balls. The paddle is great at the kitchen line and seems to add more power than my current paddle. Definitely worth a try if your looking for a new paddle."
Royce, Pickleball Churchill
"High marks for power and better control of shots, and no noticeable vibrations. The sweet spot on this paddle is also larger than most. The ProXR paddles will make a large impact on the pickleball world due to their unique, ergonomically designed handles. It does take a little bit of time to get used to this new feature, but this time will be well spent. I definitely think that the XR-23 angled handle will benefit newer players, too, because it will help them maintain the proper grip that should help prevent injuries."
Greg Stoner, Lake of the Woods Pickleball Club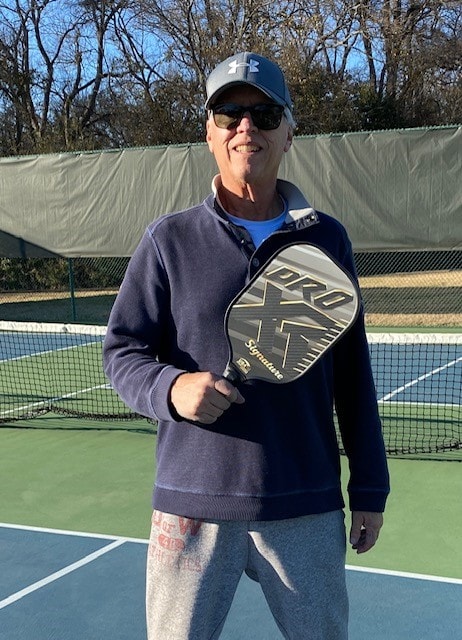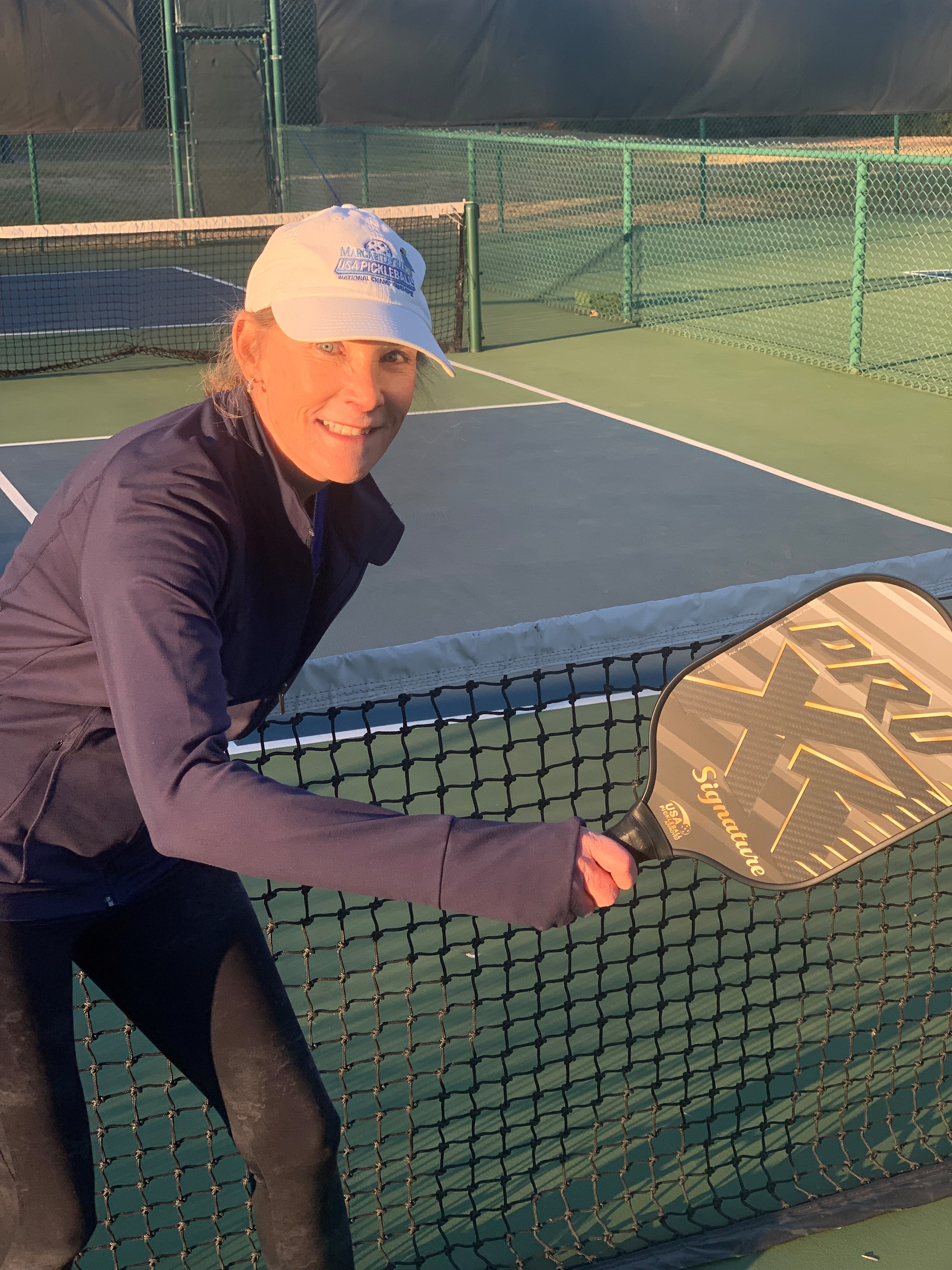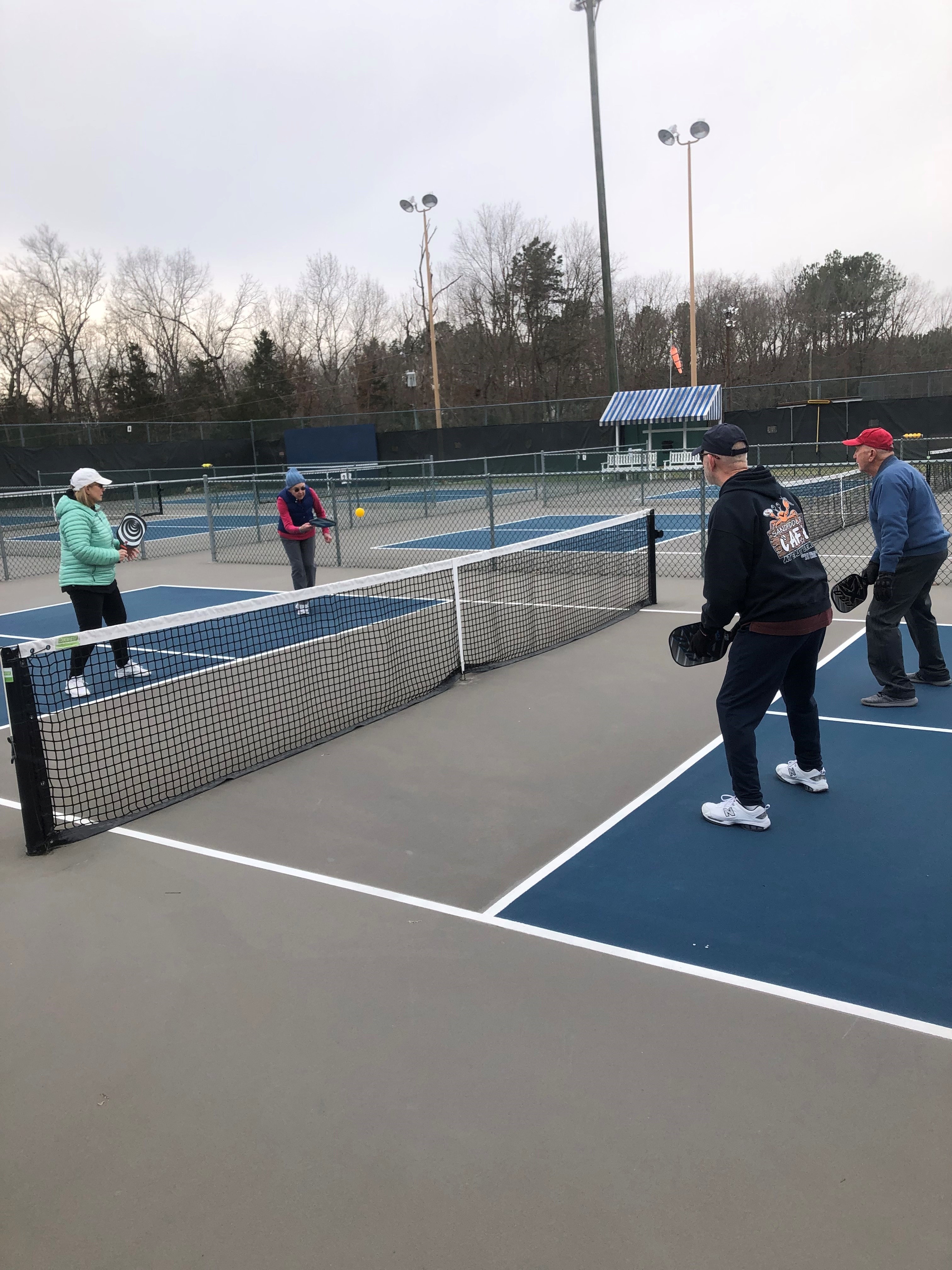 Specifications
ProXR Signature Graphite Paddle Technical Specifications
Weight Average: 8.2 ounces (Midweight), 8.8 ounces (Heavyweight), and 9.6 ounces (Super Heavyweight)
Weight Range: 7.9 - 8.5 oz. (Midweight), 8.5 - 9.2 oz. (Heavyweight), and 9.4 - 9.7 oz. (Super Heavyweight)
Grip Circumference: 4 1/4" (medium) Actual grip sizes may vary up to 1/8"
Grip Style: Performance-Tac Cushion
Grip Manufacturer: ProXR Pickleball
Handle Length: 5 1/2" with XR-23 Ergonomic 23 Degree Design
Paddle Length: 16.125"
Paddle Width: 7.625"
Paddle Face: 3K Carbon Fiber
Core Material: Polypropylene Honeycomb
Core Thickness: 10.5mm (0.413")
Edge Guard: 5mm TPU Surround
Manufacturer: ProXR Pickleball
Made in China
Reviews
()
Pro XR

Handle was great but the paddle was average at best

ProXR Signature Paddle

Love, Love, Love my ProXR Signature Paddle. The unique handle design has really helped my orientation and control. While I have a long way to go to get my game the way I would like it to be, this paddle will definitely help me get there. I find the sweet spot to be larger and more forgiving than previous paddles that I have used.

Remarkable Spin

Playing with the Pro XR Signature with the 3K carbon fiber graphite face was definitely a pleasure, with the feeling of more confidence with the XR-23 handle the ball really comes off the paddle with a lot of power. The spin on the ball was also remarkable. Serving was a pleasure, given the spin and the pace. My back hand was so much better, with more accuracy and control compared to other paddles I've used. With the XR-23 handle I can play with softer hands for more control, and the power on my overhead shots is amazing. This is definitely an intermediate-advanced paddle with great control and power.

Signature 8.8oz

I purchased my new Signature paddle at the APP Hilton Head open. I got the 8.8 ounce because I like playing with a little heavier paddle and with this one I got the weight I wanted and I don't have to put any lead tape on it, which throws off the balance. The ProXR grip gives me more leverage and control which is wonderful, but I also have found that I don't need to swing so hard when I need to get that extra power on my shots. It's a very responsive paddle and seems to have a very large sweet spot. I'm a happy with my purchase.

ProXR Signature Graphite

Love The Paddle, noticed more control but never received the free gift.