Details
Thick 16mm (0.63") poly core paddle with textured surface and fast-playing head design. Less vibration on impact, and controlled strikes.

Middleweight/Medium Grip
JOOLA Vision CGS 16 Graphite Pickleball Paddle
The Vision CGS 16 Graphite Paddle from JOOLA provides dynamic spin and hard drives while reducing the amount of impact that reaches the arm. Similar in construction to the
Vision CGS 14 Graphite Paddle
, the Vision CGS 16 features a thicker 0.63" (16mm) response polymer core which provides maximum control. The thicker core combined with the graphite face results in additional vibration dampening qualities, too, so players can maintain positioning and better recover from off-center hits. It has a textured Carbon Grip Surface (CGS) to generate spin, and Aero Curve face shape for faster swing speeds.
The Vision CGS 16 arrives in a 7.6 – 8.0 oz. weight range, and features a 4-1/4" grip circumference to provide a balance between comfort and control. Its 5-1/2" long handle is suitable for double-handed strikes and has ridges to guide finger placement and ensure a secure grip. The polymer core is resistant to deformation for consist response and an extensive sweet spot even after long periods of use.
The Vision CGS 16 Graphite Paddle from JOOLA Pickleball complements aggressive players who also leverage a control game to keep the heat on the competition.
Actual grip sizes may vary up to 1/8".
Test Reviews of the Vision CGS 16 Pickleball Paddle:
"The JOOLA company is the newest entry into the pickleball market and have added Ben Johns as a Pro spokesperson. I was able to try out the new Joola Vision paddle, and it was fantastic. The increase in control of my shots was immediate; the percentage of successful third shot drops increased without any changes in my technique or approach to the shot. Dinking was equally improved both on indoor and outdoor courts. The response to a variety of pickleballs was also impressive. The paddle was well balanced and allowed for crisp, accurate placement of the ball. The handle circumference is definitely an advantage for those players who desire a thicker grip."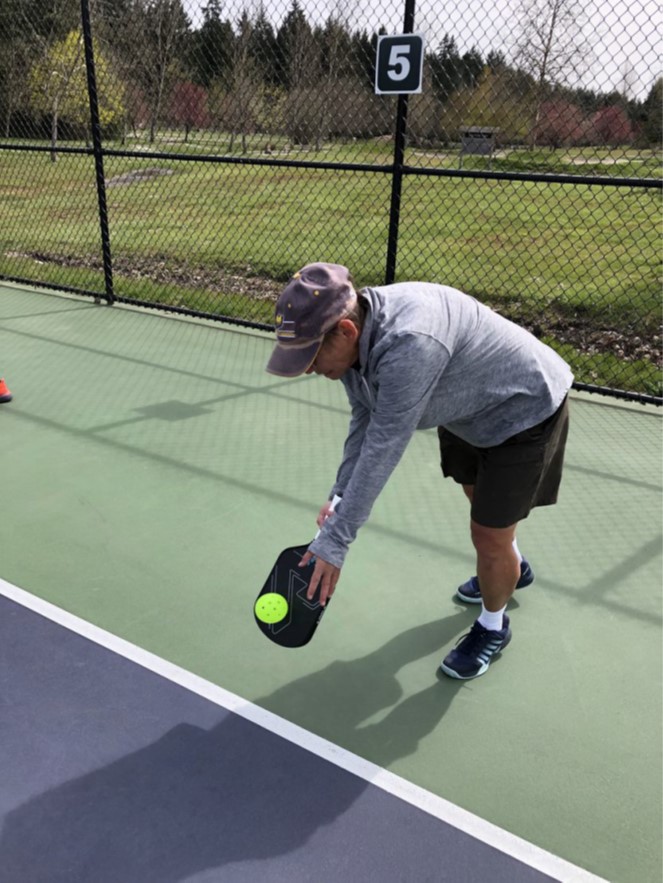 - Julie Z
Bainbridge Island Pickleball Club
"I love this paddle; the weight and feel are wonderful. I am not a professional player but if this why the professionals are so good, I'm buying it! It has a very soft feel when hitting, and seems to require less effort for powerful shots. We played on a windy day and there was no extra effort required on my part. The longer narrower paddle head was perfect for me. I had not used this shape before and was skeptical, but it seemed that my reach was better along with more control (I am female and only 5'5" tall). My teammates who spin the ball regularly love the textured carbon grip surface, and the improvement on their spins were noticeable. The paddle was very quiet; something that I noticed right away, and a very nice feature. I thought the grip size would be too large for me, but it was very comfortable and my hands did not sweat. I do not have a two handed back hand, but there is plenty of room for that if that's your style. Everyone who tried this paddle loved it, and it was hard to get it back! I would definitely recommend this Vision CGS 16 because it's a great product."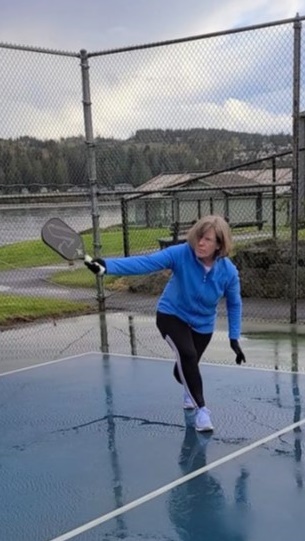 - Marion Concepcion
Bainbridge Island Pickleball Club
Specifications
JOOLA Vision CGS 16 Graphite Paddle Technical Specifications
Average Weight: 7.8 ounces
Weight Range: 7.6-8.0 ounces
Grip Circumference: 4 1/4" (Medium) Actual grip sizes may vary up to 1/8"
Grip Style: Sure-Grip Technology
Grip Manufacturer: JOOLA
Handle Length: 5.5"
Paddle Length: 16.4"
Paddle Width: 7.3"
Paddle Face: Textured Carbon Grip Surface (CGS)
Core Material: Response Polymer Core
Core Thickness: 16mm (0.63")
Edge Guard: 1/4" overlapping paddle face
Manufacturer: JOOLA Pickleball
Made in China
Reviews
()
joola CGS 16Graphite paddle

I was using a Z5 Graphite. I wanted a graphite paddle, with more reach. No adjustment fit from the first hit love it

Joola vision

Love the paddle at the kitchen, grip is comfortable but the white color gets dirty fast.

Joola 16mm Radius

This paddle was beyond my favorite. So soft, excellent touch around the kitchen line. Great resets. However, after 3 months of play the handle became very loose. It was going to fall off if I continued to play with it. I'm hoping that this was a manufactured error, however I'm not so sure. Perhaps they paddles break down in 3-4 months to force you to buy a new one. Disappointed in the longevity of the paddle, but for 2 months it was my favorite. ***PBC Response*** Hi Tyler, thank you for taking the time to leave a review, but I am sorry to hear you are experiencing issues with your Radius. Our customer service team has reached out to you to help navigate a solution to your issue. - Joseph, Pickleball Central Team

Joola Vision CGS16 Graphite

Surprisingly good model, you could get one between 7.8 or 8.1 weight-wise, slightly smaller face but you get quickly used to it. Good spins and especially good/fast for net playing. Not top-heavy.

#1 Paddle after Several Tested

It's light and feels quick in the hand. Very responsive and controlled. Spin is good. Handle is great. Moderate power. I love this paddle and it is my new go-to.

Nice paddle - a few issues

The paddle felt good...played well. Nice 'grippy' finish and I had some good power with it as well as finesse. The issue was the grip - it was too large for my smaller woman's hand. 4.5" I believe. It felt uncomfortable and I had less control with the slightly larger grip. WHITE was dirty in a day. It was returned as I just couldn't grip it well.

Wish it came in smaller grip

The review said it was fine for women, but I am 5'3 with an average hand size for my height. The grip was too wide and the handle felt heavy; my arm and hand were sore after use, so I had to send it back. But, the kick off the paddle was great, and I think I would've loved it if the handle fit better for me.

Joola Vision CGS 16

I have played with many, many paddles over the past two years, all brands and all prices. The Joola Vision CGS 16 is my all time favorite. A paddle is an individual decision based on the type of game you play and this paddle gives me everything. Control, power, spin and not heavy. I don't need extra power so the control, spin and weight are absolutely perfect for me. The durability of these paddles is also great. I have worn out my first two over a two year period and just purchased two more. I am a true believer in the Vision CGS 16.

Joola vision 16

Hit well but was too light. Just not for me. Have returned it. Excellent service as always.

Joola paddle

Great paddle, great sweet spot and control.