Details
Set up your pickleball court lines with this Heavy Duty Court Tape, water resistant and tear resistant. Tape is 2 inches wide with 204 feet on each roll. The bright orange color makes lines clearly visible.
Heavy Duty Court Tape
The Heavy-Duty Court Tape is a great option for those who want something a little sturdier than the original court tape. Each roll is 2-inches wide and 200 feet long which will line an entire pickleball court. This tape has an extremely resilient polyethylene, vibrant orange backing. This color was chosen specifically for its noticeable hue. It will easily attach to the court thanks to the single-coated, synthetic rubber adhesive.
The Heavy-Duty Court Tape is quite conformable and can stick to most every surface. It will adhere best to surfaces free of oil, powder, dust or other small particles, so be sure to give your court a good sweeping prior to application. This tape could leave residue when it's removed, so as with any bonding agent, we suggest testing this product on a small patch of surface prior to application to determine ease of removal. Tips for removing tape can be found under the technical specifications tab.
For a longer-lasting outdoor application we recommend our
Outdoor Cloth Tape
.
Click HERE for helpful suggestions on laying down your court lines.
Please note
: Tape will be affected by rain and moisture and we cannot guarantee longevity of application in rainy/wet conditions.
Our church stripped the floors and polished..we repaired a few months back and you would swear lines were painted on...no need to paint as originally planned... Did Sherwood YMCA on hardwood and works better than prior papery court tape..withstands wet mop and buffing..same results at eastmoreland racquet club..can use floor machine on tape without issues..better warn all that blue tape is a pain to remove after down.
Tom widden, District ambassador USA pickleball association..nw Oregon district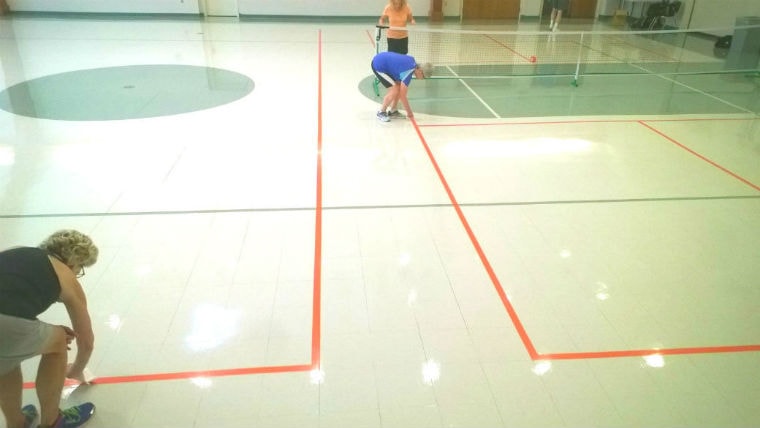 Specifications
204 feet per roll, 2 inches wide. We recommend applying a test spot to determine adhesion and ease of removal.

Please note: Tape will be affected by rain and moisture and we cannot guarantee longevity of application in rainy/wet conditions.

Here are some helpful suggestions from the manufacturer on removing tape:
• Rubbing alcohol
• Citrus-based cleaners
• Windex
• Heat

If the tape has been down for a long period (2+ months), prior to removal heat can be applied with a hair dryer as tape is peeled back. The heat softens the adhesive and little residue should remain.
Reviews
()
Pickleball Product Review

Court tape

Seems very sticky & thick. I bought it to use on a vacation rental with a tennis court. I was actually worried that with the sun & heat it would leave Residue when pulled up. Wasn't prepared to pay for damages so we used chalk & it worked great. So may return.

Pickleball Product Review

Pickleball Product Review

Great Customer Service!

We had a sanctioned tournament in our area and a giant storm rolled thru on our court set-up day, literally washing everything away. We had to have more court tape sent in - overnight - and the CS team made it happen. We ended up having great weather the rest of the weekend - and we upgraded our tape to the best - which made a difference. Tape went down great - and stayed down. Can't say enough about turning this order in less than 24hrs and getting it shipped clear across the country for next days opening play!