Details
Fiberglass face creates reliable and gentle touch with an elongated handle for double-handed backhands.

Middleweight/Medium Grip
Vulcan V560 Control Pickleball Paddle
The Vulcan V560 Control Paddle has all the features you need to keep your technique sharp and seize on openings. With a fiberglass blend face and a polypropylene core, this paddle has a soft touch that helps to reduce vibrations while keeping your hand steady. The elongated handle allows for easy wrist manipulation and double-handed backhands when you need to put a ball away.

The Vulcan V560 Control Paddle weighs an average of 8.4 oz, giving it a good amount of potency when needed. The handle has a medium grip circumference with a 5 1/2" length. The V560 has a pleasant consistency that allows you to make full use of its face. The lengthy design is ideal for those looking for all-court coverage and a versatile piece of equipment that will allow them to return any shot.

The Vulcan V560 Control Paddle is suited for players with a tactician's play style and preference for solid, precise swings and dinks.

Actual grip sizes may vary up to 1/8"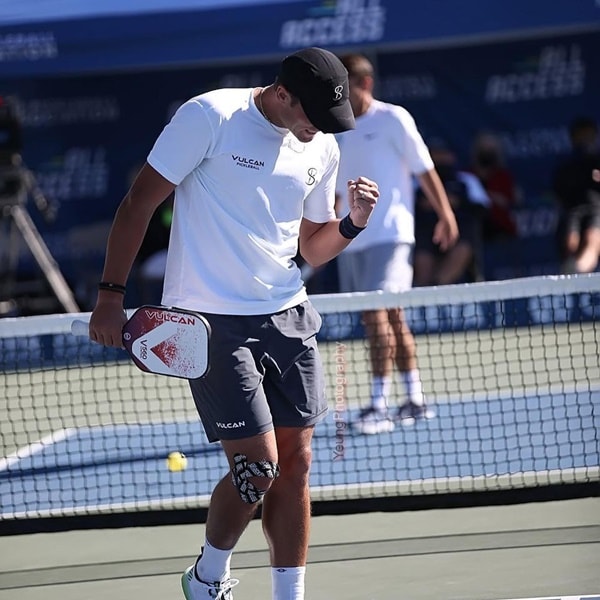 2020 APP Hilton Head Pickleball Open Men's Pro Singles Gold Medalist, Mixed Pro Doubles Gold Medalist, and Men's Pro Doubles Silver Medalist Jay Devilliers with his V560 Control paddle in "Lava." See a short Q&A interview below in the "Expert's Corner" with Jay describing his reaction to his new paddle.
Q&A About The V560 With Top Pro Jay Devilliers:
Top professional pickleball player Jocelyn "Jay" Devilliers recently changed to the V560 Control paddle, and he loves it! We caught up with him shortly after some impressive tournament showings to ask him a few questions about this new paddle, and how it's changed his game. Below are the questions we asked, and his answers.
Q - "How did it feel playing at the recent WPC event where you just won Two Silvers using the new paddle?"
A - "It was definitely a great feeling playing at the WPC event. The level of competition was high with a lot of great players. I am very thankful to have managed to get two silver medals. I really like the new paddle, I think it brought something new to my game."
Q - "What's it like to be one of the stars of Team Vulcan?"
A - "Being part of Team Vulcan is so fun and signing with them has been the best decision I have made so far in my pickleball career. They welcomed me right away, the whole team is extremely friendly, and always following our results and encouraging us to perform at our best."
Q - "The V560 comes in a Power and a Control model. You used to play the V530 Control Paddle. Why did you choose the V560 Control version?"
A - "I used to play with a lot of the models including the V510, V520, V530, and V720. They all had some characteristics that I liked, but it felt that something was missing. The V560 has been the perfect model for me because it took the best features of the paddles I used before and put them into the V560. The V560 is longer where I can put both hands on the handle, it has a lot of control like the V520 and generates power like the V530, so the combination was a better fit for my game style."
Q - "As a former tennis player, what was it that first drew you to the V560 – shape or a slightly higher sweet spot?"
A - "The shape definitely intrigued me, but more specificly it was the longer handle; I thought it was really going to help my singles game."
Q - "Are there certain shots that you feel more confident hitting with the new paddle?"
A - "I think I'm more confident in general because I feel like the paddle reacts how I want it to. I have a lot of control while still managing to generate a lot of power."
Q - "Do you have any advice on what type(s) of players are best suited for the different paddle models that you have played, based on sports they have played or the style of their game?"
A - "I feel like tennis players will really enjoy the V560, just because it's more similar to a tennis racquet. For Ping Pong™ players I feel like the V510/520 are a better choice because they're more similar to a Ping Pong™ paddle. Again, I think it's more on what the player really needs. Some need more control, some more power...the key is to identify what you need to take your game to the next level."
Q - "Does paddle color matter to you and what is your favorite?"
A - "I'm not a needy person when it comes to color, as long as the paddle has the qualities that I like I'm happy with it. But if you really want to know my favorite color is blue."
Q - "Do you have any special rituals that you follow during tournament days that you think amateur players might benefit from following?"
A - "Yes, I have a routine that I have followed since I was a kid. When I was competing in tennis, I was lucky to have great coaches that gave me great advice. This routine has gotten better with age and from match experience. So, here are few of the things I do before a match that help me.

Wake up at least 2 hours before I start my match (usually we start at 8 am).
Eat 2 hours before match play so I feel good on the court.
Be well hydrated before, during, and after the match.
Control my breathing.
Fight until the end!
Specifications
Vulcan V560 Pickleball Paddle Technical Specifications
Weight Average: 8.4 ounces
Weight Range: 8.2-8.6 ounces
Grip Circumference: 4 1/4" (Med) Actual grip sizes may vary up to 1/8".
Grip Style: Textured, high-tack grip
Grip Manufacturer: Vulcan
Handle Length:5 1/2"
Paddle Length:16 1/2"
Paddle Width: 7 1/2"
Paddle Face: Fiberglass Blend (Control model)
Core Material: Polypropylene honeycomb
Core Thickness: 13mm (0.51")
Edge Guard: 1/8" overlapping paddle face
Manufacturer: Vulcan
Made in China
Reviews
()
Awesome paddle

My first time using a Vulcan paddle and it's exactly how it was described. Very satisfied with the purchase

Love my Vulcan!

Control, balance, power

Awesome paddle and great customer service

I have had nothing but good experiences with my purchases at pickleballcentral.com. They stand behind their products as well. I bought a new paddle and after 3 months started feeling a dead spot every time I played. Called them and Vulcan...and had a replacement within days

Vulcan V560

I like the feel of the paddle as well as the semi rough surface that gives my ball a lot more spin, I think it was a great purchase.

Pickleball Product Review

Loving the Lava!

Great paddle! Good control, like the grip size and paddle length. Took me a week to get used to it but worth it!

Vulcan V560

Definitely what I was looking for with a longer paddle and power as well.

Fast shipping

Always fast shipping

The Jocelyn paddle

This was a gift for my BF and so far he loves it. We did have to do a warranty claim due to the bottom of the handle coming loose. PBC was very quick to respond and is sending a new paddle in the mail.

Fantastic Paddle

I am grateful to have won this paddle from Pickleball Central. It has definitely improved my game. The longer handle is great. I love everything about this paddle.