Details
The elongated version of the outstanding Tempest Wave Pro offers greater reach with all the control of a thick-core graphite paddle.

Light-Middleweight/Small or Large Grip
Paddletek Tempest Reign Pro Pickleball Paddle
The Tempest Reign Pro takes the Smart Response Technology in the standard Tempest Pro and makes it even more versatile thanks to an elongated shape. For players who crave extra reach, plenty of power and a higher sweet spot, this paddle will meet all your needs. The slender design keeps the weight at a reasonable medium range, while the handle still provides enough room for grip adjustment despite the overall length.
The Paddletek Tempest Reign Pro Paddle weighs 7.5 – 8.0 oz and, comes in either a thin or medium grip circumference. The graphite face is highly responsive and durable. Inside, the polymer core reduces vibrations while providing a broad, sensitive sweet spot. The face width is 7.5", making it trimmer than the original Tempest Pro but still plenty wide enough to protect your kitchen line with effective blocks. The Tempest Reign Pro Pickleball Paddle by Paddletek helps players adapt to the quickly changing dynamics of matches, and seize on more opportunities for winning points!
As part of the Tempest Pro line, the Reign is a slightly longer, slightly more narrow version of the 5-Star rated, industry leading
Tempest Wave Pro
graphite paddle. The Reign Pro and the Wave Pro share the same technology in core materials, face materials, and construction. Here is how they compare: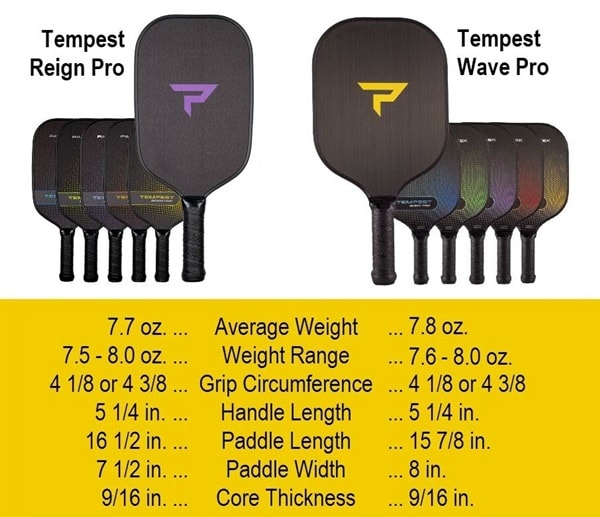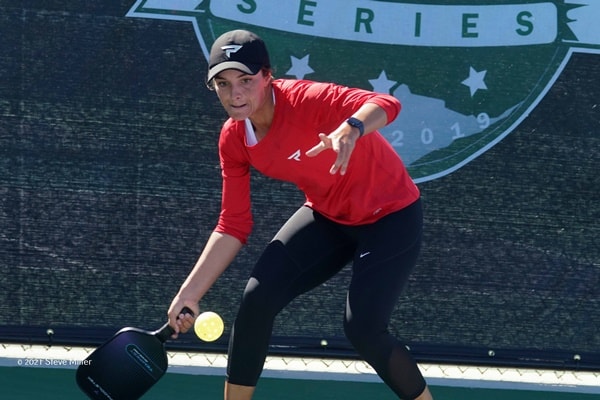 2020 World Pickleball Championship Gold Medalist Catherine Parenteau with her Tempest Reign Pro Graphite paddle. See a quick Q&A interview below in the "Expert's Corner" with Catherine describing her reaction to her new paddle.
Actual grip sizes may vary up to 1/8"
Reviews of the Tempest Reign Pro Paddle by Pickleball Central Staff:
"Once again, Paddletek rains quality gear! I enjoy playing with elongated paddles. I find that being vertically challenged, that the extra length helps me to get to balls I might otherwise miss. This is true on both ground strokes, dinks and especially overheads. I also prefer a graphite face on my paddles. I like what it does for consistency and control. The graphite surface plays harder and tends to enlarge the sweet spot. The Tempest Reign Pro checks all these boxes! In addition, the unidirectional orientation of the graphite on the Rein's face enhances spin, just like the Tempest Wave Pro. I found that the Reign seemed to have a little more power than similarly configured paddles. The soft play and control I need to help my game is there, with just a little extra umph. This paddle will definitely find its way into my bag for regular play."
John, Sales Team (4.0 Player)
"I'm a long-time fan of the Paddletek Tempest Wave Pro paddle so was excited to get my hands on the new Tempest Reign Pro. I didn't think a paddle that was already such a winner could get even better, but with the extended reach of the Tempest Reign Pro's extended face I felt like I was able to successfully return several shots that I otherwise would have missed with a traditionally shaped paddle. The Tempest Reign Pro takes all of the beloved features of the Wave Pro – Smart Response Technology, graphite face, thicker core, incredible balance of touch and power – and puts them into a 16.5" long paddle that noticeably extends the sweet spot and adds power. Plus you can select your grip size and style (4-1/8" flat or 4-1/4" cushion) to customize the handle to your preferences. For me, this paddle is a game changer – I suspect I'm not the only one who is looking forward to playing more singles now that there is a paddle that so adeptly blends control, power and reach all in one."
Karen, Marketing (4.0 Player)
Q&A About The Tempest Reign Pro With Top Pro Catherine Parenteau:
Top professional pickleball player Catherine Parenteau has been using Tempest Pro paddles for a long time, and she loves them. She's now switched over to using the new Tempest Reign shaped version. We caught up with her to ask her a few questions about this new paddle, and how it's changed her game. Below are the questions we asked, and her answers.
Q - "How did it feel playing at the WPC Pro event where you just won a Gold & Two Silvers using the new paddle?"
A - "It felt amazing to be playing at the event and winning some medals with the Reign Pro. Transitioning from the Wave Pro definitely required a bit of adjusting, but I was able to get the hang of it quickly. The Reign Pro feels a lot more like a tennis racket to me which made me feel super comfortable. The Reign allowed me to feel confident with my topspin and rolls!"
Q - "What's it like to be one of the stars of Team Paddletek? Have you enjoyed being Sponsored by Paddletek?"
A - "It is an amazing feeling to be sponsored by Paddletek! They are always so supportive, I know the company always has my back. And they make amazing paddles that allow me to perform at my best, what more could I ask for!"
Q - "Over the last year or two you've been (very successfully) playing with the Tempest Wave Pro. It shares same Polypropylene Core and Graphite/Carbon Fiber Face technology as the new Tempest Reign Pro, but has a slightly different shape. What do you like most about the new Shape of the Tempest Reign Pro?"
A - "What I like most about the new shape of the Tempest Reign is the feeling of power it gives me without losing control of my swing. I was looking for a paddle like this because I always felt that the Wave Pro gave me the untimate level of control over the ball but as I progressed in pickleball I felt I was missing a bit of power and strength behind it. With the Reign Pro, all of my needs have been met."
Q - "As a former tennis player, does the Tempest Reign Pro feel like a more powerful paddle because you are able to play the ball higher up on the face, generating more swing weight and power?"
A - "Yes, that's what I really liked right away about the Tempest Reign Pro. It really does feel a lot more like a tennis racket. I am able to hit shots that are similar to the ones in tennis."
Q - "Are there certain shots that you feel more confident hitting with the new paddle?"
A - "I am feeling more confident hitting top spin/rolls shoots with the new paddle as well as my 2 handed backhand as I am able to create more space between me and the ball to generate topspin and add power."
Q - "Are there any aspects of your game or shot selection that you have changed since switching to the new paddle?"
A - "I have been able to play a lot more two handed backhands from the baseline. My passing shots are definitely better now that I have more space between me and the ball. Now, I can reach balls that I never used to be able to reach or even touch!"
Q - "We know that the top rated pro players often add weight to change the power or balance of a paddle. Have you done anything to adjust the paddle weight or balance to optimize it to your game?"
A - "Yes, I did add some lead tape as I like when my paddle feels heavy. I find it easier to control & and put the ball away when my paddle is a little heavier. I like to add lead tape on the top of my paddle to add power!"
Q - "What's your favorite paddle color?"
A - "I love the green color! It reminds me of Michigan State University where I played tennis. I love the purple one as well." (Editors note: Catherine played Tennis at Michigan State under then Tennis Coach Simone Jardim - now the #1 ranked Women's Pickleball Player.)
Q - "Do you have any special rituals that you follow during tournament days that you think amateur players might benefit from following?"
A - " Yes, I make sure that I drink plenty of water on and off the court. And I like to make sure that I have a good breakfast to give me energy throughout the day. In my opinion, it is the most important meal."
Specifications
Tempest Reign Pro Graphite Paddle Technical Specifications
Weight Average: 7.7 ounces
Weight Range: 7.5-8.0 ounces
NOTE: Weights are calculated with a medium (cushion) grip. Choosing a small grip will reduce the weight by approximately .2 ounces
Grip Circumference: 4 1/8" (Small)
Grip Circumference: 4 1/4" (Medium) Actual grip sizes may vary up to 1/8"
Grip Style: Thin or Cushion
Grip Manufacturer: Paddletek
Handle Length: 5.25"
Paddle Length: 16.5"
Paddle Width: 7.5"
Paddle Face: Graphite
Core Material: Polymer Honeycomb
Core Thickness: 9/16" (0.5625")
Edge Guard: 1/8" overlapping paddle face
Manufacturer: Paddletek
Made in USA
Reviews
()
Paddletek Tempest Reign Pro

I really like the paddle with the extended length. It has a good balance of power and control with just a little more reach.

Paddle Tec Reign Pro

As a beginner I couldn't be happier with this paddle. Very comfortable and I feel more confident with my shots.

Tempest Reign Pro Graphite Paddle

Played a few games with this so far and really love. Great balance and feel, huge sweet spot for any miss hits and looks great. Very happy so far.

Love My Paddleteks!

My family including my wife, kids, and grandkids all play pickleball at various levels. Between us we have 5 Paddletek products (Tempest Reign Pro, Tempest Wave Pro, Tempest Wave II) and are huge fans of the paddles. Having owned Selkirks, Onix, and others, we just love the quality and the terrific control and power combination of the Paddletek products. I tend to use my paddles hard and usually after 150-200+ games the edge guards loosen a bit, no matter the paddle brand I use. I have always repaired them myself. I recently contacted Paddletek to see if I could buy edge guard material and adhesive, and Jodi in Customer Service asked me to simply return the paddles and stated that they would be glad to repair them. I just received them back. It was about a week turnaround time from when I shipped them, to when I received them back. The paddles are good as new. I can't express what a fan I am of Paddletek!

Tempest Reign Pro

Good balance of power and control. Moderate spin.