Details
Prince has done it again! Phenomenal power and control due to the longer handle and isometric shape. Choose from two grip sizes.

Middleweight/Small or Large Grip
Quantum Pro Pickleball Paddle by Prince
The Quantum Pro Pickleball Paddle uses the highly reactive Progressive Core Technology from the Prince line and stretches its total paddle length to 16-3/8 inches. This gives players more reach and momentum when hitting pickleballs, creating impressive power to put away shots. The handle is similarly a longer 6" in size, allowing for double-handed backhands and more extension when reaching across the court.

The Quantum Pro Pickleball Paddle has a high level of forgiveness so that even near the edges of the sweet spot you'll enjoy considerable pop. The handle's length reduces unnecessary surface area so that you can feel more confident in every swing. Isometric shaping contributes to the paddle's consistent feel and play. The paddle's design features Prince's "P" logo in the center with a colored gradient in the background.

The Quantum Pro Pickleball Paddle gives players the ability to add more strength in every swing while maintaining comfort and accurate placement.

Actual grip sizes may vary up to 1/8".
Test Reviews of the Prince Quantum Pro Pickleball Paddle:
"The Pince Quantum Pro plays like a power paddle with forceful shots from the back court. Its study build provides confident block shots and controls the defensive 'pop' at the net. The seemingly smooth face surprised me with how much natural spin the paddle produced, especially on the backhand. The 7.9 ounce, 4-3/8 inch grip paddle is intended for a taller, stronger play than I am. It would be interesting to compare a lighter Quantum Pro with a smaller grip. The grip became tacky in the humidity, providing a reliable hand hold throughout the game. I quickly came to appreciate the extra long handle as it added solid force to my sideline returns."
Ginny I. in Detroit Lakes, MI (3.0 Player)
"I liked this paddle. It has a larger grip that suits my hands well, and I believe it would be great for someone who wants to use a two-handed backhand. The paddle had plenty of power for the hard shorts and yet a nice touch for the dinking game. I found after playing with it for a while I was feeling more confident with power shots. It has a nice pop and a large sweet spot for making more accurate plays. It's longer and thicker than most paddles, but at the same time very light."
Dave W. in Detroit Lakes, MI (3.0 Player)
"The Prince Quantum Pro Paddle has a lot of power potential in addition to great touch for dink shots. The ball comes off the face with moderate spin and a satisfying, low pitched 'pop.' The feel of the ball coming off the paddle increased my confidence with being able to hit soft shots. The extra long 6" grip would be great for any player using a two handed backhand. Correspondingly, the more narrow 7-3/8" wide face is probably better suited to more skilled players. I seemed to hit more shots close to the sides of this paddle compared to more typical, wider options. Long grip, lots of power, nice touch."
Robert T. in Dallas, TX (3.0 Player)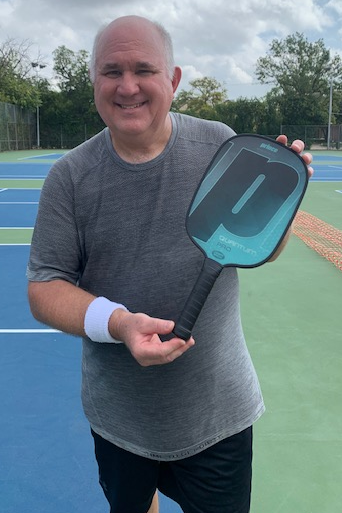 "
I really like the Prince Quantum Pro as it's effective and versatile when it comes to every shot. It seems to have the best combo of qualities for all uses.
With the dink shot it has enough feel for control and accuracy. I like the surface of the paddle in that it allows for a lot of spin or 'English' on the ball.
In summary, it seems to be the best option I've ever tried on the pickleball court."
Trey B. in Dallax, TX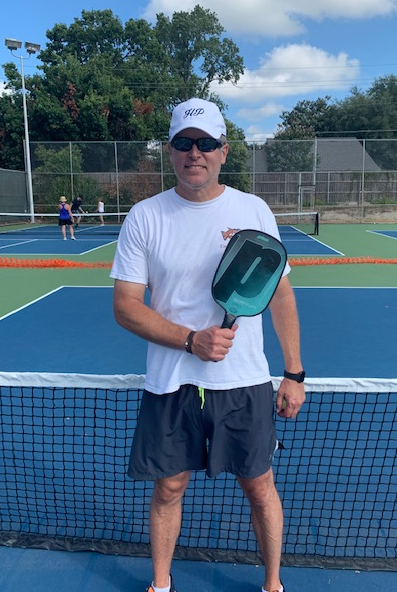 Specifications
Quantum Pro Pickleball Paddle Technical Specifications
Weight Average: 7.6 ounces
Weight Range: 7.4-7.8 ounces
Grip Circumference: 4 1/8" (Small)
Grip Circumference: 4 3/8" (Large) Actual grip sizes may vary up to 1/8".
Grip Style: Thin or perforated cushion
Grip Manufacturer: Prince
Grip Length: 6"
Paddle Length: 16 3/8"
Paddle Width: 7 3/8"
Paddle Face: Textured UV coated fiberglass
Core Material: Polymer Honeycomb
Core Thickness: 9/16" (0.5625")
Edge Guard: 1/8" overlapping paddle face
Manufacturer: Prince Pickleball
Made in USA
Reviews
()
Quantum Pro

This was my first real paddle after the beginner paddles and had an idea of what would step up my game. I love this paddle. Being a tennis player years ago, I love the long handle. The elongated face has a huge sweet spot and lots of "pop". I am a daily player and I had a wonderful run with this paddle but nearly 2 years later, it was DEAD. Shots I used to make went into the net and I had to muscle my forehands, making my shoulder sore. I would most definitely purchase this paddle again but after trying an edge less paddle, I was sold. But, for the $$, get this one!!!

huge sweet spot

This is a nicely balanced paddle with a huge sweet spot. I was worried that it might not be light enough, but I'm glad at this point for the power it delivers. I'm loving the extra inch on the handle: I can choke up for speed or grip deeper for power.

Decided to keep this paddle

Nice feel. Well balanced. Nice grip.

Wonder paddle

I love this paddles response. The extra handle length works wonders with my backhand. 7.7 oz weight is perfect for a 70 yr old

Excellent Paddle!

This is my second Quantum Pro paddle and it is working for me as a regular Pickleball player. The extended grip is the best part, as it allows for one-handed and two- handed backhands.