Details
Circular paddle that provides large amounts of control and surface area with a graphite face and longer 5-1/2" handle length.

Middleweight/Small Grip
Response Graphite Pickleball Paddle by Prince
The Prince Response Graphite Pickleball Paddle will have players feeling more precision and certainty in their swings from the very first use. This paddle uses Prince's characteristic circular shape which results in a huge sweet spot that extends to most of the 8-1/4" wide face. The design is highly responsive but still easy to control thanks to the smooth, vibration-dampening polymer core.

The Response Graphite Paddle has a fairly long handle at 5-1/2" so it can be used for double-handed backhands, or those who prefer having a bit more handle lenth to work with. The grip has a small circumference and is made with extra soft perforated material to mitigate sweaty palms during play. The paddle's weight ranges from 7.6 – 8.0 oz., placing it in the light-to-midweight range.

The Response Graphite Paddle by Prince Pickleball allows players to take advantage of every square inch of surface area, and will bring noticeable improvements to your game.

Actual grip sizes may vary up to 1/8".
Reviews of the Prince Response Paddle from Players at Stone Creek Pickleball Club:
"The Prince Response paddle was light and very maneuverable. Good control and I liked the clear solid sound when you struck the ball. The handle was about right in terms of grip and length – I like a longer grip. I think this paddle is best suited to a player who relies on control instead of power. Last of all (and most important), I won when I played with it. Thanks to Pickleball Central for providing the demo."
Sandi M. (3.0 player)
"I liked the longer handle and the light weight of the Response paddle. I am an experienced player and was impressed by the strike and sound when it hit the sweet spot. The rounded shape was a new to me and it took me a little time to adjust but I quickly noticed this paddle was very good in the short game. It seemed as though I was able to put more spin on the ball than usual and my opponents confirmed that. It felt much like a paddle I use that costs at least 30% more than this one."
Doug M. (4.0 player)
"The Response paddle by Prince was much lighter than the one I normally use yet I was able to quickly adjust to both the weight and shape. It had good spin characteristics and was great during volley and dinking at the net. I think the shape had a lot to do with the play at the net since you could hit the ball almost anywhere on the paddle and get a consistent response. I had some difficulty adjusting to the change in power between a heavy and light paddle. However, the trade-off between power and control was definitely worth it."
Wade R. (4.0 player)
"I thought that the rounded shape of the Prince Response paddle would take some getting used to since I normally use a tear drop shaped paddle. But, after using it for 15 minutes or so, I was able to get into my regular game and normal shot pattern. The longer handle was good for power and I thought it had good control. I, in violation of all the norms of pickleball, often hit the ball while moving and the larger sweet spot sure did not hurt me in that part of my game. The ball "snaps" off the paddle and the sound it makes confirms the hit off the "sweet spot". It is great for either novice or experienced player who likes a "control" paddle in a lighter weight."
Gary W. (3.5 player)
"I noticed at first use that the Response had good control characteristics. This would be a great paddle for the player who likes something light. The handle length was very useful in getting to those "just in reach" shots while still staying in position. To me, the most important thing about this paddle is that the ball went where you aimed it and the paddle itself was not "wild" and some I have used."
Curt G. (3.0 player)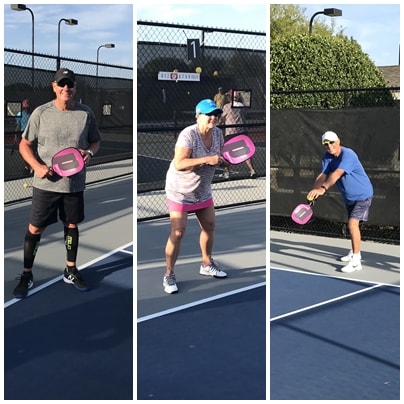 Specifications
Response Graphite Pickleball Paddle Technical Specifications
Weight Average: 7.8 ounces
Weight Range: 7.6-8.0 ounces
Grip Circumference: 4" (Small) Actual grip sizes may vary up to 1/8"
Grip Style: Perforated Cushion
Grip Manufacturer: Prince
Handle Length: 5 1/2"
Paddle Length: 15 1/2"
Paddle Width: 8 1/4"
Paddle Face: Graphite, 3D Graphic Print
Core Material: Polymer Honeycomb
Core Thickness: 0.5"
Edge Guard: 1/8" overlapping paddle face
Made in China
Reviews
()
Love it!

Such a great paddle, Feels like it has a large sweet spot and I love the long handle. Such a huge upgrade from the previous budget paddle from Amazon that I had. I'm curious though how much better the Prince "pro" paddles are because this one is great.

Prince Response Graphite purple pickleball racket

I am very disappointed with the racket so far. I've played with it about 4 times, and though I'm a beginner and older (77), I have noticed that the racket has several dead zones. I brought this up with my partner who's much better than I, and she said it sounded dead even on serves. Is this a known problem with this racket or did I just get a dud? I would greatly appreciate a response from your team.

Solid Value

Great step up from the terrible "Activator" paddle i started with. Consistent pop and feels great in the hand. I'm a new player so i don't feel qualified to give a much more in depth review, but i'm happy with my purchase.

Perfect Match

"Perfect Match" is stretching it a bit for me as a big-time NOVICE! The paddle was recommended by a professional, and I am very happy with the weight and design. Here's to years of Pickleball!

Prince Paddle

I like the size of the paddle and the extended grip. I would prefer a smaller grip size (easier on the arthritis!) and I'm not finding the spin action I read in other reviews.