Details
Powerful paddle that is made more controllable thanks to the graphite face and scientifically-proven angled handle which increases exit velocity and paddle reload efficiency.

Mid-Heavyweight/Medium Grip
ProXR Tour Graphite Pickleball Paddle
The ProXR Tour Paddle is designed with a handle inspired by other major sports like MLB and the NHL to create incredible connectivity to your paddle and control in your strikes. The purpose-built XR-23 handle encourages a proper continental grip, improves paddle reload speed after a swing, and is proven to enhance ball exit velocity. A carbon fiber face adds to the control and playability, delivering a dynamic feel that results in improved touch.
The ProXR Tour Graphite Paddle is offered in three weight classes:
Midweight - 8.2 ounce average weight
Heavyweight - 8.8 ounce average weight
Super Heavyweight - 9.6 ounce average weight
All of these options are on the heavier end of the spectrum to bring additional mass (and therefore, power) to every shot. The comfortable handle has a 4-1/4" (medium) circumference, and is 5-1/2" in length. A 10.5mm thick HEXA polymer core forms the base layer inside this paddle, inspiring confidence in your strikes and ensuring durability. This ProXR paddle is fully approved for sanctioned tournament use by USA Pickleball.
The Tour Graphite Pickleball Paddle from ProXR takes a fresh look at handle design so players benefit from both bio-mechanical science and premium paddle materials.
Actual grip sizes may vary up to 1/8".
Reviews of the ProXR Tour Paddle:
"The first impression of the paddle is the revolutionary design of the grip. The bottom of the handle is angled to contour to the players hand enabling ease in providing enhanced topspin. The paddle thus has traits of additional power for topspin drives beyond existing competitor products. Due to the angled handle and the set up in the players hand, cross court dinks are much easier to execute. The Tour model has a thin face which aids in the control of play while combining with the forementioned power.
This paddle is best suited for a player who has command over the their existing inventory of shots and is trying to add top spin to their arsenal in order to elevate their game. In addition, the set up of the handle will automatically improve a players cross court dinks. ProXR paddles would be extremely advantageous for new players to ensure consistency on how to grip a paddle.
Many players will regrip their own handles in order to replace worn out grips or add layers based upon the size of their hands. The angle at the bottom of the handle may present a regripping challenge in order to lay down a smooth surface. If you are willing to do your own regripping, chances are you have enough experience to lay down a smooth surface without overlapping, so it shouldn't be a problem."
Kit Miller, Pickleball Churchill
"I tried both the
ProXR Signature
and Tour Graphite paddles. I actually liked the Tour as much as the Signature, if not better. The Tour had a good feel and maneuverability. It had crisp, stroking power which allowed me to place winning shots. The Tour allowed me to put a little spin on the ball for me to try and keep my opponents off balance. I have played with some of the other highest end paddles and some might be a little superior but this is less expensive. Good all-around pickleball paddle."
Judy, Pickleball Churchill
"Comfortable and balanced are the two characteristics that stand out for me when I play with the ProXR Tour graphite paddle. The power it added to my stroke quickly overcame any initial hesitation I had about its appearance, since admittedly, the grip seemed awkwardly shaped at first glance. The angled base of the handle allows me to engage the muscles on the lower aspect of my palm. As a smaller player, this gives me the additional "oomph" needed for my serve to land deep enough and return shots to cross into the backcourt where I want them.
My sense is that by engaging more of the muscles in my hand it allows for a more controlled strike as well. When I changed back to a traditional non-angled grip paddle, I found myself missing the extra comfort and feel of the Tour grip and fewer of my shots made it where I intended. The medium weight of the Tour I played with, and its ergonomic grip, allow me to use it comfortably for two full hours of active play without having to rest due to upper body fatigue.
Finally, the size of the playing surface falls into the category of Goldilocks "just right." I noted more shots hit in the sweet spot of the paddle and attributed this to the balanced ratio of width to height. The friends who had a chance to try out the paddle with me agreed that this paddle is unique and worthy of consideration when making their next paddle upgrade."
Sara, Pickleball Churchill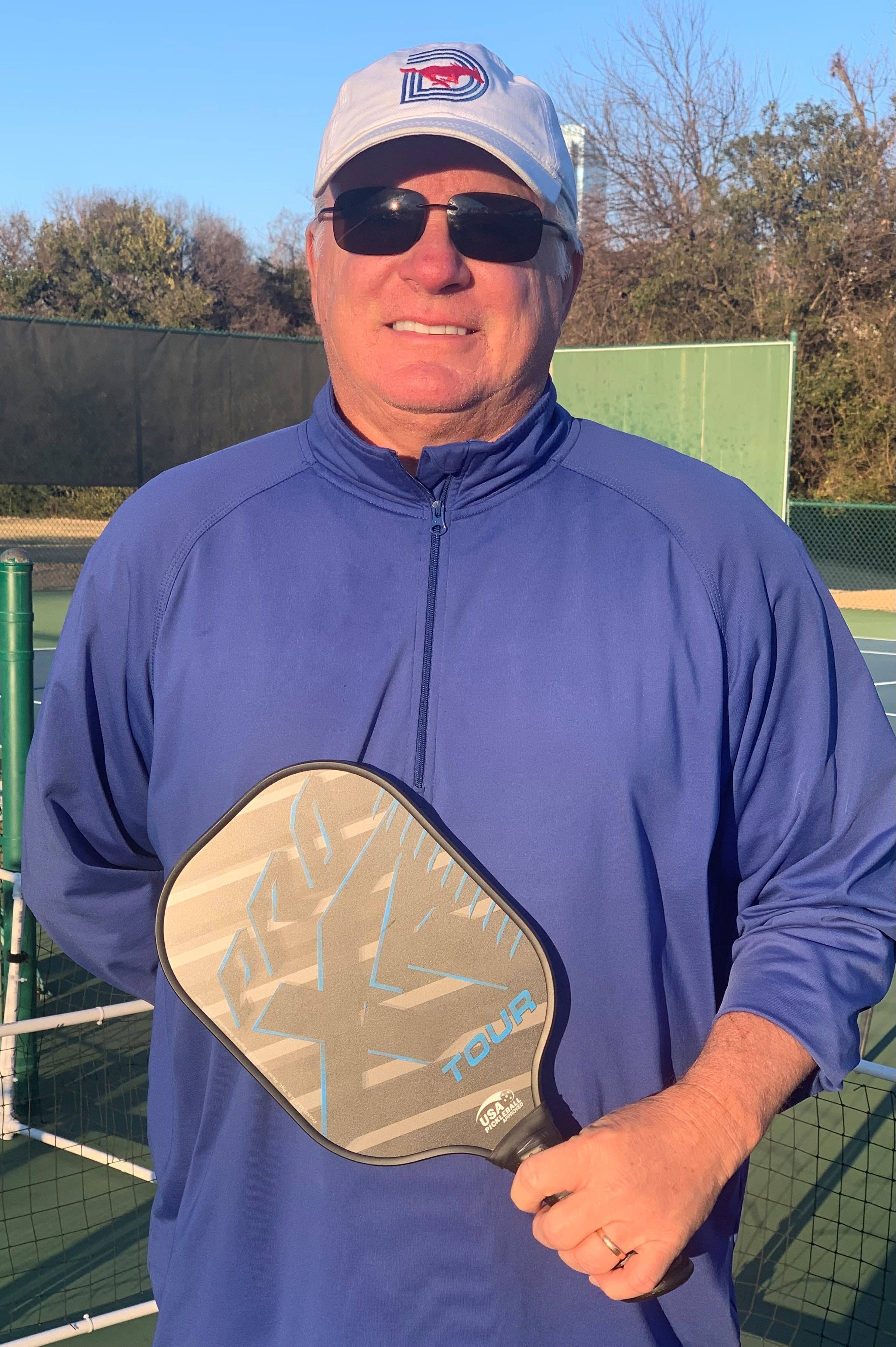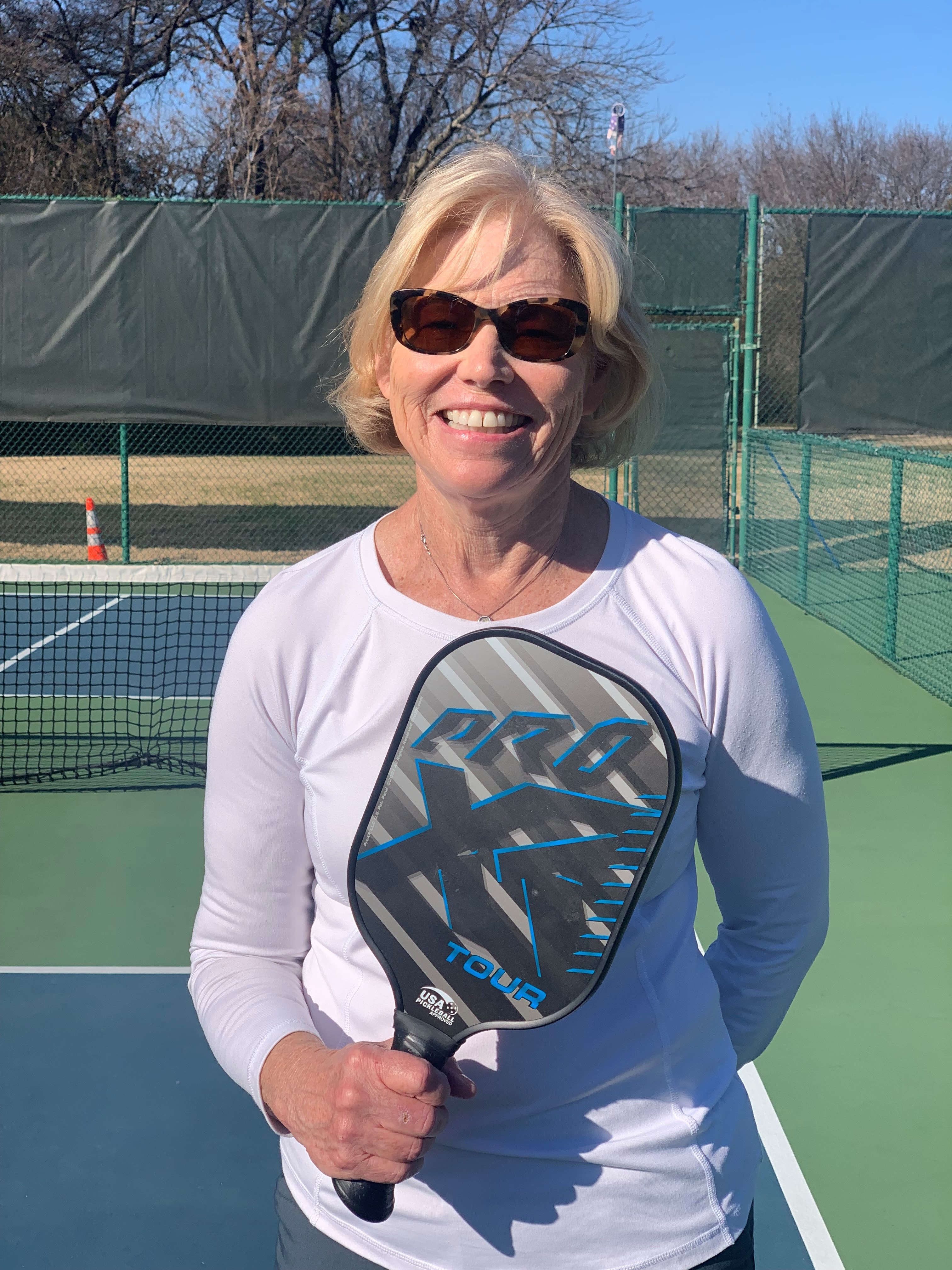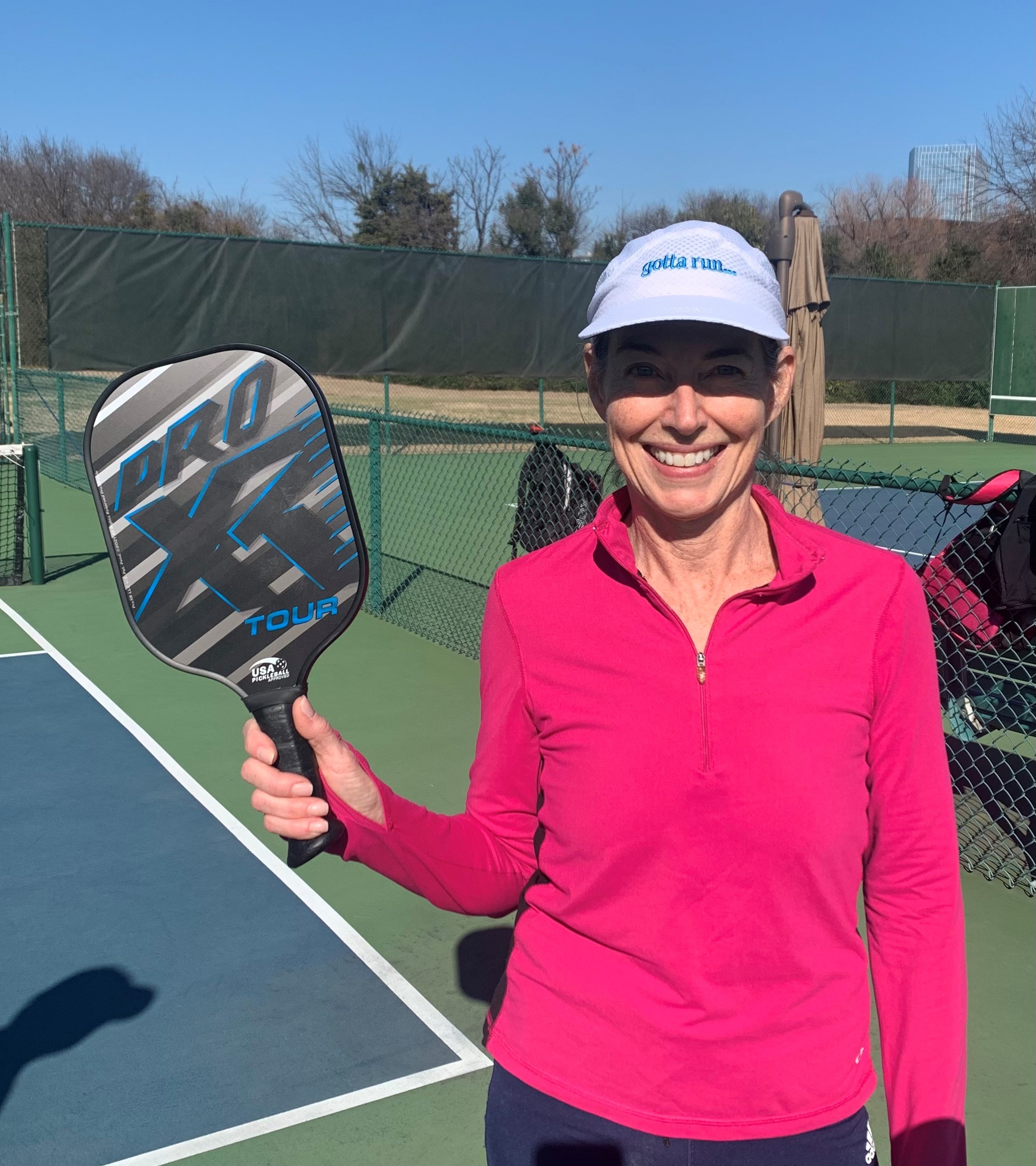 Specifications
ProXR Tour Graphite Paddle Technical Specifications
Weight Average: 8.2 ounces (Midweight), 8.8 ounces (Heavyweight), and 9.6 ounces (Super Heavyweight)
Weight Range: 8.0 - 8.3 oz. (Midweight), 8.6 - 8.9 oz. (Heavyweight), and 9.4 - 9.7 oz. (Super Heavyweight)
Grip Circumference: 4 1/4" (medium) Actual grip sizes may vary up to 1/8"
Grip Style: Perforated-Tac Cushion
Grip Manufacturer: ProXR Pickleball
Handle Length: 5 1/2" with XR-23 Ergonomic 23 Degree Design
Paddle Length: 16.125"
Paddle Width: 7.625"
Paddle Face: Graphite
Core Material: Polypropylene Honeycomb
Core Thickness: 10.5mm (0.413")
Edge Guard: 5mm TPU Surround
Manufacturer: ProXR Pickleball
Made in China
Reviews
(4)
Finally found my paddle!

It's taken a few hits and misses but really like this paddle, especially the grip. It stays put and keeps me from changing grip, etc. I paired with a glove and feels so solid now. My play is improving with it.

ProXR Tour Paddle

I received the ProXR Tour paddle for a gift, it has changed my game. So comfortable in my hand. No other paddle that I have used has felt this good or allowed me to control my shots to the level as the Tour model. The sweet spot on this paddle is forgiving, allowing me to elevate my game. I really like how the ball comes off the paddle. If you have not tried out the ProXR handle design, you are missing out.

Profound Spin

Playing with the Pro XR Tour Graphite Paddle with a graphite face with a HEXA polymer core panel I could tell the ball came off the paddle with a lot of pop. The spin was also more profound, and with more control, compared to other paddles I've used. The XR-23 handle makes it easier to hold onto the paddle. This is a great paddle for the intermediate to advanced player who wants a paddle with more power and control, and the XR-23 handle will impress the best of players.

PROXR - TOUR

I have had this paddle for about 4 weeks now and love it. With the special ergonomic angled handle, it has given me greater control, touch, and spin. I have a much more secure grip with this paddle, and it has certainly improved my game. I have 4 other paddles and I can't see ever going back and playing with something that doesn't have this type of handle. I play mostly doubles and now my doubles partner is in the process of ordering her own ProXR.