Details
This paddle offers maximum power with a soft feel, but slightly less power than its predecessor.

Middleweight/Medium Grip
Poach Icon Pickleball Paddle by Engage
The Poach Icon Pickleball Paddle has a soft feel that still provides a high level of power and surface texture so that you can spin pickleballs all day. It uses Engage's "Variable Release Technology" so that you can manipulate the amount of speed on returns while carefully positioning your shots. The combination of materials used in the poly core render it black, and it provides more time to think about your options when looking for an opening.

The Poach Icon Pickleball Paddle has the maximum allowable roughness on its face to make it easier to curve your hits. It comes with a medium grip and standard weight option. Pro players Brian Staub and Corrine Carr are fans of this paddle. Corrine used it to win doubles gold at the US OPEN.

The Poach Icon Pickleball Paddle has a beautiful blend of touch, power and grip, making it a powerful multitasker in skilled hands.

Actual grip sizes may vary up to 1/8".
Transcript of Video #1 - Corrine Carr
Hi, I'm Corrine Carr from Holly Springs, North Carolina and I play with the Engage Poach Icon. I chose this paddle because it's powerful but it's still very soft and anybody who watches me knows that most of my game is a little bit softer. I slow down and dink and it kind of matches well with the partners that I have chosen. Simone, who likes to kill the ball and then in mixed where usually my mixed partner is also hitting the ball hard and I'm there just to soften it up and keep the ball in play so for me this paddle works really well.
Transcript of Video #2 - Jason Pauley
Hi, this is Jason "Ole Dad" Pauley. I just won 2nd place with the Poach Icon. I really like it's pretty aggressive but it's also smooth, its gives a real good surface for awesome topspin. I'm a huge Engage fan so this paddle is probably about six months old so I really enjoy it and right now it's probably one of the top paddles that I've noticed that a lot of people have out here in the Centralia tournament. So, again, I enjoy the soft touch. We also have a 5.0 player who just won a gold medal with this same paddle so it's kind of a follow the lead so again I said that I enjoy it and it just gives me great touch so hopefully next year I'll get first place.
Test Reviews of the Poach Icon
"I had been using the Engage Poach and was told be an IPTPA professional that this new Poach Icon was a blend between my current paddle and the previous Elite Pro. I used the Icon in a tournament within the week, and after winning gold and silver, I was convinced it was a great paddle! I like the heavier of the two weight options. The construction is solid enough to deliver great power (more than any other I've used so far), but it provides delicate touch for lengthy dinking wars and lob volleys. I use a lot of spin shots and the surface of the Icon lends itself well to that. We now have more than a dozen club members playing with the Icon and we're all very pleased with our choice."
Chuck F. (4.5 Player)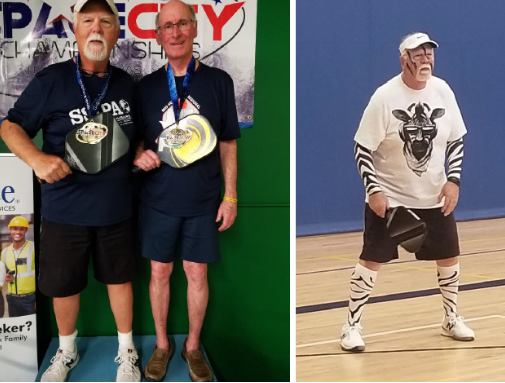 "From my first hit with the Engage Poach Icon, I liked the pop off the paddle. It allowed me to reduce the force of my swing without sacrificing power. My volleys and smashes initially went long, but with a slight adjustment they turned into deep, winning shots. The sweet spot seems to be pretty forgiving. Even when contact is made off-center, the ball comes off better than expected. I'm especially excited about using this paddle for singles. The adjustment is taking a bit longer for control and touch in doubles. Without adjusting the pressure of my grip for the dinking game, the ball tends to pop up. However, I have the same issue with other paddles. As I get more familiar with the Icon's feel, my soft game will improve. Even though I'd only played with the paddle for a few days, I decided to use it in a tournament and medaled in three events! I was even playing .5 - 1 skill rating higher than my official rating. Needless to say, I highly recommend this paddle to others."
Steve F. (3.5 Level)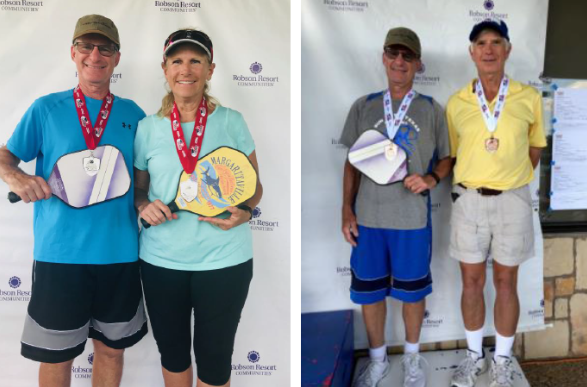 "My current paddle is an Engage Elite Pro Maverick. It's 8.2 oz with a 6" handle. I like it for singles as it provides me with a lot of power and great control. I can go down the line or push the margin of error for cross-court shots to the limit, and the handle provides me with more reach when chasing down drives. That being said, I was on the search for the perfect doubles paddle and I think I've found it with the Poach Icon. It provides many of the same benefits I enjoy with the Maverick, but with a standard length handle and softer, more controlled feel for net play. I'm working on making my dinks and drop shots truly unattackable, and I believe the Icon will help me get there. I've placed an order for a light weight Icon and will now have the best of both worlds between it and the Maverick."
Kathy C. (4.0 Level)
"I really enjoyed playing with the Poach Icon. My ground strokes have more power, and playing at the net has a great feel on volleys and drop shots. I needed to build up the grip to better fit my hand, but it still has a good balance and feel after my modifications. It's a good all-around paddle. After my club demoed this paddle, four advanced players ended up purchasing it including one 4.5 player who won gold in a tournament with it. Everyone who bought an Icon is now playing with it exclusively."
Ron L. (3.5 Level)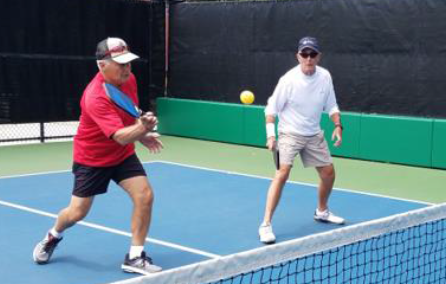 "I didn't care for the feel of the Engage Poach Icon when it was first handed to me. It felt a little top heavy for my preferences. Over the last several days, however, I've played with the paddle both indoors and outdoors. I found the performance very complimentary to my style of play, which is centered around dinks and drops, but it also performed very well when hitting deep serves, return of serves and drives. I enjoy the touch of this paddle. I felt that I had better control of my dinks and drops. The grip was the perfect size for my hand, which is a critical factor I take into consideration when selecting a paddle. After playing a few games, the top heaviness was no longer something I noticed. I did find the face of the paddle shows wear, as the honeycomb pattern of the core becomes more visible in the white areas over time, but this has not affected play. The Icon I used weighed in at 8.1 oz which is great for those who prefer extra power. I'm in the market for a new paddle and will consider the Poach Icon."
Mary P. (4.0 Level)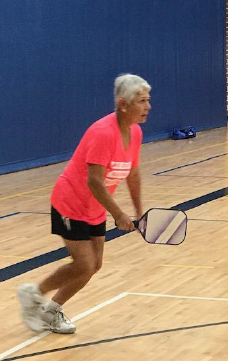 "My favorite thing about the Engage Poach Icon was the large surface area of the paddle. Ball contact felt substantial but not unstable. I also liked the longer grip size and weight which added to overall comfort."
Linda H. (3.5 Player)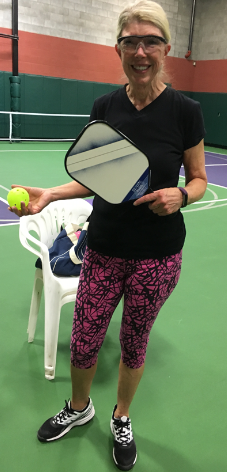 "
I like the bigger face of this paddle which contributes to a larger sweet spot! I feel the ball hits on the sweet spot more than other paddles I've used. I have a smaller hand, but the 8.0 weight of this Poach Icon is a good fit and the handle size is comfortable. The grip seems a bit longer than normal, allowing me to reach for balls with greater success, and dig out shots which I'd normally miss. The Poach Icon works well on dinks and has a good response off the face. It's nice I was able to add some spin on serves and returns. I highly recommend this paddle and think it would even work well for high level players!"
Rita J. (3.5 Player)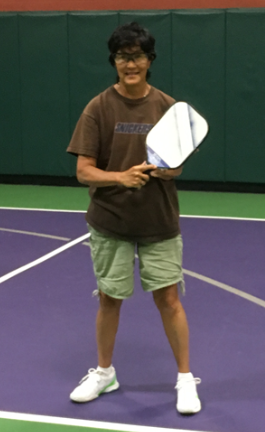 "After playing numerous games with the Poach Icon, I felt it would be a good fit for players looking for more control with an aim to keep the ball in play. This paddle would support someone wanting to strengthen their defensive game, as it allowed me to concentrate and improve my placement during volleys. The face of the paddle felt like it grabbed the ball well, allowing me a mix of control for dinking and power during defensive volleys. The grip was comfortable and the weight isn't too heavy. Several of my other club members played with this paddle and felt the same, with many noting the Icon's capability for spin and control."
Peggy F.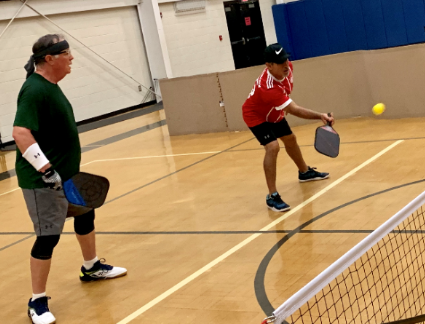 Specifications
Poach Icon Paddle Technical Specifications
Weight Average: 8.0 ounces
Weight Range: 7.5-7.8 ounces (LITE)
Weight Range: 7.9-8.3 ounces (Standard)
Grip Circumference: 4 1/4" (Medium) Actual grip sizes may vary up to 1/8".
Grip Style: Perforated cushion
Grip Manufacturer: Engage
Grip Length: 5"
Paddle Length: 16"
Paddle Width: 8"
Paddle Face: Proprietary Chemical bond
Core Material: Polymer
Edge Guard: Low-profile vinyl
Manufacturer: Engage
Made in USA
Reviews
()
Pickleball Paddle

This paddle was given as a gift for Christmas. It was much appreciated, lightweight with a pretty design. It did have a nice, sweet spot. The only downside is that considering all the money paid for the paddle it would have been nice to have a cover to gone with it. That was a bit disappointing. Nice paddle overall!

Instantly helped my game!

I experienced better touch on my dinks and control on my ground shots and volleys. In addition to a fantastic paddle, Pickleball Central also delivered an "A Plus" online purchase experience.

Poach Icon Pickleball paddle

Too lite for me. My serve was short.

Love my new paddle

I love the paddle, it came quickly.

Poach paddle

Paddle arrived rapidly and the price was great.