Details
Features a graphite-reinforced face and polymer core. ONIX's TeXtreme Technology delivers increased durability without adding weight.

Middleweight/Large Grip
ONIX Outbreak Pickleball Paddle
The Outbreak Pickleball Paddle is a wide body offering from ONIX that provides exceptional accuracy thanks to its TeXtreme Technology. This special woven carbon fiber is found in other pro-level sports equipment such as tennis rackets and helps to improve sturdiness and power without increasing weight. This allows players to precisely place their shots without losing out on speed and comfort.

The Outbreak Pickleball Paddle has a 7.8 - 8.2 oz weight range which helps impart spin and power in each swing. It has a polymer core which will work to defuse impact while still offering a solid, reactive sweet spot. The design has a black background with ONIX's logo in the center with a "faceted" mix of colors that create a crystalline look. The handle is 5" long and perfect for providing just enough reach while maintaining control over your movements.

The Outbreak Pickleball Paddle has all you need to create impressive precision in your game while also bolstering your defense.

Actual grip sizes may vary up to 1/8".
Reviews of the ONIX Outbreak Pickleball Paddle by Pickleball Central Staff:
"The outbreak could be a great paddle for an intermediate player (3.0-4.0) to take their game to the next level, or a high level (4.5+ player) looking for a ball control paddle. As a soft-touch paddle with enhanced ball dwell time, the Outbreak offers enhanced ball control for placement on drops, lobs and dinks while still being substantial enough at 8 oz with a head forward balance to power the ball on drives. I like the oversize head and extra thick TeXtremeTM core combined with a wide weave graphite/carbon face because it seems to offer a fairly large sweet spot, a soft but solid feel, and enhanced vibration reduction. On first play it took some getting used to the feel of the paddle as there is less feedback feel from the ball but once accustomed to it I liked the quiet feel of the paddle on the ball. As a player who often leans toward a lighter paddle I found I was able to adapt to the play of the Outbreak and because it is not an overly long paddle I found I could still get around on the ball. I recommend this paddle for doubles players looking for enhanced touch/ball control and a softer feel. Like other thicker core paddles the grip is substantial and a bit boxy. Depending on your grip style and preference this may be a positive or negative but does offer quite a bit of feedback on paddle orientation in your hand which is nice. For me the grip size was slightly too large however I generally play with a smaller 4 1/8"-4 1/4" grip size. This would be easily converted to my size by replacing the grip with an overgrip. "
Jimmy, Product Manager (3.5 Player)
"The Outbreak is unlike any other paddle I've hit with. I prefer softer playing paddles like the Tempest Wave, Prince Spectrum, and the Engage Icon. The Outbreak fits nicely into this category of very high-end defensive (soft touch) paddles with an oversized wide face. I found that the paddle gave me the ability to control the ball in soft shot sequences (drops, dinks, and lobs), and I was able to block very effectively when someone powered a ball at me. You give up a bit of power in exchange for these attributes, so I'm recommending this paddle for people who are seeking a softer feeling (and sounding) paddle. The squared up grip was easy for me to keep registered in my hand. I love that ONIX is continuing its history of innovation with this paddle!"
Peter, Head Instructor (5.0 Player)
"I am not going to lie, I was surprised by the paddle. I was told by a 5.0 player who had tried it that it was a soft paddle, great in the short game, but tough to put the ball away. Then I played with it and I found I adjusted to the softness quite quickly. It was great for blocks and dinks. And, on my serves and returns I was able to get the ball deep. With driving thirds, I was able to generate top spin, as I felt the ball held to the surface. Then came my first chance for a put away, and low and behold I won the point. I thought, they didn't know what they were talking about. Then I remembered, I am a 3.5 and playing against 3.5. In the end, I think it will be a paddle that anyone, 2.0-5.0, who really wants to focus on the short game will enjoy. A real nice addition to the ONIX line up. I look forward to a few more games with the Outbreak.
John, Sales Director (3.5 Player)
Test Reviews of the ONIX Outbreak Paddle:
"The ONIX Outbreak Paddle

I tried was 8.2 oz which was over one ounce heavier than my usual paddle, so I wanted to test if I'd feel increase in power and the effects on control.

I immediately noticed the greater thickness of the Outbreak's face, yet when I picked it up I felt only a slight difference in balance. The handle has more of a square shape than most others with are beveled, but after just a few minutes of play I became more comfortable and didn't notice it thereafter. I did detect an increase in power on serves and return of serves. It required less effort to send the ball over the net quickly. Shots from deep in my court were well controlled with the Outbreak. Despite its weight, I found the paddle performed well when it came to dinking with little adjustment needed. I don't yet utilize much spin, but I attempted backspin on a couple of returns when using the ONIX Outbreak Paddle and was very pleased with the result. I felt comfortable with volley shots and enjoyed more power on smashes. There seemed to be less of a "pop" sound during volleys, but that certainly didn't impact their effectiveness. This paddle strikes a good balance between power and control, and I could see it being used by players in a wide range of skill levels."
Randy S. (3.0 Player)
"There are a lot of positives about the Outbreak Paddle from ONIX. I felt my shots were more solid and had plenty of control. Even though this paddle has a lot of punch, I appreciated the quiet sound of the Outbreak's core when volleying. No loud pops! The grip was a little big for me, so it would be ideal for those who enjoy a heavier paddle with a broad shape. I'd like to use the Outbreak to improve my game, but its current specs combined with the squareness of the handle make it difficult for me to use, especially with the corner hitting my wedding band (I'm left handed). Overall though, it's a great paddle that I would recommend for players who have larger hands or appreciate a well-defined grip."
Laura S. (3.0 Player)

"I played with the ONIX Outbreak both outdoors and indoors. It's a real pleasure to use. Outdoors, I was able to power through some substantial wind without losing control. The sweet spot on the Outbreak is noticeably larger and easier to hit than other similarly shaped paddles that I've owned. Also, the square shape of the handle made it easy to know the orientation of the face just by its feel. The handle has a larger diameter than most others and may not be ideal for all players, but it's a good fit for my hand. The paddle that I used weighed in at 8.3 oz, which is the same weight of my current paddle, but it felt lighter in my hand. The graphite face and polypropylene core of the Outbreak give it a very soft feel which allows for a lot of variation in shots. The ball stays in contact with the face just a bit longer than it does on harder faced paddles. I was able to put plenty of power on the ball, easy spin when I wanted it and confident control for softer, strategic drop shots and dinks. I was also surprised by the subdued sound of the paddle and found that I like the quieter pop. It seemed to have a distracting effect on my opponents. My impressions of this paddle are very positive. I've been trying to decide what my next paddle would be, and after test driving this for a bit, I plan to make the ONIX Outbreak my next purchase."
Stan P. (4.0 Player)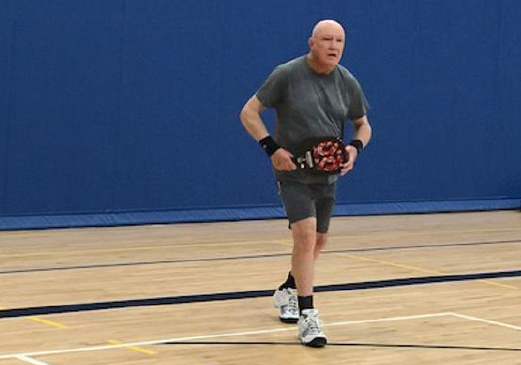 Specifications
Outbreak Graphite Pickleball Paddle Technical specifications
Paddle Weight Range: 7.8-8.2 oz.
Grip Circumference: 4 3/8" (Large) Actual grip sizes may vary up to 1/8".
Grip Style: Perforated cushion
Grip Manufacturer: ONIX
Handle Length: 5"
Paddle Length: 15 1/2"
Paddle Width: 8 1/8"
Paddle Face: TeXtreme Technology (reinforced graphite)
Core Thickness: 9/16" (0.5625")
Core material: Polypropylene
Edge Guard: Low-profile vinyl edge trim
Manufacturer: ONIX Pickleball
This model is manufactured in both Mexico and China
Reviews
()
This is my fourth Outbreak paddle. When I let people use it they love it too. I like the ability to add spin and power to my game.

Try this paddle. It is worth the money.

Love it

Great quick service and love the paddle!

Outbreak paddle

I have played many paddles over the past 7 yrs. This is my favorite. It has a great blend of power and control.

Outbreak Pickleball Paddle

This is my third Outbreak Pickleball Paddle to purchase. As always, the product is excellent. It does everything the package says it will. I received it faster than I anticipated.

Pickleball Product Review

Love this paddle! Lively, yet good control. I had been using a Selkirk Epic Vanguard. I feel the Outbreak is more solid. The ball really pops off the face, yet I feel I hit better dinks and drop shots too