Details
A dynamic combination of fiberglass surface and polymer core create a versatile paddle with great feedback and put-away power.

Middleweight/Medium Grip
Oneshot Ultimateshot 2.0 Series Composite Paddle
The Oneshot Pickleball Ultimateshot 2.0 Paddle is a consistent and confidence-inspiring paddle that can handle fast exchanges at the kitchen line, and put tons of pace on your serves and groundstrokes. Its fiberglass face combined with the 0.55" thick polymer core add up to poppy performance and pleasant tactile feedback; you'll enjoy both power and precision. The longer than average handle is good for double-handed backhands, while the 8.1" wide face also affords plenty of surface to work with when blocking from a defensive position.
The Ultimateshot 2.0 Series Composite Paddle weighs in at a range of 7.5 - 8.1 oz, so there's a light-to-midweight option available for a wide range of player types. The handle length is 5.3" with a medium-circumference comfort grip. The design features the Oneshot logo in the center with a black background and color-accented edges.
The Oneshot Pickleball Composite Fiberglass Ultimateshot 2.0 Series Pickleball Paddle is a reactive, hard-hitting piece of equipment that will help you put overheads past your opponents in the blink of an eye.
Actual grip sizes may vary up to 1/8".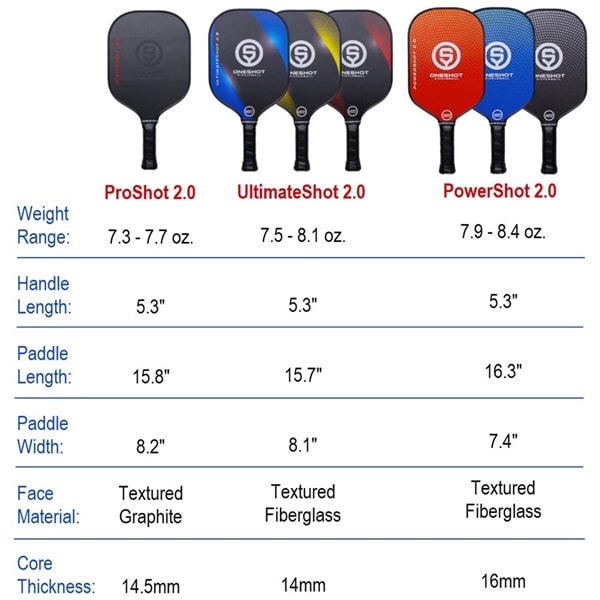 Specifications
Oneshot Pickleball Ultimateshot 2.0 Series Paddle
Paddle Weight Range per Variant: 7.5-8.1 oz
Paddle Average Weight: 7.8 oz
Grip Circumference: 4.25" (Standard) Actual grip sizes may vary up to 1/8".
Grip Style: Comfort Grip
Handle Length: 5.3"
Paddle Length: 15.7"
Paddle Width: 8.1"
Paddle Face: Textured Fiberglass
Core Thickness: 14mm (0.55")
Core Material: Polypropylene Honeycomb
Edge Guard: 1/8" overlapping paddle face
Manufacturer: OneShot Pickleball
Made in China
Reviews
()
Pickleball Product Review

Spec Review Needed

I picked this paddle for the mix of specs that it offered. The actual handle length was 1/2" shorter than listed in the specs (4 3/4" instead of 5.3". I am utilizing your 30 trial period, but so far, I prefer am still wanting a longer handle. So, my search continues! I would suggest a review of the spec sheets for that line of paddles.

Pickleball Product Review

Nice

I like the spin that I can put on the ball. The pop off the paddle is also nice. I had to back off my dinks as I kept dinking out of bounds by about a foot. I really like the paddle.