Details
An extremely well-balanced composite paddle, great for all levels of play. Generous handle length is perfect for two-handed shots.

Middleweight/Medium Grip
Oneshot Powershot 2.0 Series Composite Paddle
The Oneshot Pickleball Powershot 2.0 Paddle is a remarkably balanced, accessible paddle for all skill levels looking to improve their game. Its power and versatility make it a popular choice for players familiar with a variety of other racquet sports such as tennis, table tennis or racquetball. With this paddle's comfortable grip, generous reach and high-quality material, you'll be equipped to handle any opponent.

The Powershot 2.0 Series Composite Paddle from Oneshot Pickleball features a roomy 5-1/3" grip length with a medium circumference and an elongated 16-1/3" overall length. It is made with a pro-grade fiberglass composite face which is highly textured to increase spin, and a uniform polypropylene core, all adding up to a weight range of 7.9 - 8.4 oz. This mid-to-heavy weight isn't distracting thanks to the paddle's even weight distribution, but you'll feel the extra power when driving the ball down the court or working on your third-shot drop from deep court positions.

The Oneshot Pickleball Composite Powershot 2.0 Series Pickleball Paddle is a sharp-looking, hard-hitting option for advanced players and aspiring pickleballers alike.

Actual grip sizes may vary up to 1/8".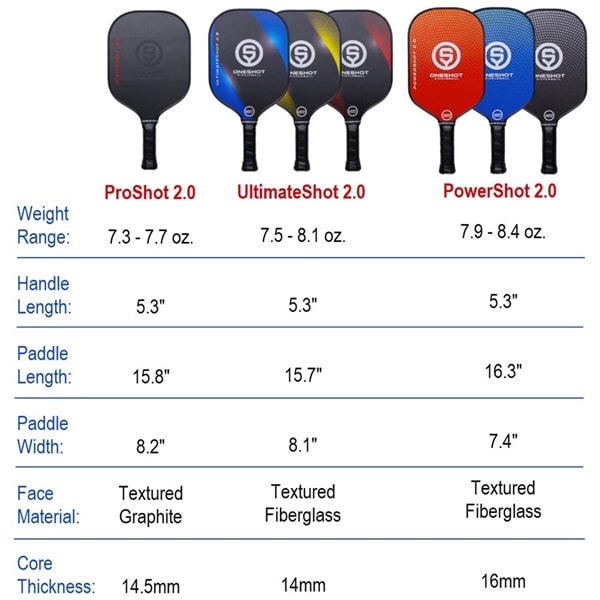 Specifications
Oneshot Pickleball PowerShot 2.0 Series Paddle
Paddle Weight Range: 7.9-8.4 oz
Paddle Average Weight: 8.1 oz
Grip Circumference: 4.5" (large)
Grip Style: Comfort Grip
Actual grip sizes may vary up to 1/8"
Handle Length: 5.3"
Paddle Length: 16.3"
Paddle Width: 7.4"
Paddle Face: Textured Fiberglass
Core Thickness: 16mm (0.63")
Core Material: Polypropylene Honeycomb
Edge Guard: 1/8" overlapping paddle face
Manufacturer: Oneshot Pickleball
Made in China
Reviews
()
Outstanding

Very pleased with this paddle and very impressive service. Keep up the good work.

One Shot

There's nothing wrong with my original One Shot purchased last year, I'm so satisfied with it, I purchased another one, but a different color. It gives me power when I need it and slows my game when play settles down. Highly recommended for higher intermediate players

Great Paddle!!

This is my second Oneshot Powershot 2.0 Paddle! I like it so much I want to make sure I always have one available. Plus, great service every time I work with Pickleball Central!

Nice balance and size of handle

New Paddle

Great paddle right out of the plastic cover. The handle is perfect for my grip. Highly recommend for all levels of Pickleball play