Details
Navigate your way to a win with this elongated paddle from Gamma, featuring a thicker core and textured graphite face.

Middle-Heavyweight/Small Grip
GAMMA Compass Graphite Pickleball Paddle
The Compass Graphite Paddle is a generous 16-5/8" long and weighs approximately 7-3/4 oz. It has a 4-3/4" long handle with a small grip that allows for quick changes in positioning. The face features a large image of a compass printed along the left side with the Gamma logo in the upper right corner. These designs are offset by a smooth, grey-colored background and the paddle's name on the right.

The Compass Graphite Paddle will direct you towards a higher standard of play thanks to its smooth, dynamic feel and adaptable length.

Actual grip sizes may vary up to 1/8".
Test Reviews of the Gamma Compass Pickleball Paddle:
"Our club, Tomahawk Area Pickleball, tested the Gamma Compass with a cross section of players: men and women with skill levels ranging from 2.5 to 4.0. Across the board, players found the Compass provided a solid punch. One 3.5 player noted he liked 'the pop off the face of the paddle.' Another was overjoyed by the large sweet spot: 'For the first time, I felt like I knew where the ball was going when I hit it.' The touch of the paddle was praised by one of our 4.0 players. She found it made her third-shot drops more consistent and was impressed by the control it offered for shot placement. The elongated face also made reaching shots easier. Our aggressive players loved the paddle's feel, noting it felt soft even when hitting hard. The short handle and smaller grip make it perfect for players with small to normal-sized hands. The square grip is great for transitions and positioning during awkward shots. Until it was mentioned after play, most players never even noticed the Compass' extra thickness. Everyone enjoyed the Compass' balance, many of whom had never used an elongated paddle before. That's a true compliment to the designers at Gamma. Overall we found the Gamma Compass a great paddle, especially for those looking to add that extra bit of touch to their net game while still craving power. The most frequent compliment I heard was the exceptional feel when striking the ball. This paddle may be what the advanced player needs for a shot-making edge, but the average player will find great comfort in the oversized sweet spot. If you ever have an opportunity to try the Gamma Compass, you won't be disappointed."
Fred B. of Tomahawk, WI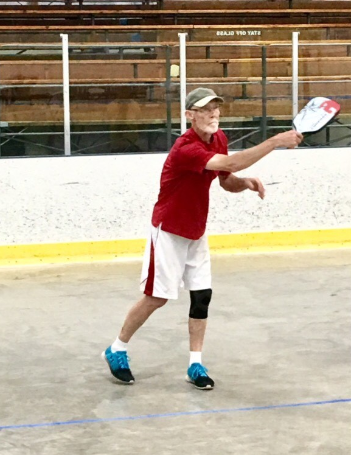 Specifications
Compass Graphite Pickleball Paddle Technical Specifications (RGCPP10)
Weight Average: 7.7 ounces
Weight Range: 7.5-7.8 ounces
Grip Circumference: 4 1/8" (Small) Actual grip sizes may vary up to 1/8".
Grip Style: Cushion, perforated, ribbed
Grip Manufacturer: Gamma Honeycomb
Grip Length: 4 3/4"
Paddle Length: 16 5/8"
Paddle Width: 7 1/8"
Paddle Face: Textured Graphite
Core Thickness: 5/8" (0.625")
Core Material: NeuCore Poly Core
Manufacturer: GAMMA
Made in the USA
Reviews
()
Gamma Compass

For me the paddle is ideal. Good grip, ball rebounds off the paddle just right for me, the extended length helps me reach most balls. Have tried about a half dozen paddles and the Compass fits my playing style the best.

Gamma Compass Paddle

This is the best paddle I have purchased! It is lightweight and gives me great control when hitting the ball. I highly recommend this paddle.

Good feel, but ..

I like the paddle, which is not surprising as I've come from having the Needle for 2 years. It's good for control, and hits with pop, if you strike the ball in the sweet spot . But the spot is pretty small.

Gamma Compass is the best

This paddle is one of the best on the market, I recommend it to lots of our players & sometimes when we play there will be 4 Compass paddles being used. It is by far the most popular paddle at our Club in Hawkes Bay, New Zealand & it is popular because it is a good all round paddle. Thanks Gamma for making such a great paddle.

Gamma Paddle

I love this paddle. It's exactly the right weight and length. As someone with small hands I appreciate the smaller grip size

More Surface/More Power

I bought this paddle for my husband, who has had surgery on both of his knees and is a little stiff even years later. He needs a little help with reach. He is enjoying the game even more now that he has the longer paddle. It has definitely improved his game.

Adding more to my game

I have been playing for about a year now and been through a few paddles and seemed to land on a blade type. The shape has lent itself to enhancing my game with less balls off the neck of the paddle. Paddles do not make your game, but they sure can help.

Awesome Paddle

I can say that the my game has transformed. The switch from regular to elongated paddle was not noticeable. I am an ex racquetball player, so this paddle is helpful for me.

Great Paddle

Bought this for my wife after she tried a friend's. She loved it immediately. I have used it also and it plays similar to mine from a different company but I'd be happy playing with it myself.

New game!!

This paddle makes all the difference in my game.I play so much better.