Details
3 Dozen FREE Pickleballs ($80.97 value)
The most advanced training partner from Lobster yet. Pre-set drills, all-digital controls, 135 ball capacity, remote control options, and more.
Lobster 'Pickle Champion' Ball Machine
***Now, through December 24th, buy this Pickle Champion and receive a Grand 20-function Remote Control for just $99 (MSRP $325)***
The Pickle Champion Machine from Lobster Sports is an all-digital pickleball machine offering top of the line features. This is the first machine from Lobster to come with pre-programed drills, making this the most advanced training partner Lobster has ever developed. The drills are designed to simulate game-like situations and movement, and the machine allows you to switch from drill to drill with the press of a button.
Like all Lobster machines, the Pickle Champion features top- and under-spin controls, as well as side-to-side sweeping oscillation. It can fire balls at speeds of up to 65 mph, and arrives standard with electronic elevation control and two-line oscillation, too. The capacious hopper holds up to 135 pickleballs. The digital control panel features an easy-to-read LCD screen for changing settings and accessing the menu quickly and easily. Finally, the ball feed rate can be adjusted to anywhere between 2 and 9 seconds between shots, allowing you to set the pace of your practice sessions.
The Pickle Champion will last 4 to 6 hours on a single full charge, which means you may very well tire out before your Lobster does!
The Lobster 'Pickle Champion' Ball Machine comes in two power options:
Internal Battery - the standard model
External Battery - allows you to take the battery inside for a recharge while leaving the machine at its usual location.
Download Lobster Pickle Champion Pickleball Machine Owner's Manual here.
The following optional accessories are compatible with this machine (not included with machine purchase):
Lobster Grand 20-Function Remote Control
(Can be installed by customer after machine purchase)
Lobster Grand Remote Control for Apple
(Must be installed at factory at time of machine purchase or return machine for later install)
Lobster Grand 20-Function & Apple Remote Control Bundle
(Must be installed at factory at time of machine purchase or return machine for later install)
Lobster Storage Cover
Lobster 3-AMP Premium Charger
Lobster Elite Power Pak
Lobster External Battery Pack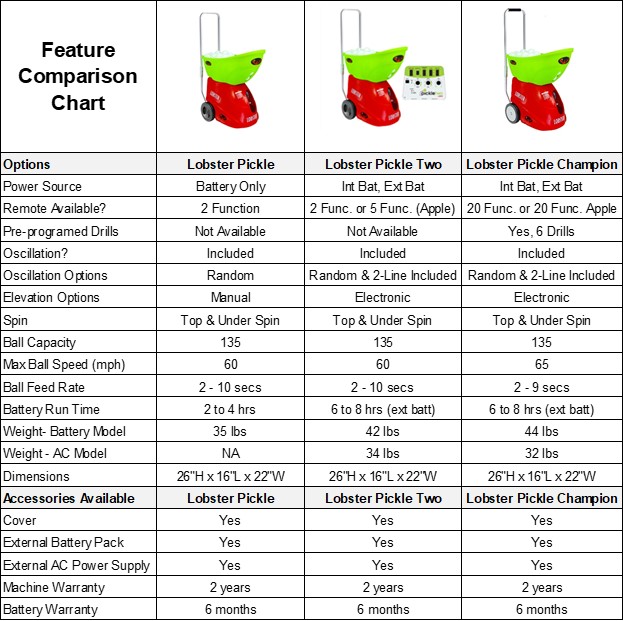 Links To:
Shipping Information:
The Lobster Pickle Two Machine drop ships from the manufacturer within 3 days of your order date. You will receive separate tracking numbers if you have other items on your order. Shipments of this product to Alaska & Hawaii are not eligible for free shipping. Please see our
shipping page
for more details.
Returns:
Returns will only be accepted with proper return authorization. Please contact our customer service department at
888-854-0163
to confirm eligibility and return instructions. A 5% restocking fee will be deducted from refund amount. Customer is responsible for return shipping charges. All returns must be shipped in original manufacturer box and packaging. We recommend adding tracking and insurance when shipping returns. Returns will not be accepted for merchandise that is misused, neglected or altered. Please allow 30 days for processing refunds.
This product is exempt from RR coupon promotions.
Warranty Information:

Lobster Sports warrants that each Lobster Sports ball machine purchased will be free from defects in material and workmanship for 2 years from the date of purchase
except for
the battery and server wheels which are warranted for 6 months.
Returns will only be accepted with proper authorization, which includes the product serial number, the original invoice number and date.
Specifications
Internal Battery model (EL0P3) - Weight: 44 lbs
External Battery model (EL0P3.EB) - Weight 32 lbs (battery is carried separately in canvas bag (12 lbs)
Ball Capacity: up to 135
Can be used with indoor or outdoor pickleballs
Made in the USA
Shipping box dimensions: 30" x 19" x 24"
Machine dimensions: 26" x 16" x 22"
Reviews
()
Lobster Champion Not Ready for Sale Yet

Having owned a lobster for 6 or 7 years, I wanted to upgrade to the latest model. I received the new one on 9/27/2022 and it's not ready for sale yet. The machine arrived with a bad charger to start. Customer Service is outsourced overseas. Hard to understand and limited knowledge of the Champion, in my opinion. Many calls and emails later I received a replacement on 10/04/2022 that worked. The screen is hard to see and you have to get down on your hands and knees to use it. Very hard to read in the sun light. The owner's manual doesn't show the right position of some of the ball drills. And for me the final straw was, in manual you can't change the ack angle ( manual oscillation) with the $520 remotes. Har-Tru now owns LobsterSport (5/2022 I think). I contacted the CEO of Har-Tru and was very impressed with him. Though I am sending the Champion back, I believe they will correct the problems sometime in the future. But for now, I would stay away from this model. ****PBC Response: Hi Steven! Thank you for your feedback! I'm really sorry to hear about your initial experience with this machine. So far, we have received dozens of orders for the unit and have not yet heard any other reports like this. We're hopeful that this either indicates this was a one-off situation, or that Lobster has already addressed the issue. Regardless, we want to thank you for reaching out and taking the time to provide this valuable feedback. --PBC****