Details
Practice a variety of shots with this pickleball machine from Lobster Sports. Holds up to 135 pickleballs and works with indoor or outdoor balls.
Drop-ships from manufacturer, extra processing time is needed. Check out the product videos.
Lobster Pickle Ball Machine
The Lobster Pickle Ball Machine is the perfect practice partner, helping you to improve your game with its capacity for random oscillation and speeds of up to 60 mph. This 35 lb machine comes with an inverted hopper and 8-inch wheels attached so you can easily roll it around the court or move it between locations. It holds up to 135 indoor or outdoor balls and will challenge your footwork with top and backspin. Enjoy standard shots, lobs or dinks depending on how you adjust its elevation and placement. When set up in position for your shot, the machine will indeed hold 135 pickleballs. However, if you try to move the Lobster when the hopper is full, balls will spill out.
The Lobster Pickle Ball Machine will last up to 4 hours per charge so that you can have marathon drill sessions as often as you like. Its ball feed rate can be set between 2 - 12 seconds, allowing you to set a brisk or leisurely pace.
NOTE
: The Lobster now comes standard with a trickle charger, so there is no concern of overcharging your machine.
The Lobster Pickle Ball Machine is made in the USA and covered by a 2-year manufacturer warranty. Its cheerful lime and red colors ensure it will stand out wherever its used. If you're looking for the perfect machine to help club members up their game, or want to be able to drill on your own, the Pickle Ball Machine will exceed your expectations.
Download Lobster Pickleball Machine Owner's Manual here.


Available Optional Accessories (not included with machine purchase):
3-AMP Premium Charger
- Charge your Lobster Pickleball Machine in 3-6 hours with this charger upgrade.
Elite Remote Control
- Adjust feed & sweep of machine with this remote (owner installation required)
Elite Storage Cover
- Protect your machine while in storage with this cover.
External Battery Pack
- Extend your battery time for 4-8 hours with this battery pack.
Elite Power Pak
- Run your machine off of a standard outlet for unlimited use.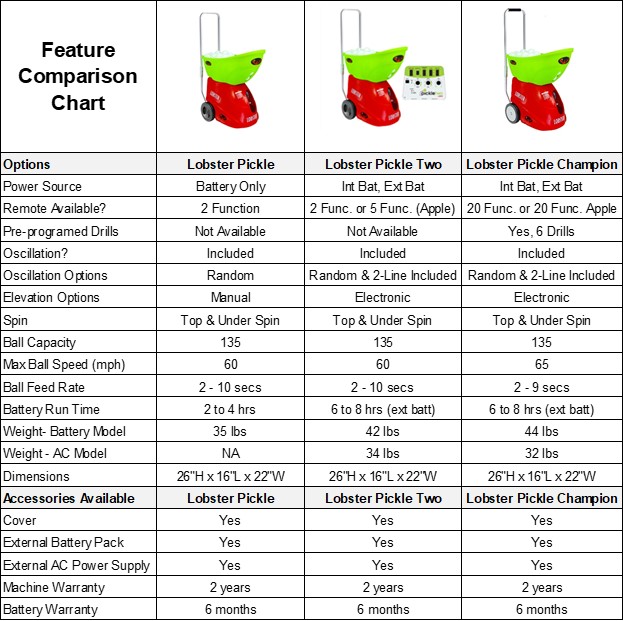 Links To:
Shipping Information:
The Lobster Pickleball Machine drop ships from the manufacturer within 3 days of your order date. You will receive separate tracking numbers if you have other items on your order. Shipments of this product to Alaska & Hawaii are not eligible for free shipping. Please see our
shipping page
for more details.
Returns:
Returns will only be accepted with proper return authorization. Please contact our customer service department at
888-854-0163
to confirm eligibility and return instructions. A 5% restocking fee will be deducted from refund amount. Customer is responsible for return shipping charges. All returns must be shipped in original manufacturer box and packaging. We recommend adding tracking and insurance when shipping returns. Returns will not be accepted for merchandise that is misused, neglected or altered. Please allow 30 days for processing refunds.
This product is exempt from RR coupon promotions.
Warranty Information:

Lobster Sports warrants that each Lobster Sports ball machine purchased will be free from defects in material and workmanship for 2 years from the date of purchase
except for
the battery and server wheels which are warranted for 6 months.
Returns will only be accepted with proper authorization, which includes the product serial number, the original invoice number and date.
Specifications
Weight: 35 lbs
Ball Capacity: up to 135
Can be used with indoor or outdoor pickleballs
Made in the USA
Shipping box dimensions: 30" x 19' x 24"
Machine dimensions: 26" x 16" x 22"
Reviews
()
Adjuster to raise and lower ball trajectory

The knob to raise and lower the ball trajectory is very difficult to turn, and many people can not pull it out and turn it at all. It does not adjust the trajectory all the way up or down. The knob feels like it will break within less than a year

Lobster Pickleball machine

Great purchase. Easy to use, fun and will get you to the next level fast with a smile on your face! The remote is a must.

Pickleball Product Review

Pickleball Product Review

Love my lobster

The lobster is easy to use and a great tool. Pb central is always a great 👍 experience