Details
A cushioned and comfortable shoe that retains high-performance support and has a slightly wider fit. Available in sizes 5.5-11.
HEAD Revolt Evo 2.0 Shoe for Women
The HEAD Revolt Evo 2.0 Shoe prioritizes comfort and security so players can feel confident about their footwork. These all-court shoes feature a cushioned sock liner and collar padding which create a super soft feel. When combined with the TRI-NRG triple foam midsole, this shoe helps to reduce impact shock from heavy steps and provides better responsiveness when rebounding (lifting the trailing foot for the next step).
The Revolt Evo 2.0 features a slightly wider-than-average fit with a higher heel, which adds to its cushioning properties. An anti-torsion shank works to reduce ankle rolling, while the breathable mesh and synthetic leather on the upper create a lightweight, adaptable design. The hybrid outsole is constructed with "durability zones" which lead to balanced wear in high contact areas, and is suitable for all court types.
The Revolt Evo 2.0 Pickleball Court Shoe for Women will help keep you feeling light on your feet even after a day full of matches.
SPECIAL POLICY FOR SHOE RETURNS, EXCHANGES, AND REFUNDS
• A customer may try on shoes in a clean, indoor environment to assess sizing and comfort. Shoes cannot be worn outdoors or in active play which causes any wear, discoloration, dirt, or scuffs.
• Shoes that have been worn cannot be returned unless they fall under the Limited warranty policy (see warranty information below).
• Returned shoes must be in new condition. Shoes must include the original manufacturer's box, packing tissue and tags. The original shoe box must be returned without any tape, labels, or other items degrading, altering, or damaging it.
• Eligible returns and exchanges can be made within 30 days from the date of purchase.
• For customers in the 48 continental United States, a postage-paid return label to PickleballCentral is included with every shoe purchase.
• Original shipping charges (if applicable) are non-refundable.
LIMITED WARRANTY FOR DEFECTS
• HEAD footwear is covered by a limited warranty for defective material and workmanship for one year from the date of purchase. Examples of defective product include laces ripping out, the sole coming apart, or an improperly sewn tongue.
• Qualifying product returns under the HEAD warranty policy will either be replaced or repaired. No refunds will be issued.
• Some warranties may take up to six weeks to complete.
• Sole warranties are valid in the continental U.S. only.
• All HEAD warranty claims will be handled directly through PickleballCentral. Please call 1-888-854-0163 or email
info@pickleballcentral.com
with questions.
• HEAD will evaluate each warranty claim submitted by PickleballCentral and decide whether the shoe qualifies for replacement.
SIX-MONTH OUTSOLE DURABILITY WARRANTY for the Revolt EVO
• The Revolt EVO is covered by a 6-month outsole durability warranty from the date of purchase. Examples would include a hole in the bottom of the shoe from standard court wear.
• Some warranties may take up to six weeks for HEAD to complete.
• Outsole warranties are valid in the continental U.S. only.
• Qualifying product returns under the HEAD warranty policy will either be replaced or repaired. No refunds will be issued
• There is a limit of one replacement pair per purchase.
• Should the purchased shoe be unavailable or discontinued, store credit in the amount of the original purchase price on the invoice may be applied to the customer's account.
• The shoe must be completely worn past the outsole and into the midsole or insole of the shoe. (see photo below)
• The toe guard must be worn through, exposing a hole in the inside of the shoe.
• Warranty is void if the shoe is abused or mishandled.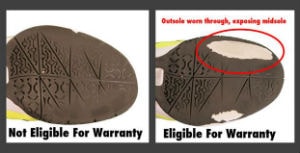 Specifications
Revolt Evo 2.0 Women's Shoe Technical Specifications:
True to Size: Yes
Heel Width: Standard (69mm)
Midsole Width: Slightly Wide (84mm)
Toe Box Width: Wide (93mm)
Attached Tongue: No
Removable Insole: Yes
Weight: 10.3 oz.
Outsole Guarantee: Yes
Model Year: 2022
Made in Vietnam

From the Manufacturer:
UPPER:
• Lightweight Breathable Mesh
• Durable Synthetic Leather
• Comfortable Lining
• Adaptive Collar Padding
• TPU Toe and Medical Protection
• Cushioned Molded Sockliner
MIDSOLE:
• Higher Heel for Additional Dampening
• Triple Density Midsole (TRI-NRG)
• 3D Anti Torsion Midfoot Shank
OUTSOLE:
• Hybrid Outsole Profile for All Court Surfaces
• Special Durability Zones for Hardcourt Users
• Open Tread Zones for Best Grip
• Durable Non-Marking Rubber
• Lateral Forefoot Trigger
• Ventilation Holes
Reviews
()
Great shoes

Comfortable, sturdy and cushioned…. I love these shoes!

Head revolt 2.0

This shoes are awesome and so comfortable!!

Great product and service!

Great quality shoes and on time delivery is awesome!!!