Details
Features thicker large-celled core to provide a soft and quiet responsive feel. Textured composite face enhances power.

Middle-Heavyweight/Small Grip
GAMMA Legend Composite Pickleball Paddle
The Legend Composite Paddle offers a high amount of power without a reduction in touch or sensitivity. Thanks to the 25% thicker polymer NeuCore technology, this paddle has a soft feel that reduces shock but still allows you to put away winners with ease. The composite face adds to the amount of strength you can add to every shot. With a relatively broad face and comfortable grip, players can take the punch out of opponents' hits while setting up advantageous openings.

The Legend Composite Paddle averages a weight of 8.1 oz and has a 4-3/4" handle length. The small grip size is perfect or those who enjoy a maneuverable feel, or you can build it up with an overgrip for more cushioning. The design has a monochrome background with the Gamma logo placed in the upper right corner. To the left, a series of looped, multicolored shapes embellish the side of the face.

The Legend Composite Paddle allows you to unleash your greatest pickleball potential through responsive handling and powerful construction.

Actual grip sizes may vary up to 1/8".
Video Transcriptions
DJ Howard
Hey, I'm Daniel J. Howard and I'm from East Lansing, Michigan. I just switched to this Legend paddle by GAMMA because I really feel like it has a great balance of power and control. Normally I wouldn't recommend switchign paddle right before a big tournament, but I like this one enough that I felt confident playing with it and I could still control all my shots comfrotably. I used to play with the GAMMA Mirage, which I still really like, but this one's a little bit thicker version. It's got a softer touch, I feel like it grabs the ball a little bit longer on the face and I get a little better control on my third shot drops, but I still get enough power if I want to drive the ball with a hard volley or still get soft touch on the dinks. I feel comfortable all the way around the court with this paddle. I really like it a lot.
Lucy Kitcher
Hi, my name's Lucy Kitcher. I'm originally from England, I live here in Florida on the East Coast near Fort Lauderdale, and this is my new paddle. This is the Legend. It was just approved a few days ago. I'm really excited to be playing with it. As soon as I picked it up, I loved it. The only way I can really describe it is, it's just as smooth as butter. GAMMA's really got it right with their new core--a honeycomb, it's a little wider, a little thicker than your average paddle. Not only does it give you more power, it feels very smooth when you're dinking. When you're hitting the ball, you're not really feeling any vibration. It kind of feels like you're just not really doing any of the work, the paddle is doing everything for you. It also has the maximum amount of texture, so if you like to spin the ball then that's really helpful with that, as well. This is my favorite paddle, now.
Vicki Foster
Hi, this is Vicki Foster, I'm with Team GAMMA from Scottsdale, Arizona. I am currently playing with the new Legend paddle, and the first thing I noticed is the textured surface gave me tons of ball rotation for underspin and top spin, and that's a big part of my game. Secondly, it's 25% thicker, so way more pop on serves and put-away shots, so I love that piece of this paddle and it still has great control on the kitchen line.
Jesse Benton
Hi, my name is Jesse Benton, I'm from Gilbert, Arizona. My choice is the Legend from GAMMA. I really like this paddle, it has a lot of touch. It's a slightly heavier paddle--eight ounces. I just feel like I have a lot of control over the ball, whether it's drives, dinks, softening things up, and it's great at volleys.
Club Reviews of the GAMMA Legend Composite Paddle:
"I like everything about the Legend Paddle, from the grip to the pop. The 4-1/8" grip was comfortable for me and even felt absorbent, which helped me a lot in Florida. The 8 oz weight was perfect because I need a heavier paddle in order to gain power with my strokes. I was able to apply spin with no trouble due to the face's rough surface. What I liked most was the sound, or rather, the lack of it! The Legend Composite is very quiet and soft, unlike my current graphite paddle. Overall, this is a very nice option."
- Donna S. of Oviedo, FL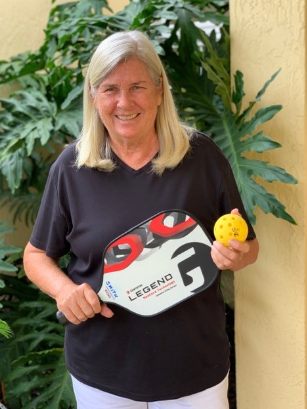 "This is a solid, attractive paddle with a very nice grip.The GAMMA Legend was slightly heavier than the Paddletek Element I'm currently using. I felt it was harder to put spin on the ball when serving or driving than with my own paddle, but I found the Legend is much quieter. Dinking seemed easier with the Legend, too. I played only a few games with it, so I would likely find more perks over time!"
- Ken C. of Oviedo, FL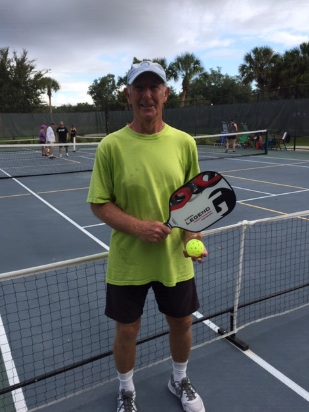 "I liked the look of the Legend Composite Paddle along with its size and feel of the grip. The grip has a squared-off style instead of the usual round shape I'm used to. I actually liked this more, and the grip also seemed to stay drier, which is a plus for play in Florida! The weight was comfortable and made deep shots easy and powerful. The Legend seemed quieter than most other paddles but the ball still popped off the paddle nicely. I enjoyed playing with it."
- Laura H. of Oviedo, FL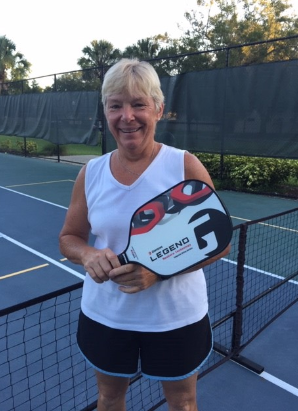 "The Legend Composite Paddle helped me perform stronger and more accurate shots."
- Linda of Oviedo, FL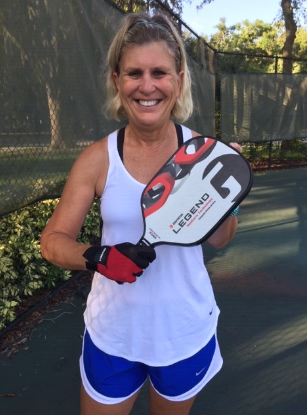 "I really liked the weight of the GAMMA Legend Paddle. The square handle was very comfortable. During play the paddle absorbed the shock of the ball and made it pop off the surface. It also had a soft sound when the ball makes impact, which would be great for indoor play. This is a powerful and smooth paddle."
- Anne of Oviedo, FL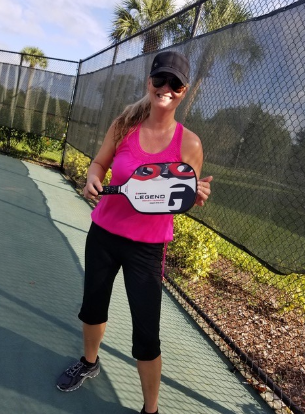 "I loved the feeling and lightness of the GAMMA Legend Composite Paddle. I'll definitely consider buying one."
- Ellie of Oviedo, FL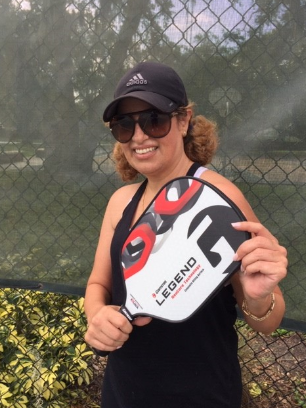 Specifications
Legend Composite Pickleball Paddle Technical Specifications (RGLPP)
Weight Average: 8 ounces
Weight Range: 7.9-8.4 ounces
Grip Circumference: 4 1/8" (Small) Actual grip sizes may vary up to 1/8".
Grip Style: Cushion, perforated, ribbed
Grip Manufacturer: Gamma Honeycomb
Grip Length: 4 3/4"
Paddle Length: 15 7/8"
Paddle Width: 8"
Paddle Face Finish: Textured Composite
Core Material: NeuCore Poly Core
Core Thickness: 5/8" (0.625")
Manufacturer: GAMMA
Made in the USA
Reviews
()
First New Paddle

Had been using a friend's paddle as I learned the game, and after 4 months decided to buy my own. I believe it was Tamra who helped me in selecting the Gamma (it was one of 5 choices she thought would work well for me). So far, enjoying the new paddle very much!!

Service of pickleball central is funtastic

You really have to try out their service. I order via the information from chapelhill. Yet after buying the paddle I forgot to make referer. Eventually pickleball central did give them credit. Thumbs up.

OK but loud and no shock absorption

I have lingering tennis elbow issues and from the description and reviews I hoped this would be a soft feeling paddle but I was disappointed. It's loud and I felt every shot, and after a few games I knew this paddle wasn't for me. I also demo'd the Brian Ashworth model from Oneshot and very much preferred that. I'm keeping the Pureshot and returning this. I'm not saying this is a bad paddle but if you're looking for a soft feel and shock absorption I'd look elsewhere.

Usps sucks but PBC saved the order

USPS literally shipped the package to Texas. I am in NC. Package literally never came. PBC got me that express ups and was I got the paddle. Customer service was great. So happy to talk to real people.

Excellent service and response!

Quickly sent me this replacement placeless for a broken Electrum. Love the power and control of the Legend.

Great paddle

Thanks for the 2 "heavy" paddles you sent me✅++++++Y'all are the best ‼️

Great paddle

PB Central has great info on all paddle specs, and some have pro video reviews-very helpful (and accurate in my case with the Gamma Legend). Fast shipping too!

Customer Service

The folks at Pickleball Central always deliver world class service and support. They know the game and the products. For me and the 600+ members of my club they are a trusted resource.

Customer Service/Courtesy

excellent

Pickleball Product Review