Details
Specially designed edge guard helps disperse shock. Co-developed by Pickleball National Champions Matt Wright and Lucy Kovalova.

Middleweight/Small Grip
ONIX Evoke Premier Composite Pickleball Paddle
The Evoke Premier Composite Paddle was developed with pickleball pros Lucy Kovalova and Matt Wright to create consistently powerful and reliable play. A coating on the face helps dampen impact while still providing a quick ball response. Atomic13 Edge technology creates a slim and sturdy edge guard that was made to reduce shock but improve the power and speed of the paddle.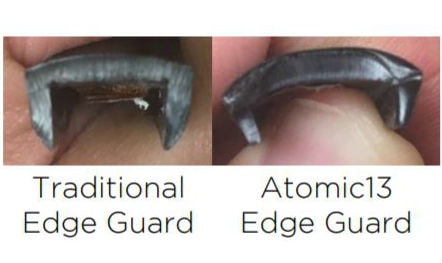 The Evoke Premier Composite Paddle comes in lightweight (7.5 - 7.8 oz), standard weight (7.8 - 8.2 oz), and heavyweight (8.2 - 8.5 oz). This verstaile weight lets you decide whether you want more speed at the net or extra punch. The face shape is ideal for adding a bit more reach to your swing and improving the power in your hits with its 8" width and sizable sweet spot. ONIX's logo and the paddle name are placed in the center of the face with a logo pattern in the background.
The Evoke Premier Composite Paddle has a strong feel but also offers pinpoint precision and control in your game.
Actual grip sizes may vary up to 1/8".
Staff Reviews of the Evoke Premier Composite by ONIX
Transcript of Video #1 - Matt Wright
Hi, I'm Matt Wright. I'm from Witchita, Kansas. I've been playing pickleball for about 3 years now. This is my fourth US OPEN. Lucy and I recently signed with ONIX several months ago and we had been talking to Zach and Byron for some time and had always heard good things from the ONIX team aobut the experiences they were having and that's been our experience as well. Something that was important to use when we started with ONIX though, was finding a paddle that suited our game, and I think there were synergies there because ONIX was looking for their next, what I'll call pro paddle, and just kind of that next product in the product line. We were able to work together over the next several months on developing what has now become the ONIX Premier paddle. What we value in it and what I think ONIX values in it and hopefully the general pickleball community, is the balance of control, feel but also power. Something when we were demoing that paddle, we found out a lot of things and learned ourselves throughout that process. So it has a new skin, it has new perimeter weighting and technology, and I think we've found the paddle that works well for our games, and again, I think that people will really enjoy and value.


Club Reviews of the ONIX Evoke Premier Composite Paddle
"The thing I liked most about the Evoke Premier was how responsive it felt making all types of shots. The polypropylene honeycomb core combined with the DF composite face provides power without sacrificing control on dinks, lobs and volleys. This paddle is best suited for those who want an all-around game from power smashes to finesse at the net. As soon as I warmed up and hit a variety of shots, I had confidence this paddle was solid in many respects. The ONIX Evoke Premier has a 16" length which gives that extra reach when needed. I think this paddle is great for people who prefer something with more weight, since at 8.1 oz. it's heavier than my current paddle. The grip has a smooth feel and the edge technology didn't negatively impact any shots hit on or close to the edge. A 4.5-rated friend tried this paddle as well. His first comment was how balanced the Evoke Premier felt for both power and touch. He likes to spin the ball and felt the coating on the surface softened the ball's impact without reducing spin or pop. He agreed the weight was best suited for those who like more heft."
- Gerry J. (3.5 Player) from Grand Rapids, MN
"When I received the ONIX Evoke Premier I knew it was going to be a good fit for me. Its clean and subtle graphics are very appealing. The new Atomic13 designed edge guard is sleek and creates a more reliable hitting surface. You can feel the handle's angled edges when you grip it, which is apparently similar to a tennis racket. I don't play tennis so I can't compare in that regard, but the grip feels secure and comfortable to me. The design provided more power on my ground strokes yet had a nice feeling when dinking. At 7.8 oz, I was able to handle the Evoke Premier quickly on drive shots, and the composite face allowed for a lot of spin without compromising control. Contact felt very solid. In fact, I had to dial down my returns. There was nice control on drop shots from any position on the court. The large shape helped maximize reach and power stokes. I've used four paddles previously, and I feel that the ONIX Evoke Premier is the best I've used. Its look, shape and construction all contribute to the paddle being the best in it's class."
- Larry (3.5 Player) from Fernie, BC
"
The ONIX Evoke Premier did not disappoint. It feels well balanced and handles nicely. This particular paddle I was using weighed 7.7 ounces, a little lighter than I'm used to, but I was surprised by the nice combination of power and control that it offered. I was able to hit solid groundstrokes while also getting good rallies with my dinking game. The grip on the lightweight model is smaller than I was used to, which would work great for players who prefer it. For myself I would consider adding an overgrip to test how it feels with a thicker handle. The one thing I love the most about the Evoke Premier was the spin I could achieve with it. When you rub your fingers across the paddle's face, it's evident that it has a more textured surface than most paddles I've tried before. I use a lot of spin on my serve and groundstrokes, and this paddle made the ball spin much harder than I expected. I highly recommend this paddle and was happy for the opportunity to try it out."
- Keith R. (4.0 Player) from Calais, ME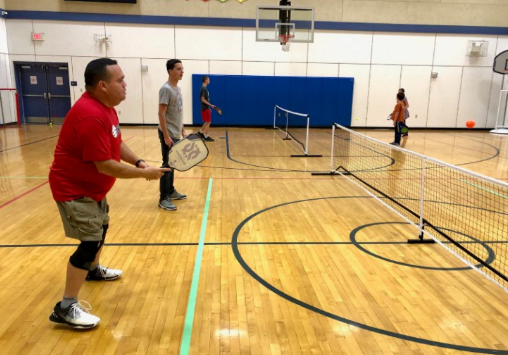 "If you're looking for a lightweight paddle that has the control and soft touch for a good dinking game and third shot drops, or be able to hit those hard ground strokes, then the ONIX Evoke Premier is the paddle for you. The first thing I liked about this paddle was how sure the grip felt. You get a solid, medium-sized grip so it can accommodate small to large hands relatively well. After I got a good feel for the paddle I was able to tell right off the bat that it would be perfect for any player who likes to put spin on the ball. The Evoke Premier has a rougher texture to its face which allows it to grip the ball when you hit a groundstroke.

I felt that this paddle is well rounded. All of the main shot types felt pretty controllable, from a soft volley to an overhead smash. I felt like this paddle did everything fairly well. If a player is looking for a good all-around paddle this would be a great choice. I'd like to give a shout out to PickleballCentral for providing the Evoke Premier for review: They're a great company that makes the experiences of both getting into pickleball and looking for upgraded equipment an awesome experience."
- Max H. from Calais, ME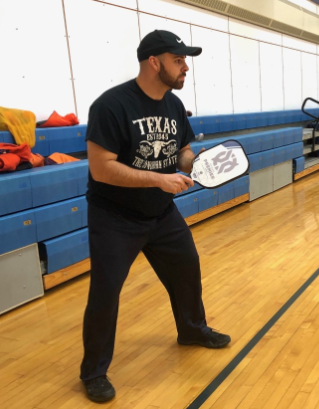 Specifications
Evoke Premier Composite Pickleball Paddle technical specifications
Lightweight Range: 7.5-7.8 ounce
Standard Weight Range: 7.8-8.2 ounce
Heavyweight Range: 8.2-8.4 ounce
Grip Circumference: 4 1/8" (Standard weight paddle), 4" (Light weight paddle) Actual grip sizes may vary up to 1/8"
Grip Tack: High
Grip Style: Perforated Cushion grip
Grip Manufacturer: ONIX Superior Tacky Grip
Handle Length: 5"
Paddle Length: 16"
Paddle Width: 8"
Paddle Face Finish : DF Composite (fiberglass)
Core Material: Polypropylene
Edge Guard: Atomic13 Edge Technology
This model is manufactured in both Mexico and China
Reviews
()
Like the feel of the paddle, but the first purchase the honeycomb broke inside and it was rattling. This was after 4 times playing with it. Pickleball Central sent a new one out, now the second one is doing same thing again after 3 plays. Not satis

See above

Onix Evoke Premier

I was somewhat reluctant on giving this paddle a try but I'm so glad I did. This paddle has helped my game tremendously. I was looking for a paddle that would give me more power and it checks the box. Serves are faster and deeper with less effort. Punch blocks are powerful and effortlessly. The most surprising thing I noticed was the touch while dinking and reset drops. I thought I would lose touch with this paddle but that isn't the case. What a great paddle for the cost. Rich Conley

Evoke Premiere

Not as soft as my Prolite Titan. I can feel the vibrations on my hand. Also the noise when the ball hits the paddle is quite loud compared to my other paddles. Haven't played with it long enough but seems to have good power.

Love my new Evoke Premier paddle

Had the opportunity to borrow a friends paddle before investing in my own. Amazing the difference I played with the Evoke Premier paddle. Took my level of playing to placing the ball better, definitely more control on back hand and serving.

Replaced a broken paddle

I had an Onix Evoke Premier paddle break and Pickleball Central honored the purchased and replaced the paddle. I am a customer for life.