TechTalk with CRBN: Carbon Fiber Paddles developed by a Pickleball Player, for Pickleball Players!
by kellyfrazier88 on Jan 2, 2023
Founded in 2020, CRBN Pickleball Paddles rapidly earned the endorsements of many top pro players as well as amateurs, no small feat for such a young brand. Designed in California by pickleball players, these sleek, premium-quality, high-performance carbonpaddles are ideal for players who love to put spin on the ball. With the new CRBN Power Series, CRBN has introduced several new technologies that result in an even more durable and powerful paddle.
We chatted with Garrett Gosselin, founder of CRBN Pickleball, to learn about his pickleball journey and the new CRBN Power Series paddles.

How did you find yourself starting a pickleball company?
At the height of the COVID-19 outbreak in 2020, I was let go from my job. Lucky for me, I found pickleball. I quickly became obsessed, playing five hours a day, seven days a week. I progressed rapidly and played in as many tournaments as I could.
My doubles partner, Ryan, was the first to have the idea. After a match, he said something like, "We should make our own paddles. We can do better - we know exactly what we want and need."
Three weeks later, prototypes arrived at my doorstep with the exact carbon fiber face and specs we wanted to take our game to the next level.
It was love at first…touch. We got them in our hands and were unbeatable on the challenge courts. I quickly sent a few off to get approved by USA Pickleball so we could use them in tournaments.
It was never my intention to make a business out of them! They were just for us, but quickly, everyone at our local courts decided they had to have a CRBN paddle too. They saw the combination of control and power we were able to generate, and the paddles looked sleek and cool.
Through all those requests was my "a-ha" moment where I realized I should make a business around these paddles. I partnered with an established entrepreneur in the pickleball industry and a childhood friend who is an engineer, and the rest is history.
We've been on a rocketship ever since, and I feel incredibly fortunate to be spending every hour of every day either working on my pickleball company or playing pickleball. We don't pretend to be a massive company with flashy colors and gimmicky buzzwords. We're still the same scrappy and agile company that started by tinkering on paddles to make them better. We love the game and the community surrounding pickleball, and look forward to providing the very best products for many years to come.
What is special about carbon fiber vs. the other types of paddle face materials also commonly used?
We use the highest quality T-700 carbon fiber which is not the case for every paddle company out there. We use T-700 because it has unique properties which help our paddles have an immense amount of durability, power, spin, and control. T-700 has incredibly high tensile strength and durability, while also being malleable enough to flex upon contact to absorb energy and help generate spin. Our gritty T-700 surface outperforms fiberglass, graphite, and other paddle types in almost every category, and is the very best material for paddles bar none.
How do CRBN paddles differ from other carbon fiber paddles?
The term "carbon fiber" gets thrown around quite a bit by paddle companies. Many companies are using carbon fiber as a weave for structural integrity or as part of their core, but that's a vastly different thing than what we're doing with our paddles and our gritty surface.
Also it's important to understand that there are many different types of carbon fiber. Carbon fiber isn't universally great. That's why we specifically source the very best T-700 carbon fiber that gives us our paddles unparalleled control and spin. Combine that with the most durable internal paddle construction, and we've got a paddle that plays better and lasts longer.
You have some great pros on your team; what do they love about the paddles?
We've been so fortunate to be able to put together a competitive pro team. Many of our athletes tried our paddles independently and approached us for sponsorships. Almost universally, they comment on the unique combination of control AND power. Usually you have to give up one or the other, but not with CRBN!
Can you talk us through the design and style of each paddle?
The CRBN1 (elongated) is the first paddle we developed. It was the paddle that I made specifically to suit my play style and most players out there. It features an elongated handle (perfect for two-handed backhands) and the extra length of the face feels great for driving the ball. It's the closest you can get to the feel of a tennis racket. This paddle comes in 13mm, 14mm and 16mm core thicknesses. Generally speaking, 16mm provides a bit more control, and the thinner cores are ideal for players looking for more power and speed off the paddle.
The CRBN2 features a shorter handle and square face. It provides a wider sweet spot and quickly became the go-to for many of our customers who prefer a wider hitting surface.
In terms of style, it has been our goal to keep a clean, subtle design. We don't need loud colors and confusing marketing jargon. We want a sleek paddle where the performance does the talking.
Shop all CRBN
What sets the new CRBN Power Series apart from your original paddles?
The new CRBN paddles are designed with edge foam paired with carbon fiber wrapping around the rails, creating a reinforced, highly durable unibody construction – one seamless cut with carbon fiber reinforcement. This makes the paddle stiffer, which is particularly noticeable at the neck (where so many paddles are vulnerable) and much more powerful. his also contributes to a significantly larger sweet spot.
In addition to a fortified handle that reduces vibration and increases hand speed, the new paddles also have a more tapered grip circumference size, creating enhanced ergonomic comfort.
The original series provides more control; the new series provides more power, delivering impressive pop with an enhanced sweet spot for consistent response. The result is one of the most powerful raw carbon fiber paddles you can get your hands on.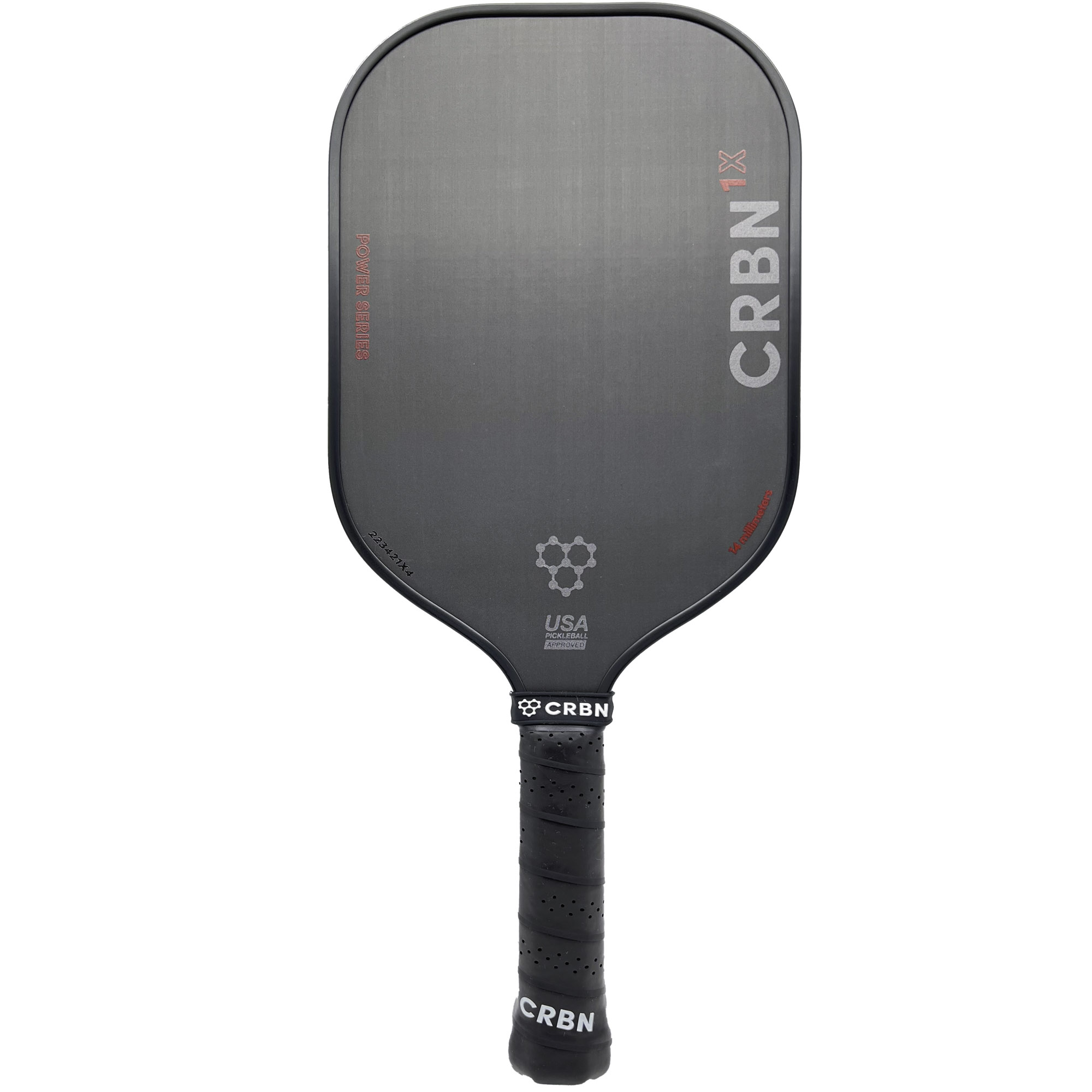 CRBN-1x Power Series Carbon Fiber Paddle
Not sure which one you should get or want to know more about a certain paddle? Call us at 1-888-854-0163. Nothing makes us happier than helping you find a paddle that fits your game. Buy with confidence, knowing you have a 30-day test drive to make sure it works on the courts – where it counts.