It's a tale as old as time: boy meets pickleball, falls in love, and takes it back home with him. Pierre Obozinski, a man from Fayence, France picked up pickleball during a stay in Canada. After catching the pickleball bug, he brought it home to Fayence, a village in southeastern France near the Cote d'Azur. There, a small group formed in early 2014 with a handful of new advocates for the sport.
The first pickleball association in France (Pickleball France) was born in February 2015 after being presented to officials from the Commune, the Communauté de Communes du Pays de Fayence and the Conseil Regional / Territorial du Département. For those non-French speakers, these are basically political and economic departments in France.
The French Pickleball Association is officially recognized in the country of France and is established in the regions of Callian, Fatence, Sellians, Terreron, Bargemon, the University of Perpignan, and the French Naval Base in Toulon. Because it is an official organization in France, all members receive civil liability and accident insurance through a nominal drop-in fee of € 10 per year plus a daily fee of € 3 (which is currently $10.89 per year with a daily fee of $3.26. 45 € per person will buy you the year-long membership, which comes out to be about $48.89. This fee not only includes insurance, but also allows members access to all PFPF and international tournaments. This is quite a sweet deal, if you ask me!
Here's a quick run-down on some other main pickleball advocating in France:
University of Perpignan, Perpignan, France
Guillaume Tetreau, a post-doctoral researcher at the University of Perpignan, picked up pickleball during an educational visit to the US. He was (obviously) hooked and is now working on making pickleball available at his university, as well as in his hometown of Grenoble.
Seillans, France
The Seillans Tennis Club is working to raise enough money to convert one side of the tennis facility into an exclusive, pickleball court.
L'Etoile Pongiste du Canton de Fayence (Table Tennis)
The local table tennis club is working out an exchange with the pickleball players. Proposed by Didier Poincot, the idea is to introduce pickleball during the week of activities. This would show those players what pickleball is all about - and perhaps create a few new addicts!
Tanneron, France
Bernard Mandrea, the President of the Multisport Association in Tanneron, caught eye of a message announcing the birth of the pickleball association. He was determined to help the growth of the sport, and is working with the association to create dedicated pickleball courts out of tennis court (or at least take the first step!).
Campgrounds
Just as pickleball is exceptionally popular at RV parks and campgrounds in the US, a similar proposition is unfolding in the south of France, where camping is common in the summer.
Pickleball School Programs
While it is not possible to add another sport to the grouping of racquet sports at the local primary school in La Ferrage, it may be added to the NAP - Nouvelles Activités Périscolaires. This is a program of activities for free time during the school day which may be needed to be led by volunteers.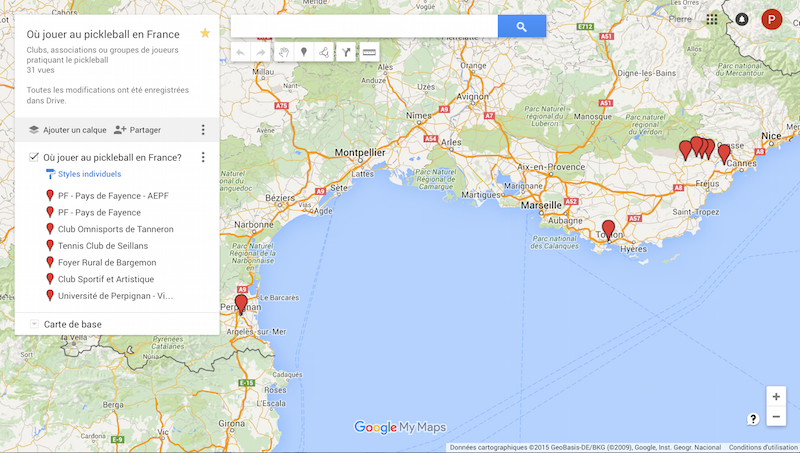 To check out a list of places to play in France, their website does a great job of laying it out for you. Check it out here (this link is also helpful).
They also offer member newsletters, the "Pickleball France Gazette", which comes out every few months. Here's their April, July and December newsletters.
We're so impressed by the rapid growth of pickleball in France led by Pierre. If you have any questions about pickleball in France, click here to send an email to Pickleball France.
If you're anything like me and caught the travel bug while reading this, lucky you! Prem Carnot, renowned pickleball player and France native, is leading a group of 16 pickleball addicts around France in September 2016. Click here to find out more (and take me!).