The Seventh USAPA Nationals tournament held last November at Robson Ranch and Palm Creek in Casa Grande, Arizona is now condensed to a spreadsheet of medal winners, a mess of photos and some slick videos. The USAPA reported that on Friday afternoon some 21,000 viewers were watching pickleball live via internet. Perhaps this quirky backyard sport is emerging from the shadows into the spotlight, despite its silly name. The USAPA Nationals tournament each November remains the bellwether pickleball event. New paddles and balls, new players, new techniques and styles, new brands, new rules and new venues are all the buzz at each USAPA National tournament. So, can I share a few of my observations?
First, the two-handed backhand wielded so effectively by Simone Jardim, Christine McGrath and Bonnie Williams is here to stay! Even Morgan Evans hit a few two-fisted backhands!
Second, while patience at the kitchen line won past Nationals, it seems that precise and calculated first strikes prevailed in most matches. Whether in the air or off the bounce, any ball near net height presented an offensive opportunity. Teams that exploited these opportunities won.
Third, while the performance gap between seniors and youngers may be growing, players over 50 years old still won medals in under 50 Open divisions. In what other athletic sport, where reaction time and hand-eye coordination are so important, can a 55 year old compete successfully with a 25 year old? Yup, you guessed it right - Pickleball!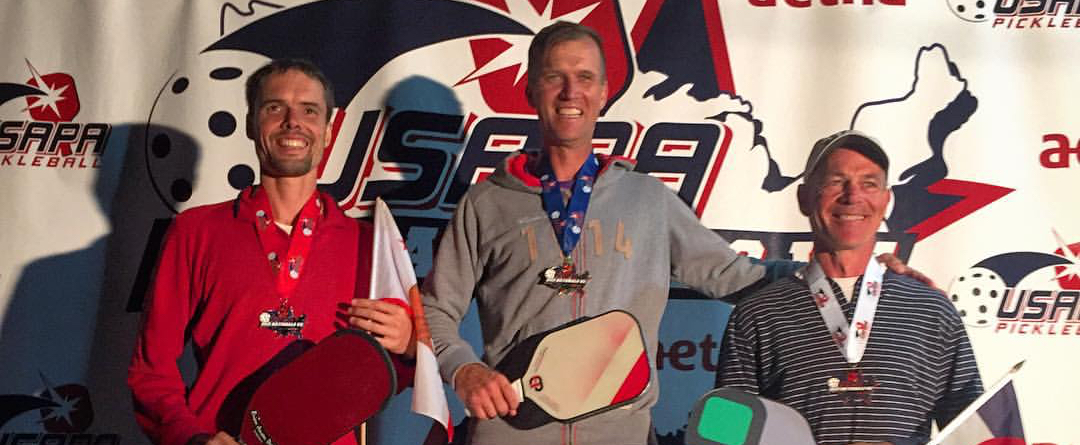 Matthew Blom, Marcin Rozpedski, Scott Moore Men's Singles 2015 USAPA Nationals
Finally, tennis players are dominating the Pickleball Tournament circuit. For example, in her first appearance at Nationals, Simone Jardim (picture below), head coach of women's tennis at Michigan State , took golds in Open Women's Singles and Open Mixed Doubles with Rafael Siebenschein, and Silver in Open Women's Doubles with Corrine Carr , a near sweep! While tennis players bring great strokes and an innate court sense, they are leaving any elitist tennis snobbery behind. One medalist commented "unlike tennis, the atmosphere among pickleball players is so friendly, even on the court! I am learning to be friendly as well." Thank you!
Jim Hackenberg, Simone Jardim and Rafael Siebenschein
Thanks to Robson Ranch and Palm Creek communities, the USAPA and hundreds of volunteers for another wonderful event.
Glen Peterson