Details
Powerful polymer core and graphite/fiberglass hybrid face. Designed to offer a large sweet spot and generous playing surface.

Middleweight/Small or Medium Grip
Rally Graphite Power 5.0 Paddle
The Rally Graphite Power 5.0 is a ground breaking paddle with an exceptionally solid feel, enormous sweet spot, and more than enough power to put balls away with confidence. This paddle combines three major technological innovations that provide both the exceptional ball control and shot feel of a graphite faced paddle while delivering consistent power usually only found in thick polymer core, composite face paddles.

The first innovation is the paddle's face material which is made from a hybrid graphite/polymer weave. Featuring Vertigrab Wave technology this layered structure expands the size of the sweet spot, allowing even shots hit off center to feel as if they've been struck in the middle of the paddle face and offers enhanced control and purchase on the ball. The Rally Graphite is the first paddle to utilize this breakthrough technology. The woven material helps transfer energy throughout the paddle surface to provide more consistency on shots regardless of where on the face the ball is struck.

The second innovation is the use of the thicker 9/16" polymer core which increases rigidity of the paddle over the entire length and width. While most paddles are 1/2" thick, the Rally Graphite Power's thicker 9/16" core sets a new standard in paddles at this price point. This unique core helps create incredible consistency of shots over a larger area of the face resulting in fewer "mis-hit" shots and while providing an exceptional transfer of energy from the paddle to the ball. In combination with the hybrid graphite/polymer face, it also results in one of the quietest, lowest vibration paddles we've ever tested.

The final innovation is the use of a molecular bonding process to help bring the outer skin, core facing material, and polymer honeycomb interior together in a way that assures exceptional durability and quality. The outer skin's surface is textured and formed to reflect the subsurface Vertigrab Wave structure allowing you the ability to impart spin on the ball with ease and confidence.

The goal with this paddle was to meet the needs of players seeking both exceptional ball control, with solid striking power. By optimizing not just the materials, but also weight and balance of this paddle, the result is a paddle that feels light enough and balanced to give you good hand speed during rapid kitchen exchanges, but enough heft to give you confidence on overheads, drives, and shots in windy conditions.

The Rally Graphite Power 5.0's 8-1/8" width helps create one of the industry's most generous sweet spots, and paired with the slender edge guard, give players plenty of room to manipulate their shots. The weight range is 8.1 - 8.5 oz and is ideal for those who want extra power without losing out on hand speed. By creating a paddle with more width, it moves the balance point (aka center of mass) of the paddle closer to the grip which helps improve hand speed. This balance avoids the head heavy feel of many 8+ ounce paddles.

Testers have been blown away at the price performance of this paddle, comparing it favorably to paddles costing well over $100. Pickleball Central is proud to have produced such a high performance paddle at this very affordable price.

The grip circumference comes in two sizes with the option of either a thin or standard grip. We wanted this paddle to be accessible and comfortable for players of all types, so we are making this paddle available in both a thin 4" and standard 4 1/4" grip size. A black background and two stripes of color run diagonally across the paddle's face with its name placed in the center.

Actual grip sizes may vary up to 1/8".

This paddle is proudly designed and produced in the United States.

The Rally Graphite Power 5.0 sets a new standard in price performance, and will ensure you can hit winners with consistency and direct the pace of your games.
Test Reviews of the Rally Graphite 5.0 Pickleball Paddle:
"I've been playing pickleball for 2+ years and have primarily used 3 other paddles. I rely on my athleticism and speed. As a result, I play more of a placement game rather than a power/slam game. I enjoyed playing with the Rally Graphite Power 5.0 Paddle for the following reasons: The surface provides good control. It has enough power for slams when the opportunity is presented. The weight and grip size are comfortable. The weight distribution throughout the entire paddle is balanced. I was very comfortable performing all the key fundamental shots of pickleball play. This included deep serves, deep returns, hard drives, dink shots and placement. In fact, as I got used to playing with the Rally Power 5.0, my placement became better compared to some of my other paddles. I feel this paddle is very competitive even with others that are twice the price. I commend the designer and feel that it's very versatile and can be used by many types of players. In addition, we've always had very good service in dealing with PickleballCentral. Our club, Lakes of Mount Dora Pickleball Club, has been a regular customer for many years and has consistently received great equipment and service."
- Paul F. (3.2 Player)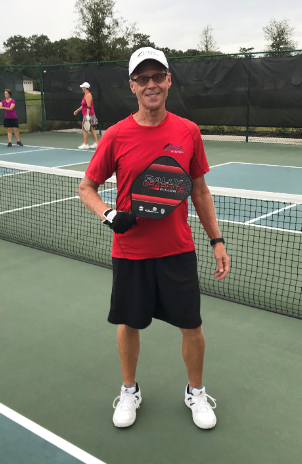 "When I first held the Rally Graphite Power 5.0 Paddle it seemed a bit heavy, but after playing with it I realized the extra weight provided more power and a solid feel when I hit the ball. That feel also reduced vibrations and I felt little to no jostling during play. Another surprising thing is that the paddle is very quiet. I'm not sure how they managed to do that, but it's noticeable. My favorite shots are spins, lobs and serves since I like to get the point over quickly. I got some nice angles from my spins which I'm attributing to the graphite surface. It also allowed for very slight, unnoticeable spins, just enough to fool my opponents and mess up their returns. My lobs went a bit high at first and gave my opponents too much time to reach the ball. After a couple dozen lobs, I was able to reduce the height. My serve has improved with this paddle and now it's lightning fast (almost)! The grip has a nice feel to it and comes in 2 sizes (4" and 4.25"). I was using the medium but I think the smaller grip would have been better for me. I had a couple friends try the Rally Power 5.0 too, and here are some of their remarks: The paddle seemed heavy, but after playing with it for a while, I liked it. The thicker core offers a softer shot. I don't care if you're a beginner or a 4.0, you must try this paddle! You'll be rewarded. Our Lakes of Mount Dora Pickleball Club has been in existence for 7 years now and we've used PickleballCentral for equipment and expert advice the entire time. They're a good company and won't steer you wrong."
- Marg Z. (2.5 Player)
"I own 7 or 8 paddles and I strongly believe finding the right paddle for the right player is crucial to your game. When I first held the Rally Power 5.0 I felt the handle might be too big and the weight, at 8 oz, might be too heavy since I had a quadruple distal radial fracture four years ago. This turned out not to be the case. My shots were very concise, strong and comfortable. Serving was a breeze as were my overheads. I was very comfortable with the handle. It felt like an extension of my hand, which lead to more winning shots at the net. My volleys went where I placed them. I felt my style was complimented well with this paddle and I wanted to keep it! The grip was very comfortable as were the shots. When I found out the price point, I was shocked such an excellent paddle was available at so reasonable a price! Whether you're a seasoned player or new to the game, I highly recommend the Rally Graphite Power 5.0."
- Tracy W. (3.5 Player)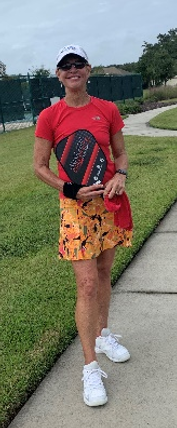 Specifications
Rally Graphite Power 5.0 Pickleball Paddle Technical Specifications
Weight Average: 8.3 oz
Weight Range: 8.1-8.5 oz
Grip Circumference (thin): 4"
Grip Circumference (standard): 4 1/4" Actual grip sizes may vary up to 1/8".
Grip Style: Thin Grip or Standard perforated cushion
Grip Manufacturer:
Grip Length: 4 3/4"
Paddle Length: 15 3/4"
Paddle Width: 8 1/8"
Paddle Face: Graphite/Fiberglass Hybrid weave w/bonded polycarbonate skin overlay
Core Material: Carbon Black polymer honeycomb
Core Thickness: 9/16" (0.5625")
Edge Guard: 1/8" overlapping paddle face
Made in the USA
USA Pickleball/IFP approved for tournament play
Manufacturer: Pickleball Central
Reviews
(182)
Rally Graphite Power 5.0 Pickleball Paddle

This is the second paddle I have purchased, as I loved this paddle. It is the only one I use in 3 leagues. It was durable, able to use control and power on shots.

Paddle PICKLEBALL

Excellent paddle. Power and control.

Rally Graphite Paddle

I have been playing Pickleball about 6 months. This is my 4th paddle purchase. The Rally paddle has a short handle that helps me square up the paddle against the ball. And the material of the paddle keeps me from having as many wild balls. It has really helped my game.

Low quality

This paddle is a high price for the materials and quality compared to other paddles. the paddle face bubbled up on one of our paddles. ***PBC Response*** Hi Anne, thank you for taking the time to leave a review, but I am sorry to hear you are experiencing issues with one of your paddles. We stand behind every product we sell, and our customer service team has reached out to you to help navigate a solution to your issue. - Joseph, Pickleball Central Team

poor handles

My wife is a very casual player who had her paddle handle break during a quick exchange 14 months after buying it. My paddle lasted 15 months and the handle broke on a fast exchange both were warrantied for one year.

Another Nice Rally Graphite Paddle

I had 3 Rally Graphite Paddles. My original Rally Graphite, my second Rally Graphite 2.0, and my third the Rally Graphite PX. Each time I saw the improvement with each paddle and have liked the size and weight of each one. My overwrap on my PX was showing wear and was going to order a new overgrip. I came across the Rally Graphite Power 5.0, read a couple review,and decided to purchase it along with the new overgrips for my PX and the Power 5.0. After playing with it, I like the slightly heavier weight and response when connect with the ball. Again, another improvement that may help we get my dinks to go over the net and into the kitchen.

Rally Graphite power 5.0

I have used it only once since getting it and find it a very solid paddle over my old Champion POLYPRO. This paddle seems to be better constructed than the Champion. Let me give it a few more match and I can definitely tell you how please I am.

Rally Graphite 50 Paddle

Solid paddle. Slightly larger sweet spot than my prior paddle. Nice weight and grip size for my size hand.

Rally Graphite Power 5.0

I'm a new player (3.0) and was looking for a slightly heavier paddle than the one I was using. I love the feel of the Rally Graphite and the finesse control it gives me.

Rally Graphite Power 5.0 Pickleball Paddle

I like the weight of it and the control it gives me but I was very disappointed when I received the paddle which I ordered as the "thin" grip and it did not have the perforated grip on it like it does in the advertised picture. The grip is too large and I am trying to figure out how to sand it down to a smaller grip and add a perforated replacement grip. Also the handle is short.