Details
Durable fiberglass face with a 5-1/2" long ergonomic handle, results in quick reload speed and high level control.
Middleweight/Medium Grip
ProXR Advantage Composite Pickleball Paddle
The ProXR Advantage Paddle brings pickleball gear into the same realm as other major sports with its efficient, ergonomic handle. The angled design creates more connection between players and their paddle so ball exit velocity is increased, paddle reload time is faster, spin is easier to utilize, and placement feels more intuitive. The face is made from glass fiber which creates comfortable feedback and a durable construction designed for frequent use.
The ProXR Advantage Composite Paddle features a polymer HEXA core interior which keeps impact feeling minimal while providing a consistent response. The paddle arrives with an 8.3 oz. average weight which, puts healthy mass behind every shot. The handle is 5-1/2" long with a medium 4-1/4" grip circumference that provides a balance of softness and tack. The Advantage is fully USA Pickleball approved so it can be used in sanctioned tournaments.
The Advantage Composite Pickleball Paddle from ProXR brings together high quality materials with a proven bio-mechanical handle design that will support taking your play from competent, to competitive.
Actual grip sizes may vary up to 1/8".
Reviews of the ProXR Advantage Paddle:
"I recently had the opportunity to test drive the new ProXR Advantage Pickleball Paddle. The USA Pickleball approved Advantage is a composite paddle with a glass fiber face. However, the most unique feature of the paddle is the handle. It is ergonomically designed to enhance the connection between the hand and the paddle. I found it comfortable to grip, and it seemed to enhance my ability to maintain a consistent grip while minimizing slippage. That allowed me to get the paddle on the ball more efficiently while returning a fast volley at the net. While we were playing in warmer conditions, I would think the expanded base of the grip would also decrease the incidence of the paddle slipping in one's hand due to sweat.
The glass fiber face had a nice texture that enhanced my ability to impart spin on the ball, both during serves and drives, as well as adding a measure of control that I liked. I liked the 8.3 oz. weight of the paddle, which I felt gave me the right balance of power and control. Given that this paddle is less expensive than its siblings, I think this would be a great paddle for both the newer player and the seasoned player. Some of my higher-level fellow players also tried out the
Signature
and
Tour
models and actually liked this Advantage model better."
Mike Cooper, Pickleball Churchill
"I played with the ProRX Advantage Paddle and was pleasantly surprised by how I immediately noticed the benefits. I especially LOVED the 23 degree ergonomic angled edge on the handle, which I have never seen before. The angled edge really worked well with my hand and kept my hand from slipping off the paddle. The handle also felt very comfortable. The angled edge gave me much better control in changing my shots quickly and with ease. Several other people in our group also tried the paddle, and everyone agreed that the new angled handle design is a great idea. I am relatively new to playing pickleball, but have been playing tennis for years and understand the importance of how different racquets can help your play and performance. I appreciated the extra help it gave me in quickly changing my paddle orientation for different shots. Trying out this paddle really showed me how much better a quality paddle is compared to the starter paddle I have been using, and that it is time for me to upgrade my paddle! I can see how the angle of the handle really helps me with reloading after a swing. Wonderful design."
Cindy Aldredge, Pickleball Churchill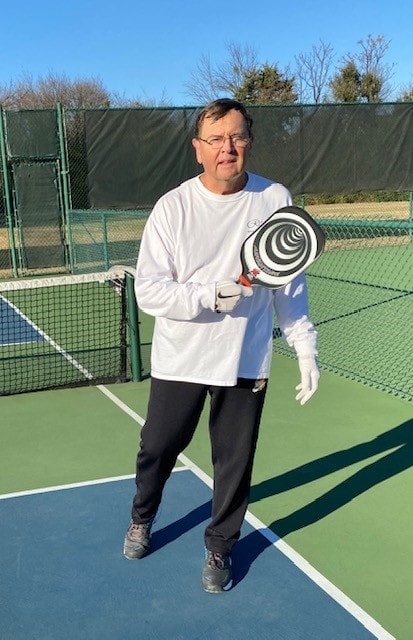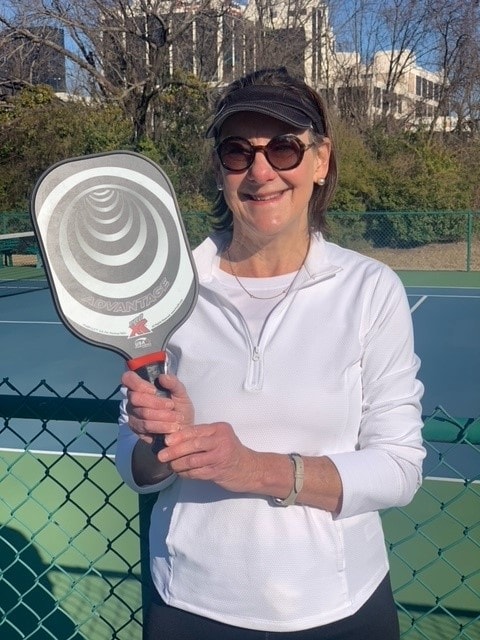 Specifications
ProXR Advantage Composite Paddle Technical Specifications
Weight Average: 8.3 ounces
Weight Range: 8.2 - 8.5 ounces
Grip Circumference: 4 1/4" (medium) Actual grip sizes may vary up to 1/8"
Grip Style: Perforated-Tac Cushion
Grip Manufacturer: ProXR Pickleball
Handle Length: 5 1/2" with XR-23 Ergonomic 23 Degree Design
Paddle Length: 16.125"
Paddle Width: 7.625"
Paddle Face: Fiberglass
Core Material: Polypropylene Honeycomb
Core Thickness: 10.5mm (0.413")
Edge Guard: 5mm TPU Surround
Manufacturer: ProXR Pickleball
Made in China
Reviews
()
Impressed!

I played with the Pro XR Advantage Composite with a fiberglass face to get used to the XR-23 angle handle. I was impressed by the response coming off the paddle. I had a little problem with which way to hold the angle handle at first, but it was pretty easy after I figured it out and I was able to then focus on hitting my shots. The surface of the face gives you nice spin and the sound it makes you know that you're hitting solid shots. I really like this paddle for the touch shots.

ProXR

UI received my ProXR last week and have practiced and played in games with a few times since. It is a solid, good looking piece of gear with an angled grip that does exactly what the ads say it does. But the best thing I've found is the traction this paddle gets on the ball. It allows me to play more precise shots with significantly more spin.

ProXR Advantage

Great paddle. Love the grip to help people learn the best grip.

ProXR Advantage Pickleball Paddle

I just recently switched to the ProXR Advantage Pickleball Paddle. As a former tennis player and now relatively high level Pickleball player, I LOVE the feel of the 23 degree ergonomic grip. I am able to "carry" the ball longer allowing for more pace and spin. I feel very comfortable at the non-volley zone when it comes to controlling the dinks, etc. but I also am able to generate more power than with previously played with paddles. I love the various in weight options (Signature and Tour) but the consistency and technology in the grip! Do yourself a favor and demo these paddles (more than once) to learn more and give yourself the gift of "GRIP"!!