Details
Reactive graphite surface provides great touch. Longer handle offers reach while maintaining a broad 8.2" face.

Lightweight/Medium Grip
Oneshot Proshot 2.0 Series Graphite Paddle
The Oneshot Pickleball Proshot 2.0 Paddle has a versatile design that will allow you to change up your style of play on the fly. It features a slightly longer than average handle for those who prefer double-handed backhands, yet offers a wide face allowing players to make use of a broad sweet spot and intuitive defensive blocks at the kitchen line. Whether you're attacking, or defending against fast volleys, this paddle offers the required lightness for hand speed, forgiveness on blocks and drops, and the right degree of pop to put pace on your ground strokes.

The Proshot 2.0 Series Graphite Paddle is constructed with a high-quality reactive graphite surface which features USAPA-approved texture to give you the option of imparting hard-to-handle spin on your cut shots. The inner polymer core is thicker than average, translating to greater forgiveness while dampening impact vibrations. The Proshot weighs in at 7.3 - 7.7 oz, and the grip arrives with a medium (4 1/4") circumference. The paddle's design features a black surface with the Oneshot logo in the center and its edge guard is designed to absorb energy while reinforcing the core's integrity.

The Oneshot Pickleball Graphite Proshot 2.0 Series Pickleball Paddle was made to adapt to your needs on the court and deliver consistency.

Actual grip sizes may vary up to 1/8".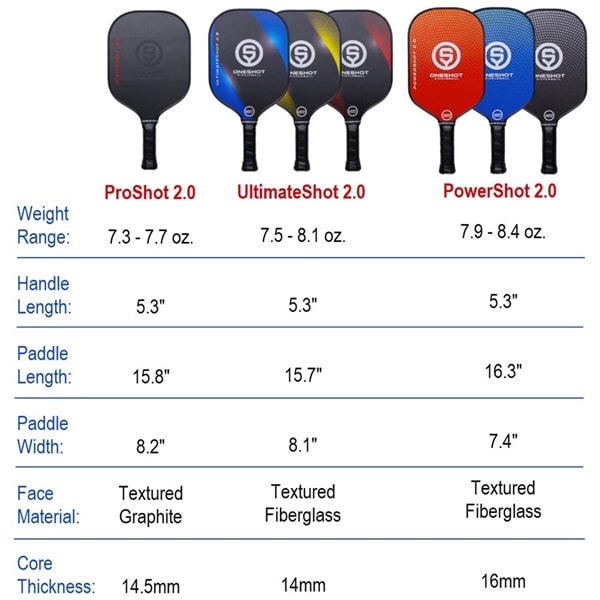 Reviews of the Proshot 2.0 Paddle by Pickleball Central Staff:
"Oneshot's new Proshot 2.0 Series paddle has expanded the Oneshot line with an exciting new offering, a graphite-faced paddle that delivers incredible control and touch, easily rivaling other top quality graphite paddles that cost $20-30 more.

Unlike Oneshot's Powershot 2.0 and Ultimateshot 2.0, both of which have textured fiberglass face construction, the Proshot's textured graphite face gives players looking for less pop a paddle with superb feel that makes it extremely easy to control the ball. The 0.57" core is on the thicker side, within which I could feel vibration dampening technology which further added to the paddle's feeling of control.

I normally play with a paddle in the 7.7 – 7.9 oz. mid-weight range, so when I picked up the 7.5 oz. Proshot 2.0, I expected that I might feel a decrease in power and the need to focus on putting a lot more energy into my serves and drives. But actually that was not the case. Even with this lighter weight paddle I was amazed at how easy it was to put lots of power into my deep shots.

Another thing I like about this paddle is the face shape and size. The traditional shape has a slightly longer than average handle length (5.3") so there's enough room for large hands and even a second hand for players who prefer two-handed shots. The generous 8.2" width provides a nice wide surface for a big sweet spot and great reach to aid with blocking, without sacrificing any length (the paddle is 15.8" long).

To their credit, Oneshot Pickleball also offers paddles for players of varying preferences. For example, players who prefer a longer paddle face may benefit from the Powershot 2.0 which has a 16.3" overall length, 7.4" width, and powerful fiberglass face material making it an excellent choice for singles players or those who favor a sweet spot higher up on their paddle's face. The Powershot 2.0's heavier weight (8.1 oz. average) also adds to its ability to generate an impressive amount of power. Alternatively, the Ultimateshot 2.0 has the same fiberglass face as the Powershot 2.0, which offers a nice, crisp ball strike, but weighs in at a 7.8 oz. average, so its a bit lighter and features a more traditional shape with a 15.7" overall length and generous 8.1" width.

The Oneshot Proshot 2.0 combines all of the features I like best in a paddle and quickly gave me confidence in my ability to put the ball where I wanted it, keep my dinks in play, and hit my serves and ground strokes from the baseline with force and spin. Great for the soft game, this well-designed paddle packs plenty of power as well."
Karen, Marketing (4.0 Player)
Specifications
Oneshot Pickleball Proshot 2.0 Series Paddle
Paddle Weight Range: 7.3-7.7 oz
Paddle Average Weight: 7.5 oz
Grip Circumference: 4 1/4"
Grip Style: Comfort Grip
Actual grip sizes may vary up to 1/8"
Handle Length: 5.3"
Paddle Length: 15.8"
Paddle Width: 8.2"
Paddle Face: Textured Graphite Surface
Core Thickness: 14.5mm (0.57")
Core Material: Polypropylene Honeycomb
Edge Guard: 1/8" overlapping paddle face
Manufacturer: OneShot Pickleball
Made in China
Reviews
()
Tried 26 paddles and this one is by far the best

I have tested 26 different paddles from many different companies. Not a single one comes close to reaching the level of play I attain when using this paddle. I am 22 and 4.5+ rated player. I am stunned I don't see this paddles played with more often at the pro level. The touch, control and feel are astonishing on this paddle. It only has one downside. ONE single downside, it lacks power ever so slightly, but 90% of Pickleball is control, touch, feel and location anyhow. If you play well enough and have some fundamental knowledge of how to use your body to generate the most power it is hardly a downside anyway.

Oneshot Proshot 2.0 Paddle

Awesome intro after 3 days play. Consistent paddle and a tremendous great upgrade. My limited experience reflects overall improvement & consistency in my game.

Oneshot Proshot 2.0 paddle

I like the feel and grip. Is light, which is what I wanted. My control is better and I find myself making shots that I wasn't with my other paddle. Great!

Light and fast

I love it. I went by the description and reviews to choose this paddle, using a gift certificate from Mother's Day. It's lighter than my old paddle, and the grip feels very good. It seems faster and more nimble.

Buying a Oneshot Proshot 2.SCRA0 Paddle from PbC

PBC Pickleball Centrals website was easy to use and very helpful in screening all the various makes, types and constructions of paddles available. Made buying one on the internet almost an enjoyable activity.