Details
Please see the current version of this paddle, Selkirk's fantastic
VANGUARD Hybrid S2 version 2.0
, with an even more gritty and durable QuadCarbon paddle face!
VANGUARD Hybrid S2 Pickleball Paddle
The VANGUARD Hybrid S2 Paddle has a broad face so players can enjoy the VANGUARD line's largest sweet spot. If you want touch, pop and power in an agile and comfortable package, this paddle is the way to go. The Hybrid S2 uses the same dimensions as the original Prime and Amped models but has the VANGUARD upgraded features including the carbon fiber surface, unique new edge guard and the Geo grip. The face is made with a bi-directional carbon fiber that uses two layers on each side of the paddle to create the exceptional sweet spot. This creates a super reinforced design for more consistency, defense and feel.
The VANGUARD Hybrid S2 Paddle uses a low profile edge guard that protects your equipment while reducing the chances for mis-hits. The Geo grip on the handle was made specifically for the VANGUARD line and has excellent moisture-wicking properties, better traction and comfort. The Hybrid S2 has a thick X5 poly core that reduces vibrations and provides a pleasantly soft touch. It comes in midweight only at 7.8 - 8.3 oz.
The Vanguard Hybrid S2 Paddle keeps you closely connected to the action so you can feel every hit while controlling pickleballs without any strain.
Note about the Vanguard Paddle paint finish:
Our testers have reported quick wear of the paint finish on these paddles. This is normal, and does not affect the performance of the paddle. Selkirk and Pickleball Central ask you to understand that this is not considered a defect in the product. See image below for "normal wear" example. If you feel your Vanguard paddle ever experiences abnormal or excessive wear or flaking of the paint, please contact Customer Service.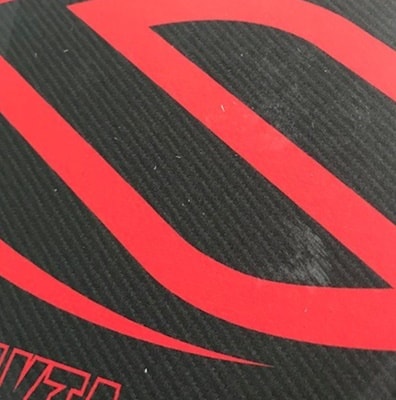 Reviews of the Selkirk S2 VANGUARD Pickleball Paddle by Pickleball Central Staff & Local Club Members:
"Selkirk's largest sweet spot just got bigger. The Vanguard S2 expands on the biggest advantage of the S2 shape – hitting surface and sweet spot. The combination of the new carbon fiber (aka graphite) face and incredibly successful X5 core (from the famous AMPED Series) is incredible. This paddle is more forgiving with one of the largest hitting surfaces in the game. I believe that the AMPED S2 will continue to be popular with players who like the shape and are looking for a bit of extra power. (The fiberglass face of the AMPED paddles has more pop off the face.) However, for fans of the S2 who are looking for a little softer play, more ball feel, and a bit more control, the Vanguard S2 is it!"
John, Sales Director (4.0 Player)

"I tried several models of the new VANGUARD paddles. I used to play with the Selkirk AMPED Omni, which I love. I feel like Selkirk's new VANGUARD Hybrid construction on provides a softer feel than the AMPED – the new X5 QuadCarbon woven carbon fiber face enhances ball feel and touch, giving excellent control and lots of power. The sweet spot is great – wherever I made contact with the ball it felt good. I also love the texture. I like to use spin on my shots and these paddles enhanced my spin control. The S2 shape is perfect for someone who wants to maximize the width of the available hitting surface, but prefers a shorter handle. If you want a longer handle, check out the Epic. If you want a longer paddle that is more head biased on balance, check out the Invikta."
Karen, Marketing Director (4.0 Player)



Specifications
VANGUARD Hybrid S2 Paddle Technical Specifications
Standard Weight Range: 7.8-8.3 ounces
Grip Circumference: 4 1/4" (Medium) Actual grip sizes may vary up to 1/8".
Grip Style: Perforated cushion
Grip Manufacturer: Selkirk Geo Grip
Grip Length: 4 1/2"
Paddle Length: 15 3/4"
Paddle Width: 8"
Paddle Face: QuadCarbon (cross-weave carbon fiber)
Core Material: X5 Polymer honeycomb
Core Thickness: 5/8" (0.625")
Edge Guard: EdgeSentry
Manufacturer: Selkirk
Made in USA
Reviews
()
Vanguard Hybrid S2

After playing with the same paddle for 7 years, it was time for an upgrade. This paddle did not disappoint!! Very responsive and I can generate much more speed with little effort. I would definitely recommend this paddle.

Pickleball paddle

I was hoping that this mid-weight paddle would be ok , but I used it twice and my shoulder began to hurt. So that and the fact that the length of the handle is too short for my hand will cause me to return the paddle. This Selkirk paddle definitely helps with control, but the weight and the thickness of the core seemed to make me use more arm strength to create power I like. I will look for another one that has less weight and a longer handle.

Paddle

Excellent control of dink shots while not sacrificing power shots. Great experience with Pickleball Central. Received my racket in a few days.

Pickleball Product Review

My old racket had lost its pop. After research and reading reviews, I purchased Vangard hybrid S2. Great paddle. Light but with great pop. Especially for drive shots. Also Pickelball Central was great. Got paddle in a matter days.

Great padddle

The paddle feels really amazing. I tried it out before I bought it so new exactly what I was expecting. Haven't used it for more than month. But is living up to expectations.