Details
Price Reduction!
Elongated paddle with double-layer face, slim edge guard and comfortable play. Choose from two weights.

Middleweight/Medium Grip
VANGUARD Hybrid Invikta Pickleball Paddle
The VANGUARD Hybrid Invikta Paddle is ideal for full court coverage and expansive reach thanks to its elongated shape. The Invikta shaped design developed its reputation as a paddle for players who like some extra power due to it's slightly head-biased weighting, and it's longer handle, allowing players to strike the ball slightly further away from their body. This allows you to generate a larger swing arc, and hence higher impact speeds.
This new VANGUARD Hybrid Series paddle takes advantage of a number of new technological improvements, through the inclusion of a new grip, edge guard and double layered carbon fiber (graphite) face. The "geo grip" is highly cushioned and was launched specifically for the VANGUARD line. It has a high level of moisture absorption and tack. The QuadCarbon fiber surface uses two layers of woven carbon fiber on each side of the paddle (for a total of four layers) to create consistent play and exceptional durability. Testers describe the sweet spot changes from the new face material as "amazing", and "transformative", giving the VANGUARD Hybrid Invikta a sweet spot that is much larger, coming further down the face than ever before. This gives you the extra reach and power the Inviktas are known for, with more defensive blocking capability and ball working control when striking the ball closer to the handle. The edge guard is light weight with a slender profile so it keeps your paddle safe but helps minimize mis-hits.
The VANGUARD Hybrid Invikta Paddle comes in a light weight range at 7.5 - 7.8 oz and a standard at 7.7 - 8.2 oz. It uses the thick X5 polymer core to create a soft, dampened feel that improves dinks and controlled shots like thirds, while still maintaining power for put-away shots. The sleek design features the Selkirk "S" logo in the center with the paddle's name outlined below.
The VANGUARD Hybrid Invikta Paddle is for players who want to be able to do it all with ease, comfort, and speed.
Understanding the differences between Selkirk's exciting VANGUARD Power and VANGUARD Hybrid paddles:
Click here to compare to the VANGUARD Power Invikta paddle.
Note about the Vanguard Paddle paint finish:
Our testers have reported quick wear of the paint finish on these paddles. This is normal, and does not affect the performance of the paddle. Selkirk and Pickleball Central ask you to understand that this is not considered a defect in the product. See image below for "normal wear" example. If you feel your Vanguard paddle ever experiences abnormal or excessive wear or flaking of the paint, please contact Customer Service.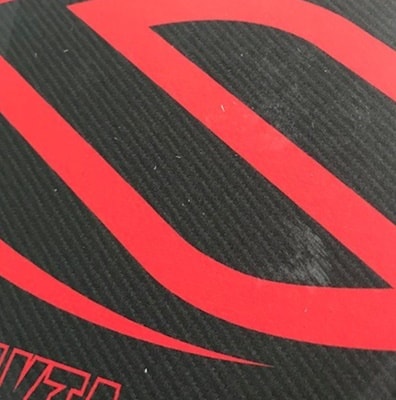 Reviews of the Selkirk Invikta VANGUARD Pickleball Paddle by Pickleball Central Staff & Local Club Members:
"The new Vanguard paddles from Selkirk are truly a next generation paddle. They are produced shapes we have come to love - the Invitka, Epic and S2 - with a whole new make up. The carbon fiber weave face and the thick (5/8") X5 core combine to give us the best performing Selkirk paddles to date. With the Invitka, I checked the sweet spot with the bounce test. I found that the Vanguard Invikta Hybrid's sweet spot was a good two inches further down the face than the Amped version. This makes total sense as the carbon fiber and graphite faced paddles tend to create a larger more consistent sweet spot. I also found that the area outside the sweet spot had more consistent response than the Amped version. In game play, the paddle gave me more confidence to attack the ball. I felt the control was improved so I could take more chances. And, the consistency of the ball coming off the face helped my short and control game.

The Invikta shape features a longer handle, which biases the balance towards the head. The paddle is also a bit longer than the Epic and S2, with a slightly narrower face. Combined, this makes the Invikta the most powerful of the three shapes, perfect for people who like taking full swings at pace on a ball.

Having tested both the Amped and Vanguard Hybrid versions, I now think that the Amped version of the Invikta paddle is more for someone looking for power, and the Vanguard Hybrid is a version for someone seeking more control. I will never play like Tyson McGuffin, but with this paddle, maybe I got a bit closer."
John, Sales Director (4.0 Player)

"I have enjoyed playing with the Selkirk thick core AMPED paddles, so I was excited to test the new Vanguard series. I prefer a slightly lighter weight paddle, so I picked a lightweight Invikta to test. I have to say that this is a confidence inspiring paddle. For full disclosure, I have spent much of the last year playing with the AMPED Omni (which is the same length and width as the Invikta but with a shorter handle and longer face.) So I really know what an Amped thick core Selkirk paddle plays like. This Invikta features the same 5/8" thick polypropylene core, but with their new QuadCarbon face material and updated edgeguard.

After a couple test sessions, I have to say I really like the feel of the new Vanguard Hybrid paddles, and the Invikta is maybe my new favorite singles paddle. It is really confidence inspiring. The sweet spot plays larger than the Amped version, with more control further down the face. It's slightly head-heavy bias helps me generate power on my ground strokes and high volleys. The face material gave me incredible confidence to work the ball with both topspin (on drives) and underspin (on cut backhands). While I love it for singles, the enhanced sweet spot that extends closer down the face to the handle makes it very confidence inspiring for doubles as well, with soft control in blocking volleys and consistent feel for dinks.

If you want to take advantage of the Vanguard Hybrid technology set, the choice is really about shape. The Invikta gives you the longer handle, and slightly head biased weight. The Epic is more balanced with a longer handle that also works well for those who play with a two handed backhand. The S2 shape is more balanced with a shorter handle for those who really seek the largest possible paddle face. All are amazing!"
Karen, Marketing Director (4.0 Player)



Specifications
VANGUARD Hybrid Invikta Paddle Technical Specifications
Lightweight Range: 7.5-7.8
Midweight Range: 7.7 – 8.2 oz.
Grip Circumference: 4 1/4" (Medium) Actual grip sizes may vary up to 1/8".
Grip Style: Perforated cushion
Grip Manufacturer: Selkirk Geo Grip
Handle Length: 5 1/4
Paddle Length: 16 1/2"
Paddle Width: 7.375
Face: QuadCarbon (cross-weave carbon fiber)
Core material: X5 Polymer honeycomb
Core Thickness: 5/8" (0.625")
Edge Guard: EdgeSentry edge guard
Manufacturer: Selkirk Sports
Made in the USA
Reviews
()
Pickleball Product Review

Tempest Wave Pro Graphite Pickleball Paddle

I'm very happy with this paddle. It has replaced my trusty Onix Z5 which wasn't a bad paddle at all but the Tempest Wave Pro has it all. Touch, control, a balanced feel in my hand and power when I need it.

Selkirk Vangard invikta hybrid

I recently ordered a diadem warrier. Two weeks after I received, it literally fell apart. No questions asked, they replaced it with a Selkirk invikta hybrid, which is a terrific paddle. Today I received an email from PBC that they're running a winter sale and including a Selkirk case with each paddle. I sent them my recent invikta invoice and immediately sent out a case at n/c. Kudos to PBC on how they take care of their customers. I will be back for additional purchases.

Selkirk Invikta

For me, there us none better. Great balance, solid body, good for spin, and extremely reliable on reset AND accurate placement. Have played with numerous paddles. None are as good for me as the invikta.

Invikta Midweight

Solid paddle. Took two returns to get one without defects. A players paddle.