Details
Please see the current version of this paddle, Selkirk's fantastic
VANGUARD Hybrid Epic version 2.0
, with an even more gritty and durable QuadCarbon paddle face!
VANGUARD Hybrid Epic Pickleball Paddle
The VANGUARD Hybrid Epic Paddle has a longer handle for more comfort on two handed backhands, or for people with larger hands, but it accomplishes this without reducing the size of its reactive sweet spot. This VANGUARD Epic has the same dimensions as the original Amped or Prime series Epic models, but the VANGUARD version adds even more potency to its design through the addition of a newly designed face, edge guard and grip. The surface is made from cross-woven carbon fiber that's double layered on each side of the paddle. This offers exceptional consistency in ball rebound over the entire face of the paddle, amazing durability, and a touch-centric feel that is unmatched. Combined with the thick X5 polypropylene core, dampens shock for a soft touch.
The Epic shaped paddles from Selkirk have long had the reputation of a paddle that will improve your game. It is wide (at 8"), and it gives you confidence for blocks, dinks, and thirds. The VANGUARD technology set takes this to a whole new level. In play testing, our product team repeatedly noted how forgiving this paddle was, and how consistent balls played even in off center hits. Those tennis style two handed backhand players LOVE the longer handle, and raved about the ability to work and roll shots. If you love that wide face, but wanted a shorter handle (for a larger surface area on the face), check out the S2 version of the VANGUARD Hybrid paddles.
The VANGUARD Hybrid Epic Paddle uses a Geo grip specifically developed for VANGUARD paddles, made for exceptional comfort, moisture-wicking properties and better tack. The edge guard has a low profile and adds very little weight so your gear is kept safe without slowing down your game. Choose between two different weights with the light ranging from 7.4 - 7.8 oz and the standard at 7.7 - 8.2 oz.
The VANGUARD Hybrid Epic Paddle will have you moving quickly around the court and returning shots with a natural sense of placement and power.
Note about the Vanguard Paddle paint finish:
Our testers have reported quick wear of the paint finish on these paddles. This is normal, and does not affect the performance of the paddle. Selkirk and Pickleball Central ask you to understand that this is not considered a defect in the product. See image below for "normal wear" example. If you feel your Vanguard paddle ever experiences abnormal or excessive wear or flaking of the paint, please contact Customer Service.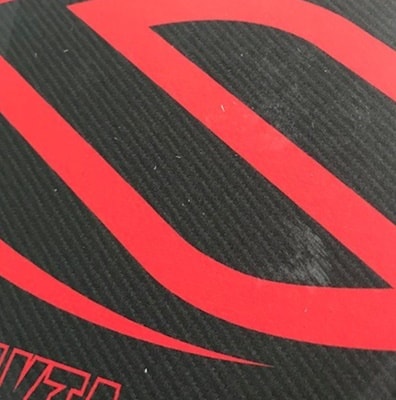 Reviews of the Selkirk Epic Vanguard Pickleball Paddle by Pickleball Central Staff & Local Club Members:
"The Epic is the most standard pickleball shape in the Selkirk Vanguard Line-up. The Vanguard Epic Hybrid excels in its ability to give me confidence in all the shots that really define pickleball. Blocking volleys, drop shops, and dinks are consistent whether hit dead center on the face, or slightly offcenter (like I am apt to do!) The new QuadCarbon face takes the Epic shape (available in both the AMPED and Prime Series) to new heights. The sweet spot is larger. The spin is enhanced. There is still enough power to put overheads away. But what struck me is how the added consistency for the short game made a big difference. I'm a short guys and I prefer the Invikta for its extra reach, and how I like to play the ball further up the face of the paddle, but I really enjoyed hitting all three Vanguard models. The confidence that I could go into every shot with made a difference to my game. Selkirk talks about a paddle that can help your game. The Vanguard Epic walks that talk."
John, Sales Director (4.0 Player)


Specifications
VANGUARD Hybrid Epic Paddle Technical Specifications
Lightweight Range: 7.4-7.8 ounces
Midweight Range: 7.7-8.2 ounces
Grip Circumference: 4 1/4" (Medium) Actual grip sizes may vary up to 1/8".
Grip Style: Perforated cushion
Grip Manufacturer: Selkirk Geo Grip
Grip Length: 5 1/4"
Paddle Length: 15 3/4"
Paddle Width: 8"
Paddle Face: QuadCarbon (cross-weave carbon fiber)
Core Material: X5 Polymer honeycomb
Core Thickness: 5/8" (0.625")
Edge Guard: EdgeSentry
Manufacturer: Selkirk
Made in USA
Reviews
()
Epic paddle

I replaced my Invikta AMPED with the Epic. I feel I gave up some power but gained better control. I can not see any spin difference between the two. I can still get enough pace on the ball when I need it.

Vanguard Epic paddle

I used the amped Epic X5 for a couple of years and loved it. When I needed to replace it, I got a Vanguard Epic paddle. I have used it for about 6 months and have to say I am disappointed in it. I don't have as much control with it, especially with hard outdoor balls. The ball doesn't seem to stay on the face as long. I hit a lot of topspin shots and I sense that the ball skids on the face of the Vanguard so I don't get the expected lift that I did with the Epic X5. I have ordered a new Epic X5.

Vanguard Hybrid Epic Paddle - Happy With It

Bought this for my grandson for Christmas and he is very happy with it.

Pickleball Product Review

Pickleball Product Review