Details
The Pro version of the popular Tempest Wave paddle offers softer play via a thicker core for increased control and touch.

Light-Middleweight/Small or Large Grip
Tempest Wave Pro Graphite Pickleball Paddle by Paddletek
The Tempest Pro Graphite Paddle uses Smart Response Technology to strengthen the feel and sensitivity of the original Tempest Wave. You get the same responsive touch, but with a broader and more forgiving sweet spot which translates to consistent responsiveness across the face of the paddle. In short, this is a control-oriented paddle that doesn't sacrifice the power you have become accustomed to in the venerable Tempest model line.
The Tempest Pro Graphite Paddle comes with either a thin or thick grip so you can choose the style which best suits your needs. The handle is 5-1/4" long which offers enough extra space to adjust your grip for either more reach or control. The 8" wide graphite face creates a large sweet spot that will feel smooth no matter where you hit.
The Tempest Pro Graphite Paddle will take both your skill shots and slams to a new level with its high quality materials.
Actual grip sizes may vary up to 1/8".
As of February 2021, the Tempest Wave Pro is part of the Expanded Tempest Pro line. The line has expanded to create multiple shape options for the players, allowing them to use the same beloved 5-Star rated paddle technology, but giving the choice in shape to best suit their game. The Tempest Wave Pro is a traditionally shaped paddle with a wider sweet spot, and sets the industry benchmark for control. It's counterpart, the
Tempest Reign Pro
is a slightly longer, slightly more narrow version of the Wave Pro graphite paddle, giving more power with s longer (but slightly narrower sweet spot). The two shapes share the same core and face technology - here's how they compare: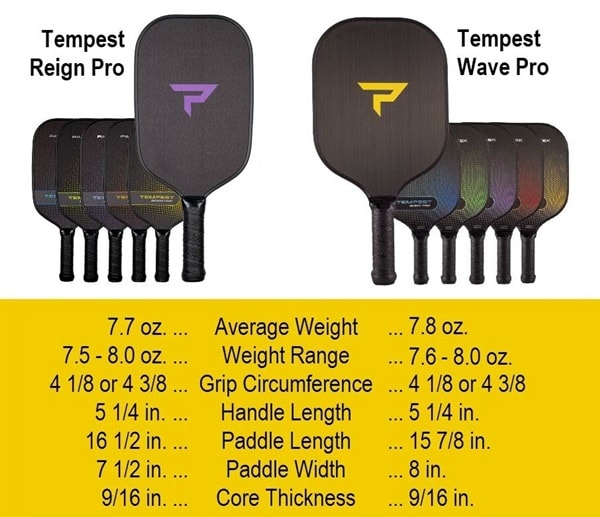 Below are some video reviews from strong amateur and pro players describing their experience with the Tempest Pro - these videos may have been shot before the launch of the latest colors, so while the paddles may not look the same, they play the same as the current model.
Reviews of the Tempest Pro Graphite Paddle
Video Transcription - Maggie Remynse
Hi, my name is Maggie Remynse. I am originally from Michigan but right now I live in upstate New York in Buffalo. So, I play with the Tempest Pro. I've been playing with this paddle since December when it was first released. What I really love about this paddle is, it really joins being able to play the soft game and getting some power on it. So, I used to play with the Tempest, just the regular, and I love the fact that I can get some really good dinks with it, and my 3rd's were great but I didn't get as much power as I liked, so with this paddle I get to join the power of the Bantam with the soft game of the Tempest and this is what I love about this paddle.
Video Transcription - Shari O'Quinn
Hi, my name is Shari O'Quinn. I live in Gig Harbor, Washington. This is the Tempest Pro. I fell in love with this paddle the moment it was put in my hand. It has incredible balance. I think it's one of the best balanced paddles out there. I love the touch and the control that I get when I play with the Tempest Pro, love this paddle.
Video Transcription - Sarah Yates
Hi, my name is Sarah Yates-Parker. I'm originally from Ft. Meyers, Florida but moved to North Carolina when I played soccer in college. I use the Tempest Pro made by Paddletek. I recently changed to this paddle because of the touch and feel. It's a little lighter than what I'm used to but is very helpful when in defensive mode so that's why I use the Tempest Pro.
Specifications
Tempest Pro Graphite Paddle Technical Specifications
Weight Average: 7.8 ounces
Weight Range: 7.6-8.0 ounces
NOTE: Weights are calculated with a large (cushion) grip. Choosing a Small grip will reduce the weight by approximately .2 ounce
Grip Circumference: 4 1/8" (Small)
Grip Circumference: 4 3/8" (Large) Actual grip sizes may vary up to 1/8".
Grip Style: Thin or cushion
Grip Manufacturer: Paddletek
Grip Length: 5 1/4"
Paddle Length: 15 7/8"
Paddle Width: 8"
Paddle Face: Graphite
Core Material: Polymer Honeycomb
Core Thickness: 9/16" (0.5625")
Edge Guard: 1/8" overlapping paddle face
Manufacturer: Paddletek
Made in USA
Reviews
()
Paddle Tempest Wave Pro

I love my paddle but I was so disappointed didn't have the cover for that. My friend commanded the same on the site of Paddleteck and received the cover and a towel Paddletek… for the same price.

Temest Wave Pro

Review is preliminary because I just bougt this because of a defect my Tempest REign Pro that I just returned for replacement. The paddle plays great, and so did the Reign Pro Model (before the surface bubbled and started to come off) after abut a year of moderate to light play.

Pickleball paddle

I really like this paddle, il has a smooth touch , lot of power and responsiveness. But, the edges are wearing too fast.

Tempest Wave Pro

For 7 months I've been using the original Tempest Wave as my 1st PB paddle and have enjoyed it. But as my strokes got stronger, the paddle wasn't as satisfying. The Pro version has noticeably improved my shots - more control, larger sweet spot - even though it is exactly the same weight (7.8 oz) as my original Wave.

Service

Pickle ball central was amazing. Paddle was here in 48 hours.