Details
Textured surface and Aero Curve face shape result in spin, speed, and power. Longer 5.5" handle for double-handed strikes.

Middleweight/Small Grip
JOOLA Vision CGS 14 Graphite Pickleball Paddle
The Vision CGS 14 Graphite Pickleball Paddle from JOOLA is for proactive players who want intense spin and a responsive core. This design features a specialized Carbon Grip Surface (CGS) which has texturing to grab pickleballs for extra rotation in every swing. Its head shape uses an Aero Curve which improves swing speed and results in less drag so you can focus on hitting winners rather than simply keeping up with the pace of play.

The Vision CGS 14 features a 14mm thick (0.55") polymer core which offers durable quality and a broad hitting area. Its weight ranges from 7.6 – 8.0 oz., and the handle length is 5-1/2" which provides extra room for players who leverage double-handed strikes. The trim grip circumference is 4-1/8" which makes it easy to grasp and allows for quick wrist movements.

The Vision CGS 14 Graphite Paddle from JOOLA Pickleball will allow players to send pickleballs flying towards openings in their opponents' defenses, thanks to its enhanced spin and speed.

Actual grip sizes may vary up to 1/8".
Test Reviews of the Vision CGS 14 Pickleball Paddle:
"My experience playing with the Joola Vision CGS 14 graphite paddle was very positive. I liked the abrasive surface on the paddle head, as it significantly improved ball control. The handle was comfortable and my hand didn't get as sweaty as it usually does with other grips. This paddle is heavier than what I usually choose but it would not deter me from purchasing it. My shots were more powerful and directed. I strongly recommend to those looking for a new paddle to give the JOOLA Vision a try, and I am sure you will be as impressed with this newcomer as I was."
- Olga Walker
Bainbridge Island Pickleball Club
"I was so excited for the opportunity to try out the JOOLA Vision CGS 14 Graphite paddle. As a mostly recreational player, and mom of two young kids, I enjoy any opportunity to go out to the counts and play a few games (but don't always have a ton of time to do it). I need a paddle that takes little or no time to get used to and the JOOLA Vision fit that criteria perfectly. From the first few dinks in warm ups I knew I was going to like this paddle. The Vision CGS 14 felt good in my hands and I loved the weight. It seemed to be more of a control/touch paddle than a power paddle, although I didn't feel that any power was lacking. The circumference of the grip was key to being able to preform quick wrist movements and hit shots to intentional targets. I did not use much spin in my game, but when I did I thought this paddle had plenty of grit to produce what I was trying to achieve. I believe this paddle is best suited for a player who just wants an all around good paddle and doesn't have much time to shop around or get used to a new paddle. It preformed well on dinks, serves, volleys (great pop), smashes, and any issues I had while playing with the Vision were because the user still has a lot to learn about this amazing game. Overall I would defiantly use this paddle on a daily basis and would recommend it to anyone looking for a great all around paddle."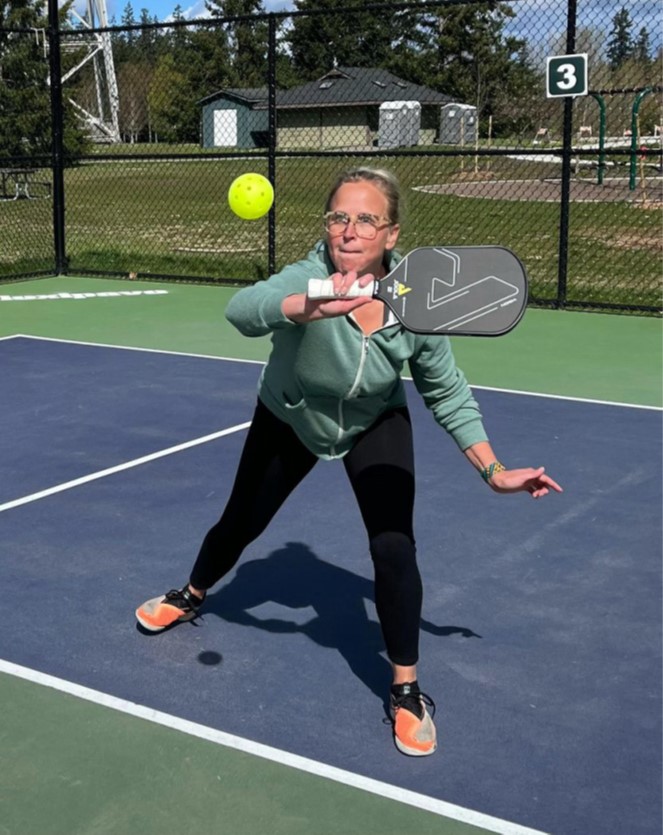 - Melissa Bang-Knudsen
Bainbridge Island Pickleball Club
Specifications
JOOLA Vision CGS 14 Graphite Paddle Technical Specifications
Average Weight: 7.8 ounces
Weight Range: 7.6-8.0 ounces
Grip Circumference: 4 1/8" (Small) Actual grip sizes may vary up to 1/8"
Grip Style: Sure-Grip Technology
Grip Manufacturer: JOOLA
Handle Length: 5.5"
Paddle Length: 16.4"
Paddle Width: 7.3"
Paddle Face: Textured Carbon Grip Surface (CGS)
Core Material: Response Polymer Core
Core Thickness: 14mm (.55")
Edge Guard: 1/4" overlapping paddle face
Manufacturer: JOOLA Pickleball
Made in China
Reviews
()
Joola Vison Pickleball paddle

I started playing pickleball a few months ago and have been using an Onix Z5, which I like. But I wanted a more streamlined paddle and longer handle. I tried the Vision at the court and thought it played really well. The ball pops when I'm driving a shot from baseline but gives good control when I'm dinking..... and my two-handed backhand is improved. The grip is very comfortable and provides a stable and consistent hold. The paddle is narrower and longer than my previous one. I like this paddle a lot... glad I bought it.

Amazing paddle

I've been playing for about a year and this is my third paddle and I love it so far. I am five feet tall and a little over 100 lbs, and this paddle gives me a lot of power in my shots without sacricing accuracy. The large sweet spot and honeycomb core have vastly improved my game. Highly recommend!

Joola Paddle 14 $169.00

Paddle is great, but I'm a little dismayed that it did not include a cover. When you pay that kind of money for a tennis racket it is included!

I love this paddle!

The textured surface gives me great spin. While it is great for slams and shots to the backline what I like best about it is it's pinpoint shot accuracy. I used to carry three paddles in my bag but this one has replaced them all. This is a paddle to grow with and to grow into as my skills increase. Remember to wipe it off with a dry towel before you put it away after playing. I am really having fun with it!

Great Racket

Just a bit on the small side for the size of the head of the racket, and would have liked it to be a bit larger head; but the handle is perfect and the actually hitting surface is wonderful. I have improved my aim and the soft dink shots a lot; but still very solid for the hard slam shots. I have about 20 rackets over the years (been playing for 30+ years), and this is the best racket I have in my bag.