Details
Multilayered fiberglass paddle with heavier weight and textured face for powerful yet controlled play. Sensitive touch and feedback create an intuitive feel.

Middleweight/Medium Grip
JOOLA Solaire FAS 13 Composite Pickleball Paddle
The Solaire FAS 13 Composite Pickleball Paddle from JOOLA has several features that make it suitable for advanced play, and yet its shape is so user friendly that almost anyone will feel comfortable wielding it. The wide 8" face and heavier weight range result in reliable defensive capabilities, but also provide an extra dose of power when you want to seize on openings. Its sandblasted Fiberglass Abrasion Surface (FAS) yields unique texturing for spin and is composed of multiple layers of composite fiberglass material which result in distinctive feedback.

The Solaire FAS 13 weighs 8.0 – 8.4 oz., which results in more pace on your shots with less effort. The 4-1/8" grip circumference and perforated grip style both help to maintain a firm grasp on the paddle regardless of sweat, while the 5-1/2" long handle provides enough space to use two hands when you want some extra kick. The 13mm (0.51") thick core is slim enough to feel aerodynamic and contributes to the sensitive touch.

The Solaire FAS 13 Composite Paddle from JOOLA Pickleball provides an intuitive feel, gobs of power, and sets the stage for more consistent ball placement with unsettling spin.

Actual grip sizes may vary up to 1/8".
Test Reviews of the Solaire FAS 13 Pickleball Paddle:
"When I showed up with this paddle, everybody wanted to try it and it was hard to get it back; everyone loved it. The first thing that drew my attention was the textured face and soft handle. I knew right away that I was going to like this paddle. The ability for me to spin on serves and returns was greatly enhanced by the textured face. The spin was definitely visible and was not appreciated by my opponents. The 4 1/8" circumference comfort grip felt great, even for small hands like mine. Once I started drilling with it, other great features began to surface; from the ability to dink crosscourt and quickly change direction, to the quick response on serves and power shots. As an intermediate player I felt that all my skills were upgraded. The heavier weight of the paddle was no deterrence as it still possessed a great feel and soft touch. I highly recommend this paddle for advanced players, or for those beginners who never want to look back."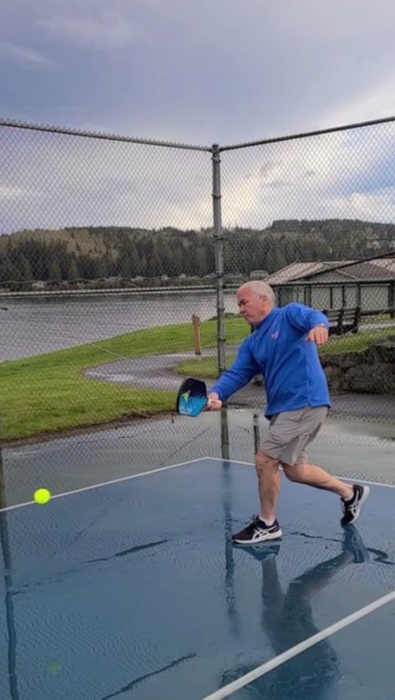 - Jorge Concepcion
Bainbridge Island Pickleball Club
"The Joola Solaire 13 is very responsive. It absorbed hard shots and made redirection easy. It has an extended grip which is nice for two-handed back hands. However, the 4 1/8" grip circumference was a little small for my arthritic hands; but I'm sure it would be easy enough to fatten up with an overgrip. The paddle surface is terrific for both spins and ball placement. The paddle was well balanced, not top heavy, did not stress the shoulder. I would recommend this paddle for intermediate play."

- Helen
Bainbridge Island Pickleball Club
Specifications
JOOLA Solaire FAS 13 Composite Paddle Technical Specifications
Average Weight: 8.2 ounces
Weight Range: 8.0-8.4 ounces
Grip Circumference: 4 1/8" (Small) Actual grip sizes may vary up to 1/8".
Grip Style: Sure-Grip Technology
Grip Manufacturer: JOOLA
Handle Length: 5.5"
Paddle Length: 16"
Paddle Width: 8"
Paddle Face: Fiberglass Abrasion Surface (FAS)
Core Material: Response Polymer Core
Core Thickness: 13mm (0.51")
Edge Guard: 1/4" overlapping paddle face
Manufacturer: JOOLA Pickleball
Made in China
Reviews
(1)
FAS 13 Composite

Good feel helps 3rd shot drop. Plenty of power when needed.