Details
Core is high-grade polymer honeycomb with a foam-injected perimeter to maximize stability, add weight, and create an edge-to-edge sweet spot. Textured surface enhances spin and placement.

Mid-Heavyweight/Small Grip
JOOLA Solaire CFS 14 Composite Pickleball Paddle
The Solaire CFS 14 Composite Pickleball Paddle from JOOLA is a uniquely designed paddle that can do just about everything an advanced player needs; from slice serves to providing dependable stability and comfort. JOOLA adds a specialized foam to the paddle's perimeter in order to maintain an even weight and build an edge-to-edge sweet spot. The face also utilizes their Carbon Friction Surface (CFS) texture to maximize spin and ensure pickleballs go where intended.

The Solaire CFS 14 has a wide 8" head which feels solid and well balanced, thanks in part to the introduction of JOOLA's Hyperfoam Edge Wall injected just beneath the edge guard around the paddle head perimeter. This paddle is on the heavier end of the spectrum with the standard weighing in at 8.4oz and the Swift at 7.7oz, so it delivers high-level power, particularly on groundstrokes and overhead slams. The grip length is 5-1/2" with a 4-1/8" circumference, which allows just enough for room to utilize double-handed strokes. Aside from the foam inserted along the edges, JOOLA utilizes a high-grade polymer honeycomb core material to enhance durability and strength.

The Solaire CFS 14 Composite Paddle from JOOLA Pickleball makes it easy to integrate a wide variety of skills into your repertoire so you can maintain pressure on the competition and play more unpredictably.

Actual grip sizes may vary up to 1/8".
Test Reviews of the Solaire CFS 14 Pickleball Paddle:
"My first impressions were that the new line of paddles from JOOLA were well made, solid, nicely balanced, and stood out due to the white handles. I selected the Solaire CFS 14 to demo as it matched my current paddle shape and would be good comparison for my evaluation. I've played two hours with it and have been nothing but satisfied with this JOOLA paddle. The strongest feature of this paddle for me was the Carbon Friction Surface (CFS). I play table tennis and like to bring various spins to the pickleball court and was amazed at how much more action I could put on the ball. But several other features also stood out with this paddle. It has a generous sweet spot as I consistently got good pop on the ball and seldom felt the thud of a ball not well-hit. I also liked the grip and handle shape. The white grip felt very secure with little to no slip, and the handle has the larger end shape that I'm accustomed to from racquetball. I do expect the white grip to darken up over time but am not concerned."

- Bill Walker
Bainbridge Island Pickleball Club
"I started playing with the Solaire CFS 14 model in early April and used it for several days, typically around 2 hours plus per day. I'm a 3.0+ player and I've used several different paddles. Overall I found it to be an excellent product and actually prefer it now over my current paddle which is a very popular high end brand that you see on every court. The Solaire is definitely lighter than my paddle, which I found to be a major bonus. The biggest advantage that I find with this paddle seems to be that it provides a bit better ball control; it has a softer feel at the moment of impact. This however did not seem to have any effect on how fast the ball would travel. I typically try to incorporate a lot of spin when possible and this paddle worked well in that regard. The face surface was about the same as my own paddle (not particularly gritty) but I was still able to put quite a bit of movement on serves and other shots. A feature that I found immediately beneficial and was happy to see was the paddles' grip. It was a bit larger and definitely had a softer, better feel to it; you can see that it has raised ridges in it which helps a lot and feels great. Overall I was very impressed with it and would recommend it to most any player from mid level and up. I only say this as I assume that it might be a bit expensive for a raw beginner."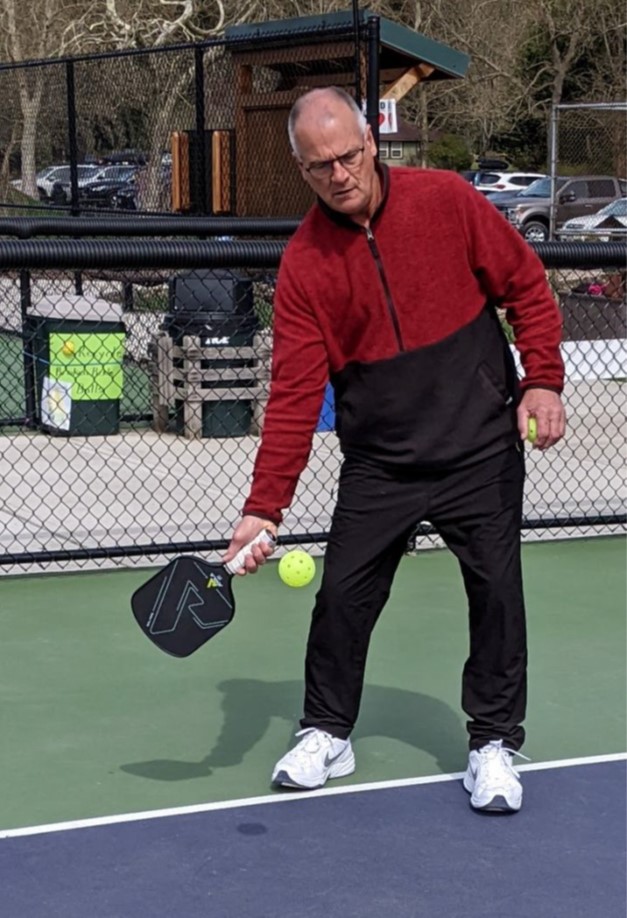 - Don Sickle
Bainbridge Island Pickleball Club
Specifications
JOOLA Solaire CFS 14 Composite Paddle Technical Specifications
Weight Average: 8.4 ounces (Standard), 7.7 ounces (Swift)
Weight Range: 8.2 - 8.6 ounces (Standard), 7.5 - 7.9 ounces (Swift)
Grip Circumference: 4 1/8" (Small) Actual grip sizes may vary up to 1/8"
Grip Style: Sure-Grip Technology
Grip Manufacturer: JOOLA
Handle Length: 5 1/2"
Paddle Length: 16"
Paddle Width: 8"
Paddle Face: Composite Fiberglass with Carbon Friction Surface (CFS) Texturing
Core Material: Reactive Polymer Core
Core Thickness: 14mm (0.55")
Edge Guard: 1/4" overlapping paddle face
Manufacturer: JOOLA Pickleball
Made in China
Reviews
()
Joolah solaire

Good on spin but light on power,even with added weight

great paddle

didn't take any time to get used to playing with it

Broke but great paddle

I love the feel of this paddle. Great play. I don't drop or abuse my paddle but it's been about 8 months and the handle is lose/falling off. Somehow. I was even out for a few months with an injury so it really only last about 5 months. But, I like it so much, I have purchased it again.

perfect combination

It is winter and cold, so I used this paddle for the first time indoors on a hardwood court. It has the perfect amount of power combined with control. The control took a few games to get used to, as my other paddles are less powerful (paddletek paddles). Once I found the touch after 1.5 games, it was over, and domination started to happen. The power I got with indoor balls was a massive benefit, although not too much power, as playing with my other paddles previously left something to be desired. The feel of this paddle is soft when dinking and using touch shots, but the pop I felt when I put power into it was amazing. Not the most powerful paddle when using topspin, but it has noticeable power, especially compared to my other paddles. I hit three shots flat with no spin on overheads, and it is crazy!! Truth be told, I purchased the paddle looking for more spin, and it sure has it. When hitting with spin, my drop serve curves noticeably more to the point that when my opponent missed the ball after the bounce, the look I got was priceless. I only hit a few balls long as the topspin kept them in. I use a slice mid-lob as opposed to a 3rd shot drop, and it was noticeably easier and more consistent because I felt the pickleball bit more into the surface than my other paddles, which gave me greater touch and feel. It is a good all-around paddle if that is what you want. Since it is a traditional shape (8in wide), this paddle's maneuverability is excellent, especially with a longer grip and less face area near the grip (far away from the sweetspot that is usually never utilized anyway). All in all, it is an excellent paddle. I have not tried it outdoors with harder balls, so the jury is still out on that. I expect it to have more power and spin because the balls will be harder and rough-textured from the outdoor surface. The one con this paddle has is that there are better paddles for resets. Since it has pop on the sweetspot when receiving fast shots and very good stability on off-center hits, it might need to take balls I want to reset, not on the sweetspot; I need to work on that and experiment with grip pressure to see what works better. My paddle came in at 8.35 oz., and the raw carbon surface is what I will always want now. PickleballCentral is my go-to store because shipping is fast and free, and if I ask for specific characteristics like the weight range of the paddle I want, they contact me to confirm before shipping.

The BEST Joola

The touch & control on resets & volley's is the absolute best part of this paddle- even better than the ben john's hyperion edition. My hands feel a bit quicker with the square shape & 14mm vs. the elongated hyperion 16mm. Dinks & drops are easy & have great touch. Power is strong as this paddle is weighted top heavy- put away's & drives are seamless. As a 4.5 pickleballer, coming from Tennis, I can generate a lot of spin naturally- this paddle further elevates it with the carbon face. I love square shapes with longer handles, this paddle gives exactly that & I prefer it vs. elongated paddles. The one recommendation I would give, is to put lead tape on the handle (I added about 0.3OZ) or on the edgeguard of the paddle right near the handle. Balancing the weight of this paddle feels incredible & is almost needed -since it is very top heavy out of the box. I've played with paddletek, engage, selkirk, carbon & gearbox- All good companies, Joola standa ahead w/the CFS paddles.