Details
This poly-core paddle from Gamma offers a lightly textured face and honeycomb grip.

Middleweight/Small Grip
GAMMA Dart Composite Pickleball Paddle
The Dart Composite Pickleball Paddle is a lightweight and agile option that gives players an extra level of finesse in their game. This paddle is designed for people looking for a super high quality light-weight composite paddle at an affordable price. GAMMA has gone to great lengths to craft a paddle that performs well, but doesn't break the bank. Its textured face helps add spin to your shots so you can keep opponents guessing about where you'll strike next. The grip has just the right amount of tackiness so your hand stays in place while you're in action, and the cushioning keeps you comfortable. The polymer core material gives a good amount of pop to your shots, while creating a lightweight paddle with a good balance of both control and power.

The graphic design of the Dart Composite Pickleball Paddle features a dark background with a brightly-colored image of a dart hitting its target right in the bullseye—just like you'll be doing in your games! This paddle is offered with an average weight of 7.4 oz so you'll be able to quickly maneuver it to return pickleballs, while the 7-1/2" width gives you enough room to play with your placement. The grip has a small 4-1/8" circumference and measures 4-3/4" long.

The Dart Composite Pickleball Paddle will allow you to slip past the competition's defenses and hit winners time after time.

Actual grip sizes may vary up to 1/8".
Test Reviews of the Gamma Dart Paddle:
"I played with the Dart for two hours and also let two other players use it for their opinions. The other two players are 4.5 and 5.0 rated. The dart is a nice-looking black paddle with a yellow picture of a dart. It is a composite paddle and has very good feel on the face. Spinning pickleballs was easy and consistent. The Dart offers a great deal of control when hitting the ball and very few went out of bounds. We all really liked the grip, but it was too small for all three of us so we would've had to build it up with an overgrip. The lightness of the paddle made it very easy on the elbow and wrist and quick to maneuver.
I still sometimes play with the Gamma Dart, but my-go to paddle is the Gamma Needle. It's not fair to compare the two because they have very different prices, proportions and weights. The largest drawback to the Dart for me personally was the light weight, because I enjoy a lot of power in my game. I think the Dart Pickleball Paddle is a great choice for someone newer to the game who wants the technology and control of an entry/medium level paddle.
The price point makes it a great value, and unless you're specifically looking for a "power" option then the Dart will offer plenty. I can see where the weight would be highly beneficial to an older player or a person with elbow problems. The paddle functions as promised and would be a great paddle for most recreational players."
Greg K. (4.0 Player)
"I haven't been in the market for a new paddle, but after trying the Gamma Dart I may have to rethink my paddle choice. The first thing I noticed while playing with the Dart was the comfortable textured handle. The grip feel was very secure, and the 4-1/8" circumference was just the right size for my smaller hands. I also switch my paddle hand frequently, and the tacky grip made that maneuver easy to do quickly.
The next thing that impressed me was the light weight maneuverability of the paddle. When playing at the net I felt I was able to control the paddle and react quickly to volleys. I found this paddle to be very helpful for the dinking/soft touch game, but it also gave me the pop I needed for quick volleys and long drives. When driving from the baseline I was able to get nice, consistent deep shots and didn't feel there was too much power that would drive the ball out. Because of the lighter weight I also didn't feel any arm fatigue after an hour of playing either.
The paddle surface was only slightly textured, so for someone who likes to put a great deal of spin on the ball, it may not have the surface performance they prefer. Personally, I found the Gamma Dart to be an ideal paddle for the beginner to intermediate player looking for an all-around high quality paddle. I just may be getting my own in the near future!"
Jill B. (3.0 Player)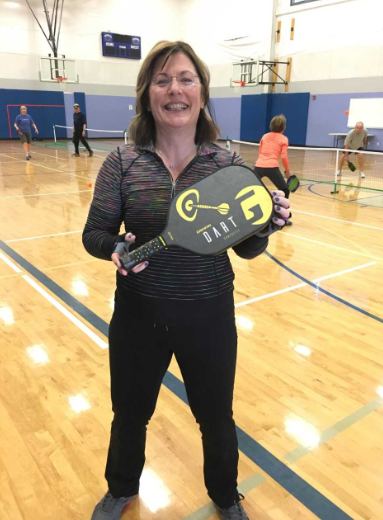 "I'm part of The Woodlands Pickleball Club in Texas where we play all year despite the 97 degree heat. We play from 7- 9:30am daily on outdoor courts. I tell you this because it impacts my review. I've been playing for about 10 months. I'm a 5'2 female and 125 lbs, for those wanting to compare builds. I played with the Gamma Dart for 6 games and am hooked on this paddle! Here's why: The paddle is light, well balanced and has a slightly top-heavy feel. That's an advantage when you want to add power to your serve or are reaching for over-the-head shots. It's easy to change your grip from forehand to backhand because of its light, nimble feel. Here in Texas we have humidity, which translates to sweat. This paddle has a unique grip with holes to wick away the build up of sweat. I didn't have to wear my glove when using the Dart and never lost contact or control. The handle width is standard and is not a tennis grip with a wider feel. It worked well for me, but those with larger hands may need to see if it works for their size. Another thing I noticed is that the grip tape doesn't extend as high as most other paddles. This leaves a little extra space to return shots that don't land in the sweet spot. The only downside I can imagine is that some players may prefer a longer grip, but I liked having more surface area. The Dart has excellent ball control and is made to volley in a quick yet precise way. Whether dinking or making power shots, the Dart's design supports the player. I'm no pro, but I was able to keep up with the big boys while playing many games."
Lisa Griffis of The Woodlands, TX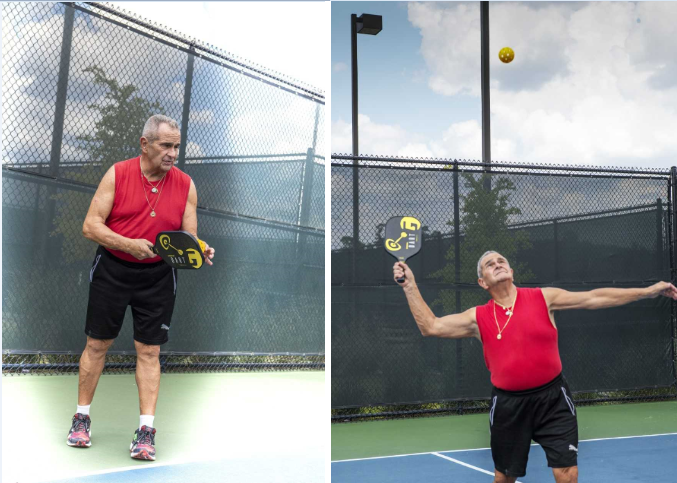 "I enjoyed playing with the Gamma Dart Paddle. The lighter weight was similar to what I normally play with. My grip is more of a ping pong grip so the shorter handle length worked well for me. The best thing about the paddle was how well balanced it felt while playing with it. It supported power shorts as well as soft/controlled shots. I would recommend the Dart to anyone looking for a new or back-up paddle, as I feel it's a well-balanced paddle that handles both power and soft shots very well."
Connie Hughes of Northshore Pickleball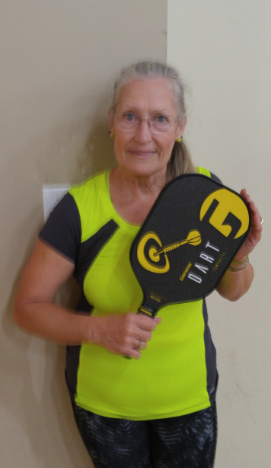 "I found the Gamma Dart very easy to use. When serving, the paddle gave me a better feeling of control for placement. Returning the ball was more accurate during play as the paddle's core seemed to be more solid on contact. I enjoyed playing with the Dart and will probably purchase one soon."
Andre DeHann of Mill Creek, WA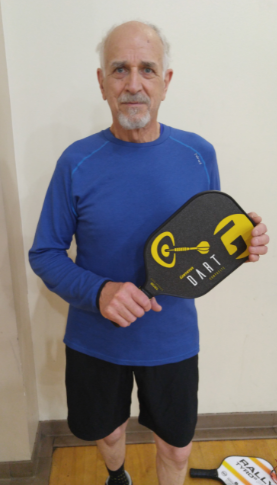 "The Gamma Dart Paddle has a great lightweight feel. The paddle has very good balance and is easy to swing. I could get power on my shots and at the same time I could make touch shots with ease. The grip was small, just the way I like it. The thing I liked most about this paddle is the balance. It just feels good in my hand. I would recommend this paddle to a beginner as well as a mid-level player."
Roger Hughes of Northshore Pickleball
Reviews of the Gamma Dart Pickleball Paddle by Pickleball Central Staff:
"Gamma has hit the target with their new Dart pickleball paddle. A light to mid-weight paddle that offers game-improvement performance for players of all skill levels but especially well suited to help you enhance your play and compete at a higher level. A right-down-the-middle mix of power and ball control the Dart feels good in your hand, good on impact with the ball and offers a predictable feel and hit on each stroke. The lighter weight means quicker reactions and better ability to get to the ball. There is slightly more ball feedback than the higher end Gamma paddles but the Dart feels solid and sturdy on impact whether at the net or baseline. For less experienced players this ball feel will likely be a positive putting you more in touch with the ball and each shot. If you are a fan of the grip feel on the higher-end Gamma paddles you will find that same performance feel on the new Dart. The paddle features a slightly smaller face than the Gamma Razor or Mirage but is upsized from its predecessor the Twister and the sweet spot or effective hit area feels larger as well. I would be plenty comfortable playing with this paddle in competitive play and would not hesitate to recommend it to new or intermediate players who want a quality high performance paddle that doesn't break the bank and helps them improve their game."
Jimmy, Product Management (3.5 Player)
"The Gamma Dart is now one of my favorite paddles to recommend to someone newer to the game who wants a very serious paddle that won't break the bank. This paddle has everything I want a player to have in a 'game improvement' oriented model. The texture of the face gives you the ability to spin or work the ball. The oversized face creates a large consistent sweet spot. It is light and easy to use for new players, and has a smaller grip length making it useable for a variety of grip styles by players. The biggest problems I see with new players is that they hit a lot of balls too long or too wide. I work with them to control their shots, learning to take power out on dinks and drops. The DART is the perfect weight to help players connect with these mechanics and quickly start their movement from 3.0 to 3.5 level players. Great job, Gamma!"
Peter, Head Pro / IPTPA Certified Teaching Professional (5.0 Player)
"One of the great things about pickleball is that it truly is a sport for all. It's nice that the manufacturers of paddles understand that, as well. You can find quality paddles at a variety of price points. The Gamma Dart fits the bill of a very high quality paddle at the entry level price point. The shape and grip fit those getting started – 4 1/8" grip and a 7 inch face make for a light weight and slightly smaller paddle. It was easy to maneuver at the net. I was also happy to see that I wasn't leaving returns or serves short. The combination of the poly core and the fiberglass face game me enough power. The grip feels just like the higher end paddles in the Gamma line (the Mirage and Razor) and that is comforting. This paddle works for someone looking for a slightly lighter paddle, with a bit of a bias towards generating power. The Dart sure is a fantastic paddle for someone looking to for their first "serious" paddle."
John, Sales (3.5 Player)
Q&A With The Designer of the Dart Gamma Paddle - Chuck Vietmeier, Director of Product Marketing for Gamma Sports
Can you share with us how you came up with the new DART model?
"We felt we needed an entry level paddle with better graphics, feel and shape."
What goal or market are you trying to address with the DART?
"We are looking to capture market share in the game improvement higher-end entry level and junior paddle market."
Out of all the paddles of the market, what makes the DART Unique?
"The combination of the new shape, lightweight feel and polyester core material allow the Dart to be the perfect paddle for a broader spectrum of player types. The Dart was immediately liked by one of our pro who used it at Nationals this last year."
Is the DART designed for a specific player type? If so, what is that type?
"The Dart is not designed with a specific player type in mind. We felt it would be best for players who are really looking for a paddle that is very maneuverable yet still provided some feel and pop when needed."
How does this model fit in contrast to the higher-end Gamma Sensacore model line?
"The Dart has a polyester core falls just outside the Sensa Core model line as it is designated as a lower price point model."
What should a player look for in terms of ergonomic feel – specifically the grip and handle?
"We designed the handle so that it has the shape and feel of a tennis grip, hoping to capture tennis players who are coming over to pickleball and it is a familiar feel to their tennis racquet."
What should a player expect in terms of control and power with the paddle?
"The Dart at 7.4 ounces is very maneuverable therefore offers greater control. The composite face allows for the extra punch needed for ground strokes and smashes."
Is there anything unique about the face material we should know about?
"This is the same face material that is used on the higher end Gamma Mirage and Pin paddles."
What was you thinking in terms of how this combination of core & face material behave together.
"Using our poly core and a lighter composite face we could offer the best playing all around paddle that would be suited to a large group of players at an affordable price."
This paddle doesn't have the rounded top like a Gamma RZR or Mirage – why did you flatten the top of this paddle?
We wanted to come up with a shape that was less rounded. With our RZR and Mirage being well received I thought that it would be a nice look to start with that shape and to slightly flatten the top to give it a wider look."
Specifications
Dart Composite Pickleball Paddle Technical Specifications
Weight Average: 7.4 ounces
Weight Range: 7.3-7.5 ounces
Grip Circumference: 4 1/8" (Small) Actual grip sizes may vary up to 1/8".
Grip Style: Cushion, perforated, ribbed
Grip Manufacturer: Gamma Honeycomb Grip
Grip Length:4 3/4 "
Paddle Length:15 5/8 "
Paddle Width: 7 1/2"
Paddle Face Finish: Textured composite
Core Material: Poly Core
Manufacturer: Gamma
Made in the USA
Reviews
()
Pickleball Paddle

I only used this paddle several times, and am happy with it. Seem like a really good paddle for the price.

Great paddle!

We have been using these paddles for several years now and are very happy with them. Just bought two more to have on hand.

Awesome

Great paddle for control and awesome price too

Great Racquet

Weight, size, grip. Perfect fit. Love it!

Works well for me!

I am new to this game so I wanted a medium weight paddle (which is easier for shoulder injuries) with a 4" cushioned grip. The grip is actually 4 1/8" which is fine. I like the cushioned grip because I have arthritis in my hands so the cushioning helps when gripping the paddle.

Pickleball Product Review

I really like this paddle. I'm a beginner/intermediate player and the weight of this paddle is just right.

Enjoying my new Dart Composite Paddle

I am an intermediate player and like the transition from a larger paddle to the slightly smaller and lighter Dart Composite paddle, I find it easy to handle and I do change hands, has a light feel but places the ball well with plenty of punch; my only disappointment is that it did not include a paddle cover which I feel it should have for that price point

Paddle

I am a fairly new player was borrowing a Z5 paddle, seemed a bit heavy ,grip to lg, am Trying this dart grip is great , noticeable lightweight ,prob could of been 7.5..what I am having hard time with is the width difference,! I use this paddle after if warm gets fatiged.. Not sure

Pickleball Product Review

Great Customer Service

It has been very easy to order - prices are good. The standout point was that after playing only two times with one of the less expensive paddles, it cracked when I smashed an overhead. Without hesitation they IMMEDIATELY issued a refund and a suggestion on a better paddle. Fan for life!